Enterprise Connectors
Faça com que a conexão a qualquer aplicativo seja tão fácil quanto a um banco de dados
Mova, integre e analise dados de forma descomplicada usando nossos NOVOS conectores FireDAC Enterprise, com tecnologia CData. Esses componentes inigualáveis permitem que você integre mais de 130 aplicativos Enterprise, simplificando a conectividade em um modelo padrão usando SQL.
Atualmente, os dados estão mais descentralizados do que nunca, sem falar na dificuldade de acesso com empresas executando uma média de mais de 20 aplicativos SaaS e um número no mínimo equivalente de aplicativos nas premissas. Tome melhores decisões comerciais, acabe com as dores de cabeça e aumente o tempo até a produtividade ao organizar grandes quantidades de dados em um formato acionável de forma rápida e eficiente com esses drivers.
RAD STUDIO ADD-ON - Amplie os aplicativos Delphi & C++Builder com conectividade SaaS, NoSQL e big data. A maneira mais fácil e rápida para desenvolver aplicativos movidos por dados.
Enterprise Connectors exigem Delphi, C++Builder ou RAD Studio 10.2 edição Professional ou mais recente.
Mais de 130 fontes - e o número não para de crescer - Maior número de fontes de dados compatíveis na indústria. As assinaturas apresentam diferentes coberturas de fontes de dados.
Acesso direto e em tempo para dados imediatos - Sem dependência a serviços na nuvem ou outros intermediários.
Distribuição livre de royalties - Assinaturas são licenciadas por desenvolvedor com distribuição RF. Quando o período de assinatura termina, os direitos de distribuição continuam, mas os direitos de desenvolvimento terminam.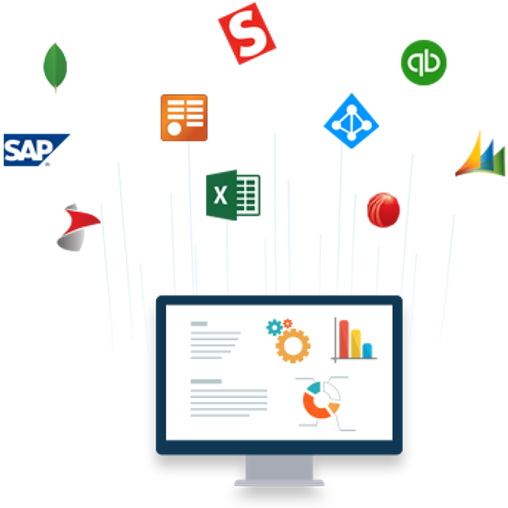 Funções
Poderosos recursos de desenvolvimento de nível empresarial
Replicação e cache
Easily copy data to local and cloud data stores such as Oracle, SQL Server, Google Cloud SQL, etc. The replication commands allow for intelligent incremental updates to cached data.
Biblioteca de funções
A library of over 50 string, date, and numeric SQL functions that can manipulate column values into the desired result. Popular examples include Regex, JSON, and XML processing functions.
Client-Side Processing:
Enhance the data source's capabilities with additional client-side query processing to enable analytic summaries of data such as SUM, AVG, MAX, MIN, etc.
Customizable:
Customize the data model to add or remove tables/columns, change data types, etc. without requiring a new build. These customizations are supported at runtime using editable human-readable schema files.
Secure Connectivity:
Includes standard Enterprise-class security features such as TLS/ SSL data encryption for all client-server communications.
Developer Friendly:
Full Design-time support for data operations directly from RAD Studio.
Examples
Connecting to Any Application is as Easy as Connecting to a Database
Componentes FireDAC padrão
Exatamente como se conectar com um RDBMS típico, como MySQL ou SQL Server. Use componentes FireDAC padrão, como TFDManager, TFDConnection, TFDQuery, etc.
FDConnection1.Name := 'SalesforceConnection';
FDConnection1.DriverName := 'CData.Fire.Salesforce';
with FDConnection1.Params as
TFDPhysCDataSalesforceConnectionDefParams do begin
...
end;
FDConnection1.Connected := true;
FDQuery1.Active := true;
FDQuery1.Open('select * from Account where Industry = ''Healthcare''');
Consultas em conformidade com SQL-92
A maneira mais fácil para desenvolver aplicativos centrados em dados.  Programe consultas SQL padrão para oferecer suporte a ingressos, atualizações, agregação e muito mais.
SELECT with Inner JOIN
SELECT Account.Id, Account.Name, Account.Fax,
Opportunity.AccountId, Opportunity.CloseDate
FROM Account
INNER JOIN Opportunity
ON Account.Id = Opportunity.AccountId
Aggregate Functions
SELECT Name, AVG(AnnualRevenue) FROM Account GROUP BY Name
Update Data
UPDATE Account SET Name='John' WHERE Id = @myId
Aplicativos compatíveis
Disponível no Enterprise
Disponível no Enterprise+
* Em breve
Contabilidade
Blackbaud FE NXT
Exact Online
FreshBooks
Intacct
Microsoft Dynamics GP
QuickBooks Desktop
QuickBooks Online
QuickBooks Point of Sale
Reckon
SAP Concur *
Sage 50 UK
Xero Accounting
CRM e marketing
Act-On
Act CRM
Bing Ads
DoubleClick Campaign Manager
DoubleClick For Publishers
Dynamics 365 Sales
Google AdWords
Google Analytics
Highrise CRM
HubSpot
Magento
MailChimp
Marketo
Microsoft Dynamics CRM
NetSuite CRM & ERP
Oracle Marketing Cloud
Oracle Sales Cloud
SAP Hybris C4C
Salesforce & Force.com
Salesforce Marketing Cloud
SendGrid
Sugar CRM
SuiteCRM
Veeva Vault *
YouTube
YouTube Analytics
Zoho CRM
ERP e colaboração
AWS Data Management *
Acumatica ERP
Basecamp
DigitalOcean *
Dynamics 365 Business Central
Dynamics 365 Finance & Ops
Dynamics 365 Sales
Evernote *
Google Directory
Jira
Magento
Microsoft Dynamics GP
Microsoft Dynamics NAV
Microsoft Excel Online
Microsoft Exchange
Microsoft Office 365
Microsoft Project
Microsoft SharePoint
NetSuite CRM & ERP
Odoo ERP
SAP Business One
SAP NetWeaver
ServiceNow
SharePoint Excel Services
Smartsheet
Splunk
SurveyMonkey
WordPress *
Zendesk
NoSQL & Big Data
Active Directory
Amazon Athena
Amazon DynamoDB
Amazon Redshift
Apache Cassandra
Apache HBase
Apache Hadoop Hive
Apache Spark SQL
Azure Cosmos DB
Azure Table Storage
Couchbase
Elasticsearch
Google BigQuery
Google Spanner *
HPCC Systems
IBM Cloud SQL *
IBM Cloudant
MariaDB
MarkLogic *
Microsoft Access
MongoDB
Oracle Database *
Pivotal GreenPlum *
Redis
SQL Analysis Services *
Snowflake *
Sybase *
Teradata *
xBase
eCommerce/finanças
Amazon Marketplace
Authorize.Net
Blackbaud FE NXT
E*TRADE
OFX
Open Exchange Rates
PayPal
Quandl
Shopify
Square
Stripe
eBay
Documentos e arquivos
CSV/TSV Files
Google Sheets
Microsoft Excel
Microsoft Excel Online
SharePoint Excel Services
XML Files
Redes e autorizações
Endereço de e-mail
FTP Servers
JSON
LDAP
OData
OFX
REST
RSS Feeds
SFTP
Redes sociais
Facebook
Instagram
LinkedIn
Salesforce Chatter
Slack
Twitter
e muito mais…
Azure Data Management
Bing Search
Box
Dropbox
Gmail
Google Calendar
Google Contacts
Google Drive
Google Search
Kintone
Salesforce Einstein Analytics
Twilio
Assinaturas de Enterprise Connectors
Enterprise
Mais de 70 fontes
Praticamente idêntica à assinatura Enterprise+, com um subconjunto de fontes de dados disponíveis
Incluído em todas as edições da Enterprise e do Architect
ENTERPRISE PLUS
Mais de 130 fontes
Amplo acesso a todos os drivers FireDAC. Inclui fontes Enterprise adicionais


Baixe e compre de C-Data
Fácil instalação pelo IDE através do gerenciador de pacotes GetIt
A chave de assinatura desbloqueia funções licenciadas.
Suporte técnico da CData.
clique aqui para ver informações sobre o Contrato de Licença de Usuário e Suporte