SPECIAL END OF THE QUARTER - Up to 35% OFF or 22 months of Maintenance - OFFERS END September 30th, 2017
Develop on the most powerful framework for native application development on Windows, macOS, iOS, Android and Linux.
RAD Studio products are trusted by over 3 million developers around the world and are used to build tomorrow's applications for mobile, IoT and enterprise are today!
Choose now from the limited time offers below.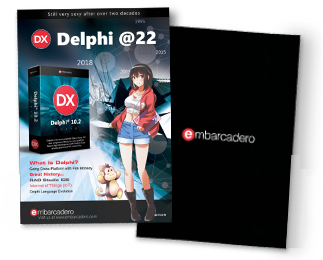 READ NOW
Save up to 35% on all RAD Studio product Editions
With savings on Professional, Enterprise, and Architect editions, or Maintenance, there is something for everyone. Save 15% on Professional, upto 35% on Enterprise or Architect, or get extended support with 22 months of maintenance, FREE.
35% OFF
Delphi, C++Builder & RAD Studio



Enterprise
Architect
22 months of Maintenance
Delphi, C++Builder, & RAD Studio
OR



Enterprise
Architect
15% OFF
Professional



Professional
25% OFF RAD Studio, Delphi and C++Builder Enterprise
Get the power of FireDAC network wide along with the mobile compilers for less than Professional with the add-on packs. Start building with DataSnap and RAD Server and Linux* today.
Get it now!
Terms and Conditions
Offer ends September 30th 2017.
25% discount is valid with purchase of

Delphi / C++Builder / RAD Studio 10.2 Tokyo, Enterprise edition.
Named user, network named and concurrent licenses.
Includes 5-packs and 10-packs

25% discount is not valid with purchase of

Add-On Packs, Starter editions, Upgrades from Starter or Academic Editions.

25% discount cannot be combined with 22 Month Free Maintenance offer
Embarcadero reserves the right to change, cancel or amend offer at any time.
Offer void where prohibited by law.
Additional restrictions may apply.
* Linux compilers is available as part of Delphi and RAD Studio.