BeaconFence
Beacon Fencing Proximity Solution for Developers
BeaconFence ist eine Entwicklungslösung zur Näherungserkennung, die eine präzise, GPS-unabhängige Nachverfolgung der Benutzerposition im Haus wie im Freien bietet sowie Ereignisse mit radialen und geometrischen Zonen für jeden physischen Ort und jede Umgebung. Sie können damit visuell die Umgebung der physischen Position und der Beacon-Platzierung zur zentimetergenauen Nachverfolgung der Positionsinformationen bestimmen. Erstellen Sie radiale und rechtwinklige Zonen und verfolgen Sie Schnittpunkte sowie Ein- und Austritte mit Callback-Ereignissen nach. BeaconFence bietet Entwicklern Näherungs-Beacons auf einer neuen Ebene, mit denen sie ihre Anwendungen sowohl im Haus wie im Freien mit einer räumlich präzisen Positionserkennung ausstatten können.
Die BeaconFence-Komponente verfügt über viele unterschiedliche Eigenschaften und Ereignisse, wie z. B. das OnZoneEnter-Ereignis, das ein Ereignis in der Clientanwendung des Benutzers auslösen kann, wenn dieser eine vordefinierte Zone betritt.
Sie verfügt auch über den BeaconFence-Karteneditor. Mit diesem Benutzeroberflächeneditor haben Sie die Möglichkeit, auf einfache Weise eine Karte zu erstellen sowie eine vorhandene Bitmap-Grafik (z. B. einen Bürogrundriss) als BeaconFence-Karte zu laden und zu verwenden. Mit BeaconFence können Sie mehrere Karten für unterschiedliche Bereiche, z. B. in Ihrer Fabrik, oder für die Stockwerke in Ihrem Gebäude, einzurichten.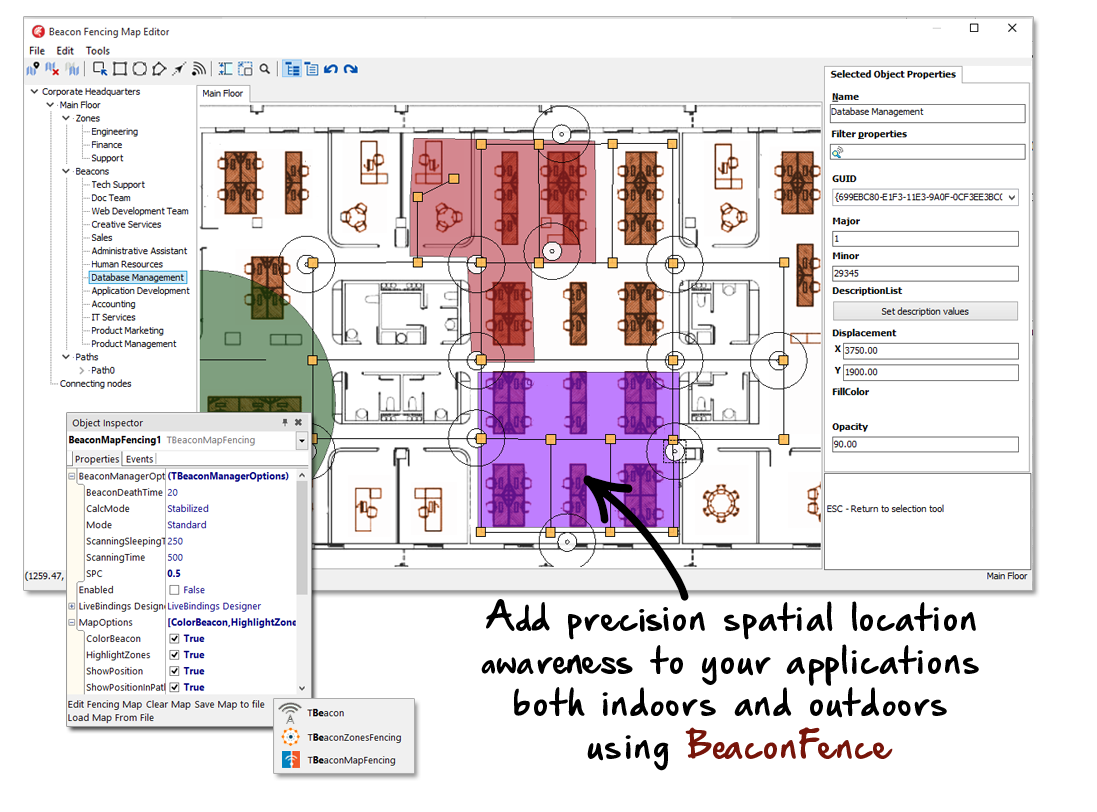 Pricing and Availability
BeaconFence ist über GetIt erhältlich, ein in RAD Studio enthaltener Package-Manager für den einfachen Zugriff auf Komponenten und deren Download sowie Aktualisierung.
Testen Sie BeaconFence kostenfrei noch heute. Rufen Sie GetIt in RAD Studio auf und fordern Sie eine kostenfreie Pluto-Lizenz an, mit der Sie BeaconFence mit einer Unterstützung von bis zu drei Beacons, einem Standort mit einer Gebäudegröße von bis zu 150 Quadratmetern und einer Anwendung einrichten sowie bereitstellen können.
To use BeaconFence, you need a RAD Studio XE8 with Update Subscription or any later version.
BeaconFence is now included under RAD Server licensing for simpler, cheaper deployment!