Enterprise Connectors
Verbindungen zu Enterprise-Anwendungen so unkompliziert wie Verbindungen zu einer Datenbank
Verschieben, integrieren und analysieren Sie Daten einfach und unkompliziert mit unseren neuen FireDAC Enterprise Connectors, "powered by CData". Diese unvergleichlichen Komponenten ermöglichen es Ihnen, 130+ Enterprise-Anwendungen zu integrieren und die Konnektivität durch ein Standardmodell mit SQL zu vereinfachen.
Die Daten von heute sind verteilter als je zuvor und der Zugriff ist oft sehr schwierig für durchschnittliche Unternehmen, bei denen mehr als 20 SaaS-Anwendungen eingesetzt werden und mindestens ebenso viele On-Demand-Anwendungen. Treffen Sie bessere Geschäftsentscheidungen, vermeiden Sie Sorgen und steigern Sie Ihre Produktivität, indem Sie umfangreiche Datenmengen in einem nachvollziehbaren Format schnell und effizient mit unseren neuen Treibern organisieren.
RAD STUDIO ADD-ON - Erweitern Sie Ihre Delphi- und C++Builder-Apps mit SaaS-, NoSQL-, & Big Data-Verbindungen. Der schnellste und einfachste Weg zur Erstellung datengesteuerter Apps. Enterprise Connectors erfordern Delphi, C++Builder oder RAD Studio 10.2 Professional oder höher.
130+ Quellen und ständig mehr - Die größte Anzahl unterstützter Datenquellen in der Branche. Die Abonnements unterscheiden sich durch die Menge unterstützter Datenquellen.
Zugriff auf Live-Daten in Echtzeit - Direkter Zugriff auf Live-Daten in Echtzeit, unabhängig von Cloud-Diensten oder anderen vermittelnden Diensten
Lizenzfreie Weitergabe - Die Abonnements werden pro Entwickler mit RF-Verteilung lizenziert. Nach Beendigung des Abonnements bleiben die Bereitstellungsrechte bestehen, aber die Rechte zur Erstellung werden beendet.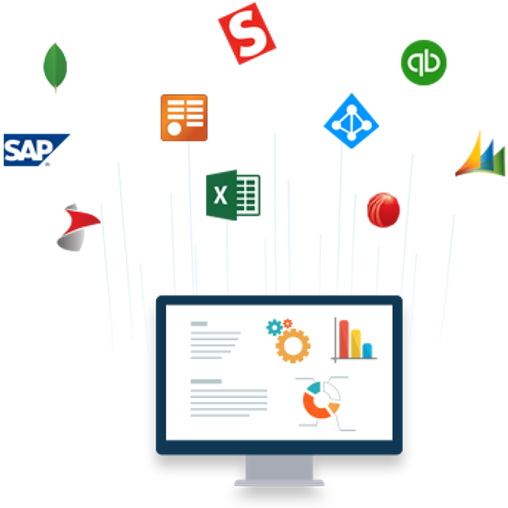 Features
Leistungsstarke Entwicklungsfunktionen der Enterprise-Klasse
Replikation und Caching
Kopieren Sie Daten einfach in lokale und Cloud-Datenspeicher wie Oracle, SQL Server, Google Cloud SQL, etc. Die Replikationsbefehle ermöglichen intelligente inkrementelle Updates von zwischengespeicherten Daten.
Funktionsbibliothek
A library of over 50 string, date, and numeric SQL functions that can manipulate column values into the desired result. Popular examples include Regex, JSON, and XML processing functions.
Client-Side Processing:
Enhance the data source's capabilities with additional client-side query processing to enable analytic summaries of data such as SUM, AVG, MAX, MIN, etc.
Customizable:
Customize the data model to add or remove tables/columns, change data types, etc. without requiring a new build. These customizations are supported at runtime using editable human-readable schema files.
Secure Connectivity:
Includes standard Enterprise-class security features such as TLS/ SSL data encryption for all client-server communications.
Developer Friendly:
Full Design-time support for data operations directly from RAD Studio.
Examples
Connecting to Any Application is as Easy as Connecting to a Database
Standard FireDAC-Komponenten
Genau wie die Verbindung mit typischen RDBMS wie MySQL oder SQL Server. Nutzen Sie Standard FireDAC-Komponenten wie TFDManager, TFDConnection, TFDQuery, etc.
FDConnection1.Name := 'SalesforceConnection';
FDConnection1.DriverName := 'CData.Fire.Salesforce';
with FDConnection1.Params as
TFDPhysCDataSalesforceConnectionDefParams do begin
...
end;
FDConnection1.Connected := true;
FDQuery1.Active := true;
FDQuery1.Open('select * from Account where Industry = ''Healthcare''');
SQL-92-kompatible Abfragen
Der einfachste Weg zur Erstellung datenzentrierter Anwendungen.  Schreiben Sie Standard SQL-Abfragen mit Unterstützung für Joins, Updates, Aggregation und mehr.
SELECT with Inner JOIN
SELECT Account.Id, Account.Name, Account.Fax,
Opportunity.AccountId, Opportunity.CloseDate
FROM Account
INNER JOIN Opportunity
ON Account.Id = Opportunity.AccountId
Aggregate Functions
SELECT Name, AVG(AnnualRevenue) FROM Account GROUP BY Name
Update Data
UPDATE Account SET Name='John' WHERE Id = @myId
Unterstützte Anwendungen
Verfügbar in Enterprise
Verfügbar in Enterprise+
* In Kürze verfügbar
Buchhaltung
Blackbaud FE NXT
Exact Online
FreshBooks
Intacct
Microsoft Dynamics GP
QuickBooks Desktop
QuickBooks Online
QuickBooks Point of Sale
Reckon
SAP Concur *
Sage 50 UK
Xero Accounting
CRM & Marketing
Act-On
Act CRM
Bing Ads
DoubleClick Campaign Manager
DoubleClick For Publishers
Dynamics 365 Sales
Google AdWords
Google Analytics
Highrise CRM
HubSpot
Magento
MailChimp
Marketo
Microsoft Dynamics CRM
NetSuite CRM & ERP
Oracle Marketing Cloud
Oracle Sales Cloud
SAP Hybris C4C
Salesforce & Force.com
Salesforce Marketing Cloud
SendGrid
Sugar CRM
SuiteCRM
Veeva Vault *
YouTube
YouTube Analytics
Zoho CRM
ERP & Zusammenarbeit
AWS Data Management *
Acumatica ERP
Basecamp
DigitalOcean *
Dynamics 365 Business Central
Dynamics 365 Finance & Ops
Dynamics 365 Sales
Evernote *
Google Directory
Jira
Magento
Microsoft Dynamics GP
Microsoft Dynamics NAV
Microsoft Excel Online
Microsoft Exchange
Microsoft Office 365
Microsoft Project
Microsoft SharePoint
NetSuite CRM & ERP
Odoo ERP
SAP Business One
SAP NetWeaver
ServiceNow
SharePoint Excel Services
Smartsheet
Splunk
SurveyMonkey
WordPress *
Zendesk
NoSQL & Big Data
Active Directory
Amazon Athena
Amazon DynamoDB
Amazon Redshift
Apache Cassandra
Apache HBase
Apache Hadoop Hive
Apache Spark SQL
Azure Cosmos DB
Azure Table Storage
Couchbase
Elasticsearch
Google BigQuery
Google Spanner *
HPCC Systems
IBM Cloud SQL *
IBM Cloudant
MariaDB
MarkLogic *
Microsoft Access
MongoDB
Oracle Database *
Pivotal GreenPlum *
Redis
SQL Analysis Services *
Snowflake *
Sybase *
Teradata *
xBase
eCommerce/Finanzen
Amazon Marketplace
Authorize.Net
Blackbaud FE NXT
E*TRADE
OFX
Open Exchange Rates
PayPal
Quandl
Shopify
Square
Stripe
eBay
Dokumente & Dateien
CSV/TSV-Dateien
Google Sheets
Microsoft Excel
Microsoft Excel Online
SharePoint Excel Services
XML-Dateien
Netzwerke & Authentifizierung
Email
FTP-Server
JSON
LDAP
OData
OFX
REST
RSS Feeds
SFTP
Soziale Netzwerke
Facebook
Instagram
LinkedIn
Salesforce Chatter
Slack
Twitter
und mehr…
Azure Data Management
Bing Search
Box
Dropbox
Gmail
Google Calendar
Google Contacts
Google Drive
Google Search
Kintone
Salesforce Einstein Analytics
Twilio
Abonnements für Enterprise Connectors
Enterprise
Mehr als 70 Quellen
Praktisch identisch mit dem Enterprise+ Abonnement, mit einer Teilmenge verfügbarer Datenquellen
In allen Enterprise und Architect Editionen enthalten
Einfache Installation
Der Schlüssel für das Abonnement gibt die lizensierten Funktionen frei.
Technischer Support von CData.
hier finden Sie Informationen zum Benutzerlizenzvertrag und zum Support.