ER/Studio Data Architect
Round-trip database support gives ER/Studio Data Architect users the power to easily reverse- and forward-engineer, compare and merge, and visually document data assets across multiple platforms and data sources. ER/Studio enables data professionals to better manage data models and metadata in complex and dynamic enterprise environments.
Enterprise data can be more effectively leveraged as a corporate asset, while compliance is supported for business standards and mandatory regulations -- essential factors in an organizational data governance program. Multiple types of data sources are supported ranging from those residing in the cloud to data sources residing on mobile phones. A variety of database platforms, including traditional RDBMS and big data technologies such as MongoDB and Hadoop Hive, can be imported and integrated into shared models and metadata definitions.
---
"ER/Studio has been an invaluable tool for putting standards in place for designing and maintaining databases."
– Beaumont Hospital
---
Establish Your Data Architecture
The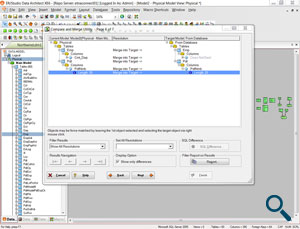 standard ER/Studio Data Architect edition provides an easy-to-use visual interface to document, understand, and publish information about existing databases so they can be better harnessed to support business objectives. Powerful reverse engineering capabilities allows a data modeler to compare and consolidate common data structures without creating unnecessary duplication.
The ER/Studio Data Architect Professional edition also includes the model repository for version control and agile change management. The Repository provides a secure and scalable environment for model and object version management. Data professionals can create task records to represent user stories or tasks and associate them to models, keeping data models relevant and current with fast-changing databases and applications. With a 64-bit memory model, larger data models can be processed with improved performance on key operations such as compare and merge.
In addition, with tighter integration with mobile databases, ER/Studio Data Architect allows data modelers to reverse engineer databases used in mobile applications to document and optimize their performance. The Developer edition is specifically designed to work with Embarcadero's RAD Studio Architect edition.
ER/Studio Data Architect helps data architects define and reuse common data elements and modeling components across modeling practices. By enforcing standards, and analyzing data elements, corporations can better understand and utilize their data and reduce redundancy. Data modelers can assign a naming standards template to their model's entities and attributes, and those naming standards will be applied automatically between the logical and physical models, simplifying the modeling process.
ER/Studio Data Architect brings clarity to models and to complex business rule enforcement. The multilevel design layers allow for the accurate visualization of data, which
promotes communication
between business and technical users. With a clear understanding of
where data originated
and
where it is used
, organizations can be assured that they know what their data actually means and how it can best be utilized.
---
The Challenge of Fully Leveraging Enterprise Data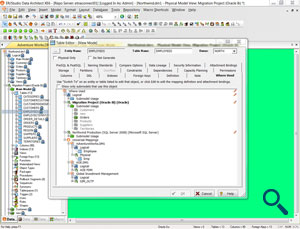 As organizations grow and data proliferates, ad hoc systems for storing, analyzing, and utilizing that data start to appear. In order to manage an increasingly complex and diverse data environment, you need the ability to import and reverse-engineer content from multiple data sources and integrate the elements into reusable constructs with an enterprise data dictionary. Data Architect includes the import bridges for common modeling tools, to easily migrate their native formats into ER/Studio.
Data management professionals face a number of challenges, including the need to:
Reduce duplication and risk associated with multiple data sources and platforms
Maximize data quality and reusability across the organization
Clearly and effectively communicate data to all users
ER/Studio Data Architect documents and enhances existing databases, improves data consistency and quality, and effectively communicates models across the enterprise. With ER/Studio, you can leverage your enterprise data as an asset, while complying with business standards and mandatory regulations. Accurate interpretation and re-use of essential data throughout an organization can enable better decision-making.
---

---
Benefits
ER/Studio Data Architect provides built-in facilities to automate routine modeling tasks so data modelers and architects can analyze and optimize database and data warehouse designs faster than ever.
Document and enhance existing databases
Map models to data sources
Improve data consistency and quality
Effectively share and communicate models across the enterprise
Trace data origins to enhance data integration and accuracy