Repository for ER/Studio
Real-Time Data and Business Process Collaboration for the Enterprise
The Repository for ER/Studio provides multiple users with real-time collaboration features for sharing and re-using assets across data and business process modeling projects. This collaborative working environment allows organizations to maintain compliance with business standards and mandatory regulations, while improving the ability to utilize enterprise data as a corporate asset.
---
"In our view, Embarcadero is one of just a few vendors who provides a comprehensive solution to a very specific problem. By treating metadata as an asset, Embarcadero can set businesses on a path to greater enterprise-wide understanding and growth."
- The Bloor Group
---
The Challenge of Real-Time Business Process Collaboration
With rapidly increasing volumes of enterprise data that originates from diverse data sources, data professionals struggle with timely and accurate shared use of common data sets.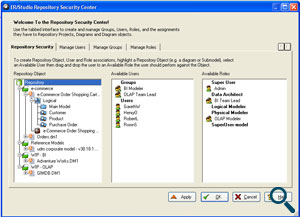 Data architects face several challenges, such as:
Controlled access to data models in a collaborative environment
Secure access to all assets to maintain data model integrity and privacy
Clear and effective communication of data throughout an organization
A repository can be too simple, extremely complicated, or very sophisticated. Data architects search for ease of use on the front end with complex tasks being handled behind the scenes. Effective and intuitive collaboration while managing data can significantly increase the data's value.
---
Data used individually is prone to bias and opinion. Data used collaboratively is likely to be interpreted with greater accuracy and found to be more actionable.
---
Repository for ER/Studio offers a secure and scalable collaborative modeling environment for model and object version management.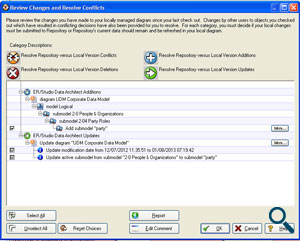 The Repository works the way modeling teams work, delivering higher quality applications faster and more cost-effectively. Agile change management enables data professionals to create task records to represent user stories or tasks and associate them to models, keeping data models relevant and current with fast-changing databases and applications. Available in a 32- or 64-bit version, the expanded memory footprint improves performance for larger data models on key operations such as macros, compare and merge, and check-in/check-out.
The Repository gives modeling teams and managers complete control of their ongoing projects, while allowing data modelers to work seamlessly with each other. Rich support for model and object version management allows organizations to easily manage all successive states of models and model metadata.
Repository-based collaborative modeling provides modeling teams with significant advantages in controlling the state and safety of models and objects through the ability to apply user-defined layers of security. These capabilities help to protect work from being altered or even seen by those who do not have the required access to view, modify, add or delete. The Repository makes this process extremely easy through an integrated security user interface.
---

---
Benefits
Sophisticated collaborative modeling capabilities
Standardized enterprise data dictionary
Model and object version management
Model change management for Agile workflows
Integrated security management interface