The RAD Studio 11 Release Supports High-DPI and 4k+ screens, provisioning for Windows 11, Android 30 API and the macOS 64-bit ARM M1 processor

Un único código fuente
Crea aplicaciones para todas las plataformas con menor esfuerzo de codificación. Escribe una vez, compila en todas partes.
Windows 11
Moderniza las aplicaciones VCL para que sean compatibles con Windows 10, con controles de interfaz de usuario actualizados, API WinRT, funciones relacionadas con HighDPI y compatibilidad con Windows Store
Remote Desktop
Collaborate more effectively with remote teams using improved remote desktop support for VCL and IDE
High DPI & 4K
High-DPI support in the IDE, with full support for the latest 4k+ monitors, and cleaner and sharper fonts and icons throughout. Improved FMX High-DPI support for Windows and Desktop with a visibly superior desktop UI
iOS and macOS
macOS 64bit ARM compiler and toolchain that can build universal binaries including Intel/ARM versions for AppStore submissions
Android
Support for the latest Android 30 API and latest Billing APIs, and migration to use the AndroidX libraries. Android support for multiple classes.dex files, simplifying integration of external Android dependencies
Datos accesibles
Conecta con más de 20 bases de datos de manera nativa, con el acceso directo de alta velocidad de FireDAC, incluyendo InterBase, SQLite, MySQL, SQL Server, Oracle, PostgreSQL, DB2, SQL Anywhere, Advantage DB, Firebird, Access, Informix, MongoDB y más
Faster Coding
Smarter code navigation when refactoring. Auto code completion with Tab key. LSP awareness of Include files. Auto restart of LSP server. Class helper support. Array suggestions when assigning arrays
Productividad
VCL Styles with design-time support: Prototype stylish UIs even faster by seeing immediately at design-time how your styled forms and controls will look when running.
Linux
Develop both server and FireMonkey GUI applications for Linux
User Experience
Completely rebuilt Welcome Page with a native look and feel, and a UI that fits the IDE, and customizable layout and content
Nube
Use the HTTP and REST client libraries, available on all platforms, to invoke REST services or AWS and Azure components.
Extensiones
Desarrolla y amplía el IDE con tus propios componentes y complementos del IDE, o encuentra complementos listos para usar de nuestro rico ecosistema de terceros
RAD Server
Reduces the complexities of rapidly building and deploying a multi-tier turn-key enterprise REST API application server with Swagger support.
Enciende tu imaginación
Diseña atractivas interfaces de usuario de escritorio y aplicaciones móviles con RAD Studio
Use RAD Studio's award-winning VCL framework for Windows and FireMonkey (FMX) visual framework to create cross-platform responsive UIs
Enjoy the new high-DPI compatible IDE on 4k+ screens
Use VCL Styles at design time! Prototype stylish UIs even faster by seeing immediately at design-time how your styled forms and controls will look when running.
FireMonkey design-time guidelines: Prototype faster with visual lines and enhanced margin and padding support
Multi-monitor and multi-window improvements: design and edit code for the same form at the same time in multiple windows
Diseña rápidamente tu interfaz de usuario sólo una vez, luego personaliza fácilmente las vistas específicas de la plataforma y el dispositivo sin duplicar esfuerzos de diseño
Utiliza el menú de diseño visual para arrastrar y soltar fácilmente componentes visuales y no visuales de la paleta
Conecta elementos de la interfaz de usuario a fuentes de datos utilizando el diseñador de LiveBindings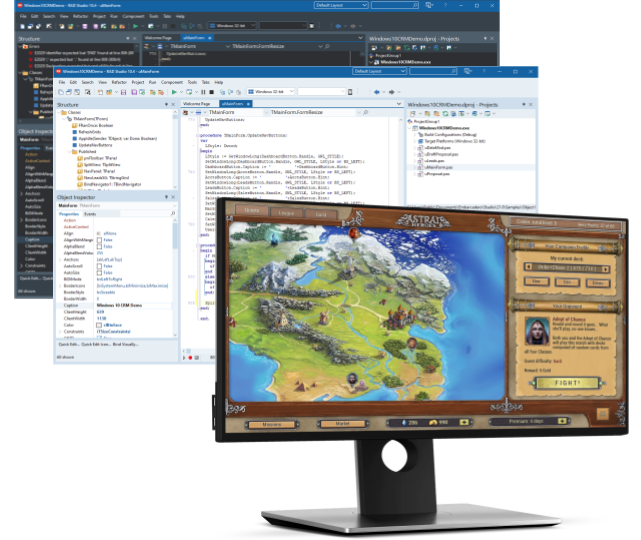 Codifica de forma más rápida e inteligente con RAD Studio
Rápido largo compila con compiladores altamente optimizados para cada plataforma
C++ Code Formatter: Automate the layout of your C++ code using clang-format
Personalice el IDE para dos lenguajes robustos y potentes (Delphi y C++ mejorado) y su estilo de codificación
Use Code Insight™ for code completion via a modern Language Server Protocol based on your code and libraries to help you code quickly and accurately
Obtén consejos y sugerencias de la documentación en línea a medida que codificas
Agiliza tu desarrollo con el diseñador VCL, refactorización ágil y las Live Templates
Integración con sistemas de control de versiones, como Git, Subversion y Mercurial.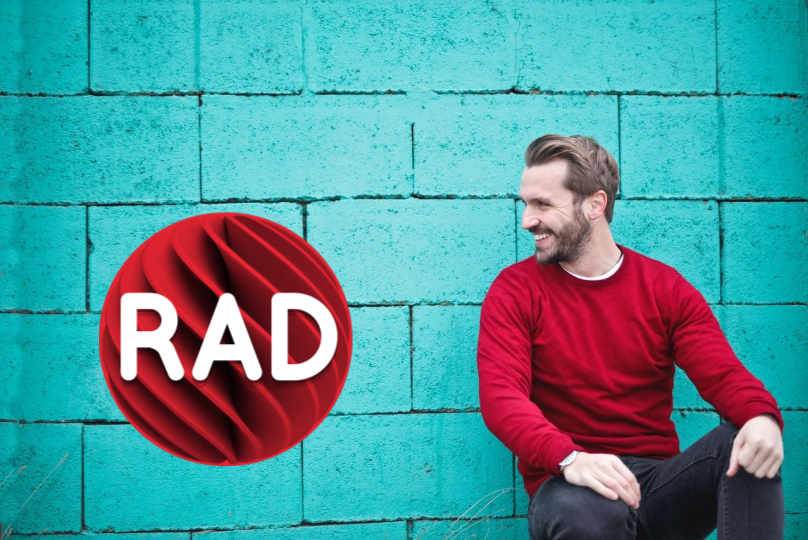 ¿Depuración más rápida con el depurador nativo integrado de RAD Studio?
Agrega puntos de interrupción condicionales para pausar rápidamente la ejecución del programa en un punto determinado o cuando ocurra algún problema en particular.
Explora toda la pila de llamadas para poder rastrear hacia atrás y determinar la ruta que siguió el código en ejecución para llegar hasta el punto actual
Inspecciona fácilmente el valor actual de las variables al pausar el programa durante la depuración
Code Insight™ completamiento de código está disponible mientras se depura.
¡Depura en cualquier dispositivo! Despliega tu aplicación en cualquier dispositivo iOS, Android, macOS o Linux y depura como si se estuviera ejecutando localmente.
Use breakpoints, stack exploration, tool tips and expression evaluation on local and remote machines with live debugging across all deployment platforms.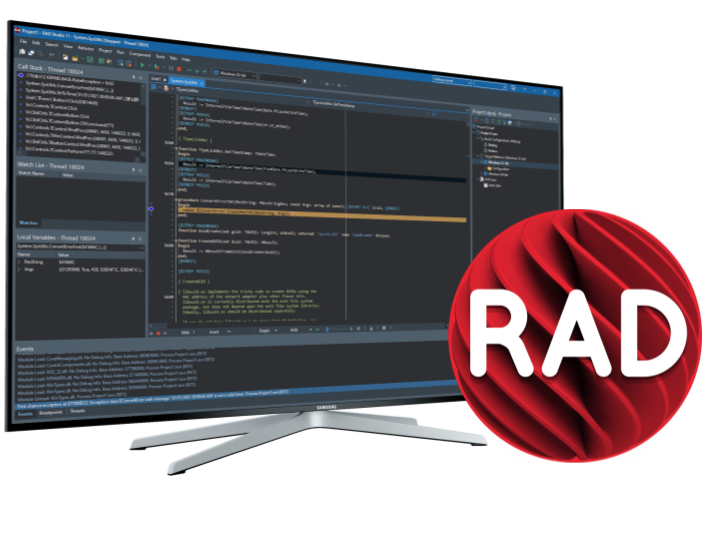 Compila e implementa aplicaciones nativas de alto rendimiento con RAD Studio
Provision your apps for Windows 11! Be ready for Microsoft's new release.
Support for Microsoft's WebView 2 control (Edge Chromium) in the WebBrowser component
Ad hoc para la App Store. Crea rápidamente paquetes de aplicaciones para implementar en la Tienda Windows (mediante Desktop Bridge), Apple App Store y Google Play.
Compile for macOS (M-series Apple Silicon) and use the new universal package for AppStore submission. You can now compile for both existing Intel, and the new M-series macOS processors (Apple Silicon).
Compile for Android API 30! Android API and Libraries updated - API 30, Google Play V3, Android X. Keep current with the latest requirements for Android as the platform evolves. - This includes latest billing API
Define los archivos a implementar por plataforma y establece una configuración. Los desarrolladores pueden identificar dentro de cada proyecto los archivos a implementar según la plataforma de destino (por ejemplo, Windows, macOS, Android, iOS, Linux) y establecer configuraciones (por ejemplo, Depuración o Lanzamiento).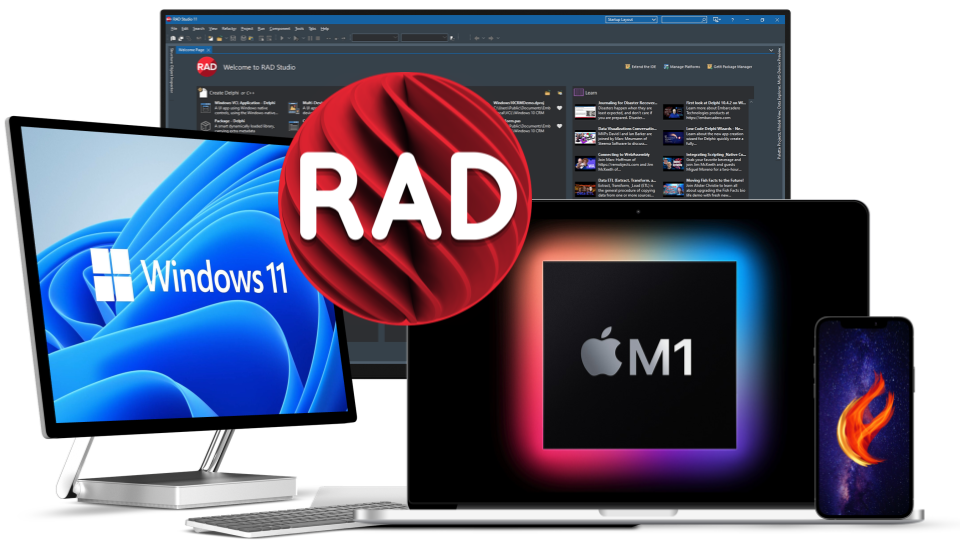 Mejora la calidad de tu código con RAD Studio
Find coding errors automatically and solve them with fast Error Insight
C++ toolchain improvements with overhauled Delphi-style RTTI for C++ types, including using typeid on Delphi-style types
RTL Quality focus: TZipFile, 64bit improvements for large data structures, Bluetooth LE Record Helper for TDateTime in System.DateUtils
Improved C++-style RTTI for Delphi types
CMake quality improvements and greatly improved exception handling on both Win32 and Win64
La refactorización integrada te permite agilizar, simplificar y mejorar el rendimiento y la legibilidad del código de tu aplicación.
Desarrolla un mejor código rápidamente aprovechando las bibliotecas multiplataforma comprobadas y altamente optimizadas.
Crea pruebas de unidades para todo tu código con los frameworks DUnit y DUnitX incluidos
Mira lo que sucede dentro de tu aplicación sin interrumpir la ejecución al agregar la función de registro en directo a cualquier aplicación con CodeSite Logging
Use Visual Studio Code to edit Delphi source with full code completion
LSP awareness of Include files and auto-restart of LSP server
Auto code completion with Tab key
Collaborate Better With RAD Studio Teamwork and Remote Desktop Features
Use enhanced Remote Desktop support (for VCL and IDE) to collaborate remotely with your team
Controla y administra rápidamente los cambios mediante sistemas de control de versiones que incluyen repositorios de Subversion, Git y Mercurial.
Explora los cambios y el historial fácilmente desde la pestaña de historial en el visor de código, con el visor de diferencias integrado.
Convierte los documentos de tu código en ayuda en línea inmediata, disponible para ti y otros desarrolladores del equipo.
Los compiladores en línea de comandos de RAD Studio son ideales para integrar rápidamente configuraciones de compilación en constante desarrollo con proyectos de MSBuild o CMake.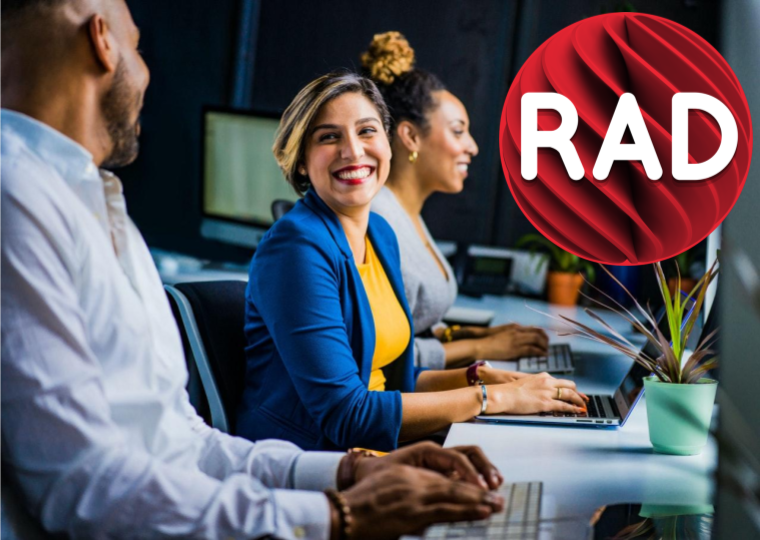 Extend the RAD Studio IDE With Hundreds of Components
Utiliza el Gestor de Paquetes GetIt para mejorar rápidamente la funcionalidad de tus aplicaciones descargando e integrando nuevos componentes
Extiende el IDE con herramientas y componentes de socios tecnológicos de Embarcadero
Employ powerful integrated tools and components like Beyond Compare, FastReport, TeeChart, InterBase, IP*Works, and CodeSite!
Extiende el IDE con complementos y extensiones creadas por decenas de terceros para hacer que tu IDE funcione tú quieres
Desarrolla para el internet de las cosas (IoT). Agrega funcionalidades de IoT al IDE de RAD Studio, con más de 50 componentes para IoT GRATIS a través de GetIt.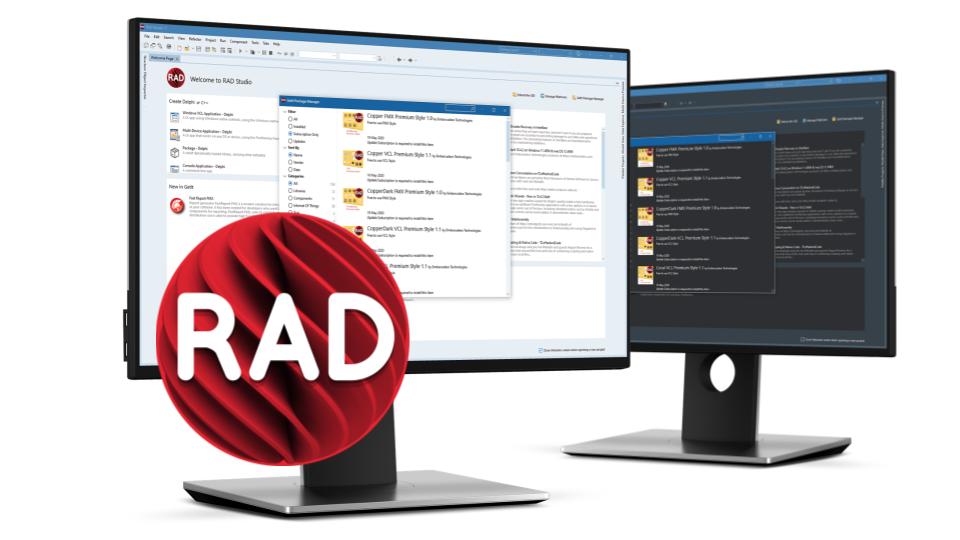 Descarga la matriz de características de RAD Studio