BeaconFence
Beacon Fencing Proximity Solution for Developers
BeaconFence est une solution de détection des balises de proximité destinée aux développeurs souhaitant suivre avec précision les événements et déplacements de l'utilisateur (en intérieur/extérieur) prenant en charge des zones radiales et géométriques – quels que soient l'emplacement physique et la configuration des lieux. Il suffit ainsi de tracer le plan des locaux et la position des balises pour suivre les informations de positionnement au centimètre près. En créant des zones rectangulaires et radiales, vous pouvez notamment contrôler avec des événements de rappel les intersections, les entrées/sorties, etc. Avec BeaconFence, les développeurs accèdent à un niveau supérieur de prise en charge des balises de proximité en intégrant à leurs applications une localisation spatiale précise – en intérieur comme en extérieur.
Le composant BeaconFence intègre différents événements et propriétés paramétrables – comme par exemple l'événement OnZoneEnter permettant de déclencher un événement dans l'application cliente lorsque l'utilisateur pénètre dans une zone prédéfinie.
BeaconFence intègre également l'éditeur de cartographie Beacon Fencing permettant de créer dans une interface graphique une nouvelle carte ou de charger un fichier bitmap existant (par exemple le plan d'un étage de bureau) pour l'utiliser comme carte de référence du balisage. Avec BeaconFence, vous pouvez également configurer plusieurs plans représentant les différentes zones d'une usine ou étages d'un immeuble.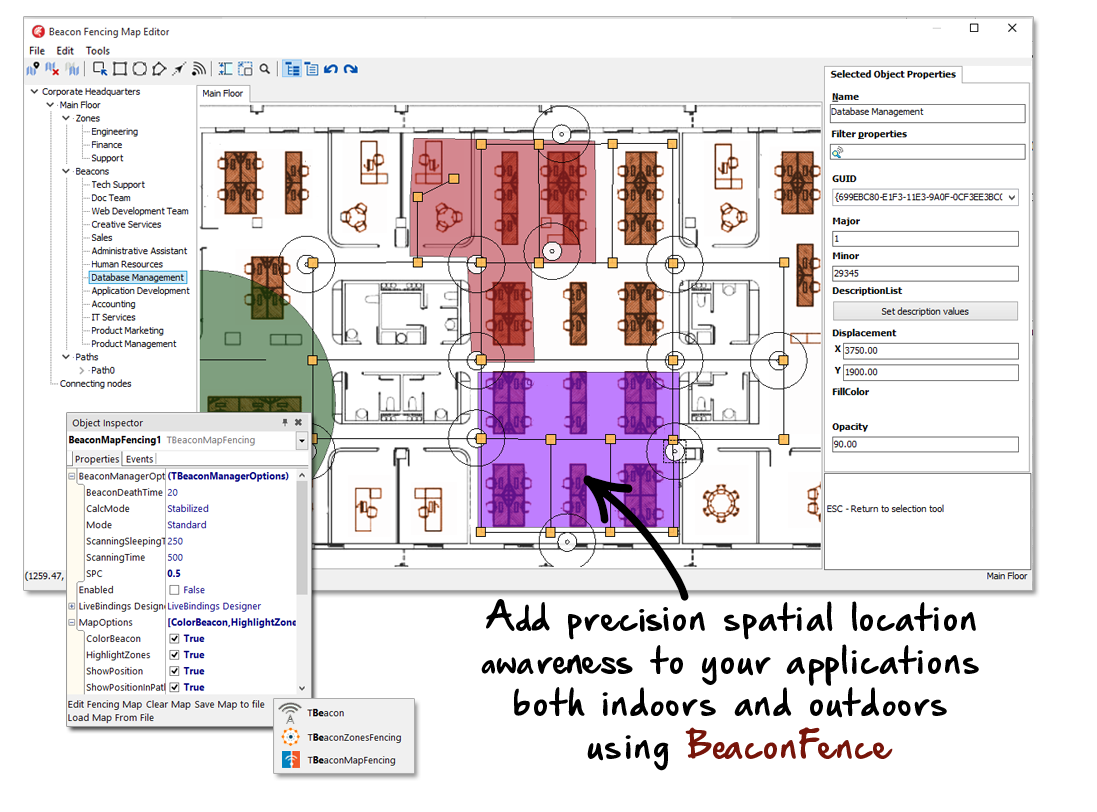 Pricing and Availability
BeaconFence est disponible via GetIt, le gestionnaire de packages intégré à RAD Studio XE8 pour simplifier l'accès, le téléchargement et la mise à jour des composants.
Essayez gratuitement BeaconFence dès aujourd'hui... Lancez GetIt dans RAD Studio XE8 pour obtenir une licence gratuite « Pluto » permettant de configurer et déployer BeaconFence pour prendre en charge un maximum de 3 balises dans un immeuble d'une dimension maximale de 150 mètres carrés et pour une seule application.
To use BeaconFence, you need a RAD Studio XE8 with Update Subscription or any later version.
BeaconFence is now included under RAD Server licensing for simpler, cheaper deployment!