Enterprise Connectors
Connectez-vous à n'importe quelle application aussi facilement qu'à une base de données…
Déplacez, intégrez et analysez les données plus simplement que jamais grâce à nos NOUVEAUX connecteurs d'entreprise FireDAC conçus par CData. Ces composants incomparables vous permettent d'intégrer plus de 130 applications d'entreprise en simplifiant la connectivité grâce à un modèle standard basé sur SQL.
Les données sont aujourd'hui plus décentralisées que jamais et les accès toujours plus complexes si l'on considère qu'une entreprise exploite en moyenne plus de 20 applications SaaS et au moins autant d'applications sur site... Avec ces nouveaux pilotes, vous prenez de meilleures décisions métier, vous éliminez les complexités et maximisez votre productivité en organisant de grandes quantités de données dans un format rapidement et efficacement exploitable.
RAD STUDIO ADD-ON - Extension des applications Delphi et C++Builder avec des connexions aux environnements SaaS, NoSQL & Big Data. Le moyen le plus rapide et le plus simple pour créer des « applications orientées-données ».
Les Enterprise Connectors exigent Delphi, C++Builder ou RAD Studio 10.2 en édition Professional ou supérieure.
Plus de 130 sources et bientôt d'autres - Le plus grand nombre de sources de données prises en charge de l'industrie ! Des abonnements différenciés selon la couverture des sources de données.
Accès direct en temps réel - Accès direct en temps réel aux données en direct. Pas de dépendance vis-à-vis de services cloud ni d'autres intermédiaires.
Distribution sans redevance - Les abonnements sont concédés par développeur avec une distribution libre de droits. À l'expiration de l'abonnement, les droits de distribution se poursuivent – seul le droit de développement s'interrompt.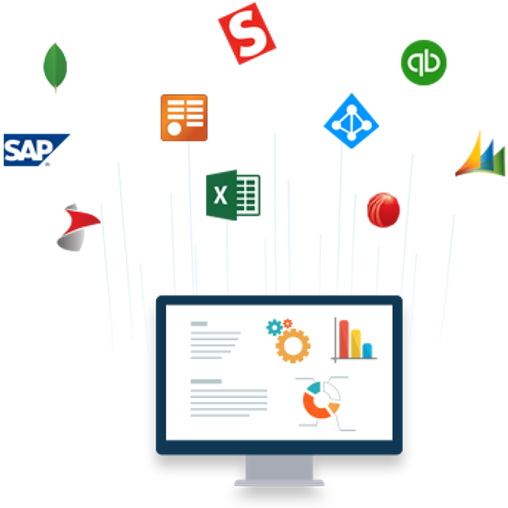 Fonctionnalités
De puissantes fonctionnalités de développement d'entreprise
Réplication et mise en cache
Copiez facilement les données vers des magasins de données locaux et en nuage tels qu'Oracle, SQL Server, Google Cloud SQL, etc. Les commandes de réplication permettent des mises à jour incrémentales intelligentes des données mises en cache.
Bibliothèque de fonctions
Une bibliothèque de plus de 50 chaînes de caractères, de dates et de fonctions SQL numériques qui peuvent manipuler les valeurs des colonnes pour obtenir le résultat souhaité. Parmi les exemples populaires, soulignons les fonctions de traitement de Regex, JSON et XML.
Traitement côté client :
Améliorez les fonctionnalités de la source de données avec un traitement des requêtes côté client supplémentaire, pour permettre des résumés analytiques de données telles que SUM, AVG, MAX, MIN, etc.
Personnalisable :
Personnalisez le modèle de données pour ajouter ou supprimer des tables/colonnes, changer les types de données, etc. sans avoir besoin d'une nouvelle version. Ces personnalisations sont supportées à l'exécution à l'aide de fichiers de schémas modifiables et lisibles par l'utilisateur.
Secure Connectivity:
Includes standard Enterprise-class security features such as TLS/ SSL data encryption for all client-server communications.
Developer Friendly:
Full Design-time support for data operations directly from RAD Studio.
Examples
Se connecter à n'importe quelle application est aussi facile que se connecter à une base de données
Composants FireDAC standards
Aussi simple que la connexion à un SGBDR classique (comme MySQL ou SQL Server). Utilisation de composants FireDAC standards comme TFDManager, TFDConnection, TFDQuery, etc.
FDConnection1.Name := 'SalesforceConnection';
FDConnection1.DriverName := 'CData.Fire.Salesforce';
with FDConnection1.Params as
TFDPhysCDataSalesforceConnectionDefParams do begin
...
end;
FDConnection1.Connected := true;
FDQuery1.Active := true;
FDQuery1.Open('select * from Account where Industry = ''Healthcare''');
Requêtes compatibles SQL-92
Le moyen le plus rapide de développer des applications orientées données. Rédigez des requêtes SQL standards avec prise en charge des jointures, des mises à jour, de l'agrégation, etc.
SELECT with Inner JOIN
SELECT Account.Id, Account.Name, Account.Fax,
Opportunity.AccountId, Opportunity.CloseDate
FROM Account
INNER JOIN Opportunity
ON Account.Id = Opportunity.AccountId
Aggregate Functions
SELECT Name, AVG(AnnualRevenue) FROM Account GROUP BY Name
Update Data
UPDATE Account SET Name='John' WHERE Id = @myId
Applications prises en charge
Disponible dans Enterprise
Disponible dans Enterprise+
* Bientôt disponible
Comptabilité
Blackbaud FE NXT
Exact Online
FreshBooks
Intacct
Microsoft Dynamics GP
QuickBooks Desktop
QuickBooks Online
QuickBooks Point of Sale
Reckon
SAP Concur *
Sage 50 UK
Xero Accounting
CRM et Marketing
Act-On
Act CRM
Bing Ads
DoubleClick Campaign Manager
DoubleClick For Publishers
Dynamics 365 Sales
Google AdWords
Google Analytics
Highrise CRM
HubSpot
Magento
MailChimp
Marketo
Microsoft Dynamics CRM
NetSuite CRM & ERP
Oracle Marketing Cloud
Oracle Sales Cloud
SAP Hybris C4C
Salesforce & Force.com
Salesforce Marketing Cloud
SendGrid
Sugar CRM
SuiteCRM
Veeva Vault *
YouTube
YouTube Analytics
Zoho CRM
ERP et Collaboration
AWS Data Management *
Acumatica ERP
Basecamp
DigitalOcean *
Dynamics 365 Business Central
Dynamics 365 Finance & Ops
Dynamics 365 Sales
Evernote *
Google Directory
Jira
Magento
Microsoft Dynamics GP
Microsoft Dynamics NAV
Microsoft Excel Online
Microsoft Exchange
Microsoft Office 365
Microsoft Project
Microsoft SharePoint
NetSuite CRM & ERP
Odoo ERP
SAP Business One
SAP NetWeaver
ServiceNow
SharePoint Excel Services
Smartsheet
Splunk
SurveyMonkey
WordPress *
Zendesk
NoSQL & Big Data
Active Directory
Amazon Athena
Amazon DynamoDB
Amazon Redshift
Apache Cassandra
Apache HBase
Apache Hadoop Hive
Apache Spark SQL
Azure Cosmos DB
Azure Table Storage
Couchbase
Elasticsearch
Google BigQuery
Google Spanner *
HPCC Systems
IBM Cloud SQL *
IBM Cloudant
MariaDB
MarkLogic *
Microsoft Access
MongoDB
Oracle Database *
Pivotal GreenPlum *
Redis
SQL Analysis Services *
Snowflake *
Sybase *
Teradata *
xBase
eCommerce/Finance
Amazon Marketplace
Authorize.Net
Blackbaud FE NXT
E*TRADE
OFX
Open Exchange Rates
PayPal
Quandl
Shopify
Square
Stripe
eBay
Documents et fichiers
CSV/TSV Files
Google Sheets
Microsoft Excel
Microsoft Excel Online
SharePoint Excel Services
XML Files
Mise en réseau et authentification
Email
FTP Servers
JSON
LDAP
OData
OFX
REST
RSS Feeds
SFTP
Réseaux sociaux
Facebook
Instagram
LinkedIn
Salesforce Chatter
Slack
Twitter
etc.
Azure Data Management
Bing Search
Box
Dropbox
Gmail
Google Calendar
Google Contacts
Google Drive
Google Search
Kintone
Salesforce Einstein Analytics
Twilio
Abonnements Enterprise Connectors
Enterprise
Plus de 70 sources
Pratiquement identique à l'édition Enterprise+ abonnement à un sous-ensemble des sources de données disponibles.
Inclus dans toutes les éditions Enterprise et Architectes
Installation facile à partir de l'EDI via le gestionnaire de packages GetIt
La clé d'abonnement déverrouille les fonctions sous licence.
Support technique de CData.
cliquez ici pour voir les informations sur le contrat de licence d'utilisation et le support.