DB Change Manager Product Videos
Monitoring for Change
Change Manager monitors for changes throughout your enterprise. With automated, "lights out" monitoring of database configuration settings and schema objects, you can receive notifications when changes occur, and generate scripts and send reports to your inbox or network shares.
---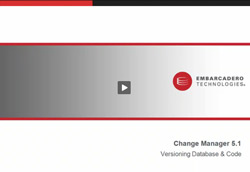 Developer Versioning Database and Code
Change Manager integrates with source code control (SCC) software to easily correlate schema versions with application code versions. By storing snapshots and schema restoration scripts with the application code in SCC, a developer can quickly synchronize app source code with another version and restore the database schema.
---
New In Change Manager 5.1 - Cross-DBMS Schema Compare
Cross-DBMS schema compare and synchronization for migrating databases across DBMS platforms. This feature compares and synchronizes schema differences between SQL Server and Oracle databases and between Sybase and SQL Server databases.
---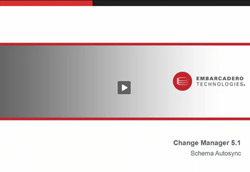 New in Change Manager 5.1 - Schema Compare with Auto-synchronization
Schema comparison with auto-synchronization automatically synchronizes target data sources to match the source. This feature is invaluable for "lights-out" synchronization of test environments or duplicating Production environments in QA and development.
---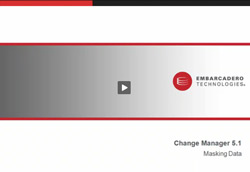 New in Change Manager 5.1 - Data Masking
New data masking features help protect data privacy. Simply run a data compare and synchronization job to shuffle or randomize sensitive data. This will protect the identity of the source when moving data from production into lower security databases like test or development environments.
---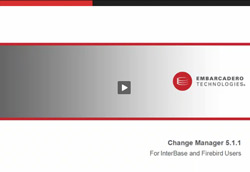 New in Change Manager 5.1.1 – InterBase and Firebird Support
Embarcadero Change Manager now offers full support for InterBase and Firebird. Watch Change Manager capture an InterBase schema archive, extract DDL, run a compare and sync job, run a data compare job with data masking, and automate or schedule jobs using the command-line API.