CodeSite Studio 5
Live Local and Remote Application Logging
Gain deeper insight into code execution with a live viewer logging system that helps locate problems quickly while code is executing locally or remotely. Go beyond traditional breakpoint debugging to log application execution while the app continues to run, feed data from multiple apps into a single log, and visually analyze data in real time.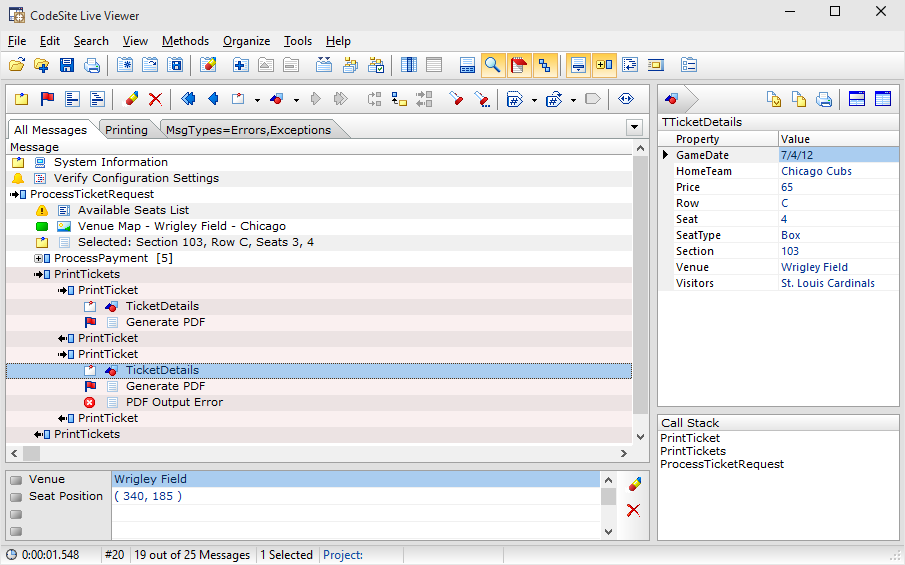 CodeSite for .NET and RAD Studio
CodeSite 5.0 supports the latest development frameworks and integrated development environments including Embarcadero RAD Studio and Visual Studio. CodeSite 5.0 introduces a redesigned message transport format, a flexible new log file format, and even more ways of logging important information from your application.
For example, CS5 includes new TraceMethod functionality, profiling timers, PNG image support, and much more. In addition, CodeSite messages can now be transported and saved in a log file in compressed format, which reduces the size of the message on disk and also obfuscates the message data the log file.
So, whether you are developing native 32-bit applications using Delphi or C++Builder, native 64-bit applications in Delphi XE2 or later, or managed apps based on the Microsoft .NET Framework, CodeSite will handle your logging needs.
Embarcadero Tools
| Embarcadero RAD Studio 10.1 Berlin | Delphi 10.1 Berlin, C++Builder 10.1 Berlin |
| --- | --- |
| Embarcadero RAD Studio 10 Seattle | Delphi 10 Seattle, C++Builder 10 Seattle |
| Embarcadero RAD Studio XE8 | Delphi XE8, C++Builder XE8 |
| Embarcadero RAD Studio XE7 | Delphi XE7, C++Builder XE7 |
| Embarcadero RAD Studio XE6 | Delphi XE6, C++Builder XE6 |
| Embarcadero RAD Studio XE5 | Delphi XE5, C++Builder XE5 |
| Embarcadero RAD Studio XE4 | Delphi XE4, C++Builder XE4 |
| Embarcadero RAD Studio XE3 | Delphi XE3, C++Builder XE3, Delphi Prism XE3 |
| Embarcadero RAD Studio XE2 | Delphi XE2, C++Builder XE2, Delphi Prism XE2 |
| Embarcadero RAD Studio XE | Delphi XE, C++Builder XE, Delphi Prism XE |
| Embarcadero RAD Studio 2010 | Delphi 2010, C++Builder 2010, Delphi Prism 2010 |
| CodeGear RAD Studio 2009 | Delphi 2009, C++Builder 2009 |
Microsoft Tools
Microsoft Visual Studio 2012
Microsoft Visual Studio 2010
Microsoft Visual Studio 2008
CodeSite Webinars with Ray Konopka
Embarcadero CodeSite and Konopka Signature VCL Controls Launch Webinar
Join Ray Konopka in this on demand webinar covering an introduction to the CodeSite Studio 5 logging system with RAD Studio. The associated blog post for the webinar is located here.
CodeRage 7, Ray Konopka – CodeSite Express vs CodeSite Studio
CodeSite is an advanced debugging and application logging system that gives developers deeper insight into how their code is executing. CodeSite Express, which is included in RAD Studio, provides core logging functionality but does not include the full range of capabilities that are available in CodeSite Studio. In this session, the core functionality of CodeSite Express is demonstrated along with a several examples of the more advanced features of CodeSite Studio.
Try CodeSite Express Today for Free!
CodeSite Express includes core logging functionality but does not include the full range of functionality included in CodeSite Studio.
CodeSite Express is included with RAD Studio, Delphi, and C++Builder.
To access CodeSite Express from the IDE, select Tools > CodeSite.
START FOR FREE
| | CODESITE STUDIO 5 | CODESITE EXPRESS 5 |
| --- | --- | --- |
| CODESITE LOGGING CLASSES | X | X |
| CODESITE DISPATCHER | X | |
| CODESITE VIEWERS | X | |
| USING TRACEMETHOD TO RECORD BOTH AN ENTERMETHOD AND EXITMETHOD MESSAGE WITH A SINGLE STATEMENT | X | |
| RECORDING TIME DURATIONS USING A BUILT-IN HIGH-PRECISION TIMER | X | |
| REMOTE DESTINATIONS (I.E. TRANSPORTING CODESITE MESSAGES TO A REMOTE MACHINE) | X | |
| HAVE LOGGING CLASSES DIRECTLY CONNECT TO A REMOTE CODESITE DISPATCHER | X | |
| SPECIAL EVENT IN LOGGING CLASSES TO HOOK INTO LOGGING PROCESS (VCL: ONSENDMSG; .NET: SENDING) | X | |
| SENDING COLOR, POINT, SIZE, RECTANGLE STRUCTURES | X | |
| SENDING BITMAPS, ICONS, IMAGES, SCREEN SHOTS | X | |
| SENDING COLLECTIONS | X | |
| SENDING CONTROLS, PARENTS, AND WINDOW HANDLES (WINFORMS) | X | |
| SENDING CUSTOM DATA AND THE ICODESITECUSTOMDATA INTERFACE | X | |
| SENDING TEXT FILES, FILES, AND STREAMS | X | |
| SENDIF METHODS | X | |
| SENDING SYSTEM INFO, MEMORY STATUS, AND STACK TRACE | X | |
| SENDING XML DATA AND XML FILES | X | |
| EXITMETHODCOLLAPSE METHOD | X | |
| EVENT LOG METHODS: LOGERROR, LOGEVENT, LOGWARNING | X | |
| WRITING VALUES TO THE CODESITE SCRATCH PAD | X | |
| .NET CONFIGURATION FILE SUPPORT | X | |
| … AND MUCH MORE! | X | |
Pricing and Availability
CodeSite Studio 5 is available through our online store and can also be purchased from Embarcadero Sales or from a partner reseller.
The purchase of CodeSite Studio 5 includes a one-time license and annual Update Subscription membership.
Update Subscription
Get maintenance updates, hot fixes, all major version upgrades and more with the Update Subscription plan.
Periodic Critical Function Hotfixes
Discretionary hotfixes for critical product functions - where no work-around is available.
Maintenance Updates
Bug fixes, performance & feature improvements.
Continued Maintenance
On-going maintenance updates for the current release and two previous releases.
Technical Support
Phone based technical support and three (3) annual incidents with web-tracking.
Major Version Upgrades
Major Version Upgrades Compatibility patches for all major IDE releases. E.g. RAD Studio 10 Seattle to RAD Studio 10.1 Berlin etc. Never buy upgrades again, always get the latest version when it's released.
Early Beta Access
Beta access to hotfixes, updates, and major "next" versions.
Exclusive Content
Exclusive technical content and bonus add-ons.
FAQ