The Future of Data Modeling is Here
ER/Studio Enterprise Team edition provides the fastest, easiest, and most collaborative way for data management professionals to build and maintain enterprise-scale data models and metadata repositories. Built-in facilities automate routine modeling tasks so users can analyze and optimize database and data warehouse designs faster than ever. Model change management provides the ability to create and track tasks associated with data models in order to enable data architects to ensure their models stay aligned with database and application development efforts using an Agile workflow. With a repository-based model management system and Team Server web interface, ER/Studio Enterprise Team edition provides the most productive way to share, document, and publish your models and metadata to distributed teams.
Use ER/Studio for Models and Metadata
---
"ER/Studio allows us to collaborate efficiently and keep up with our vast, complex databases and our customers' needs."
– Kelly Carrigan, VP of Data Warehousing and Infrastructure, Catalina Marketing
---
Learn More About ER/Studio
---
The Team Edition Difference
The ER/Studio Enterprise Team edition provides model and metadata collaboration and enables faster and more effective decision-making using more accurate data. The flagship ER/Studio Data Architect is the foundation for this comprehensive suite that also includes import and export bridges, a model repository, and a data source registry. Additionally, the ER/Studio Team Server repository in this edition allows unlimited web user access to models and metadata, and provides greater meaning, understanding and context to enterprise data with an extensible glossary so users can view, store and centrally manage authoritative business definitions.
---
Enhance Your Business Glossary
The Team Server glossary provides flexibility and visibility for the entire organization. Glossary hierarchies allow users to define business-area specific glossaries with rollups to higher level glossaries, to reflect the corporate structure. Glossary editing capabilities have been expanded with audit trails for changes and the ability to export and modify a subset of glossaries and terms. Additionally, the Advanced Search functionality can find and filter data sources, glossaries, terms, and data objects, for better granularity in searching across the various components in the Team Server Repository. The data dictionaries in ER/Studio Data Architect are also tightly integrated with the Team Server glossaries, providing data professionals with real-time access to definitions in their model attributes.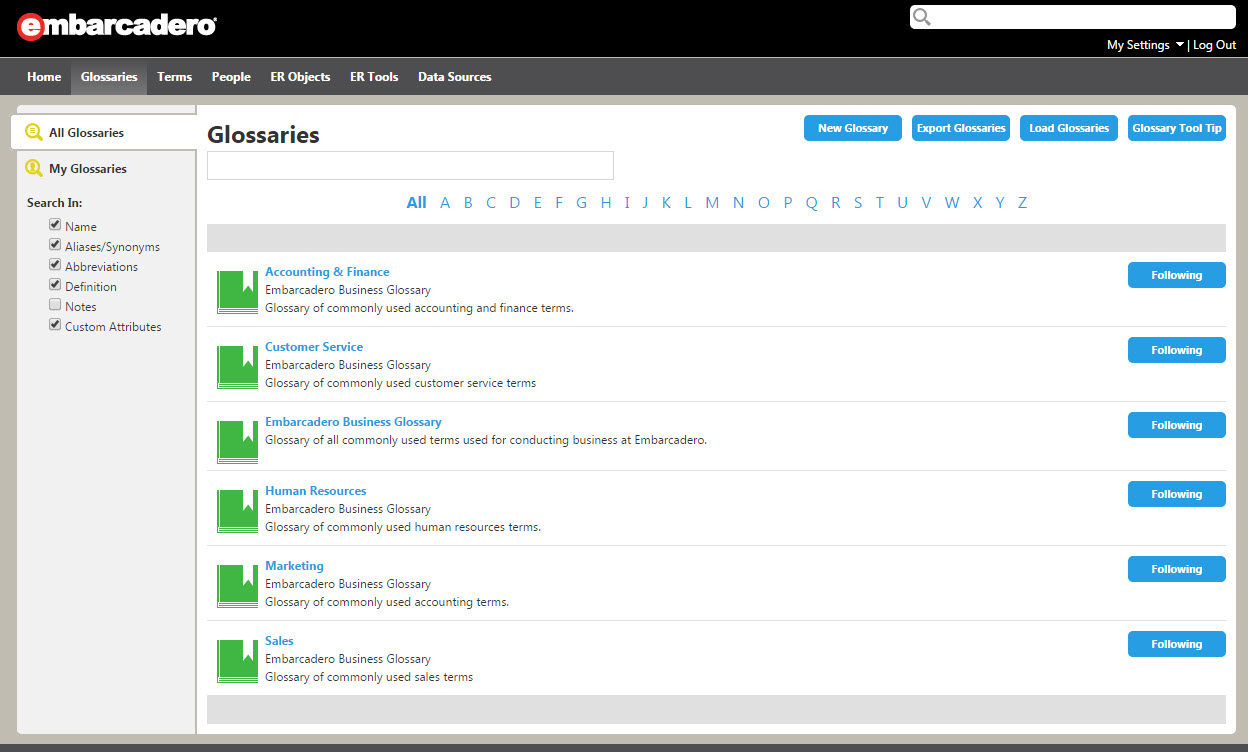 ER/Studio Enterprise Team edition enables data management professionals to easily share, document, and publish models and metadata to distributed teams. Empowered with easy-to-use features for communicating and collaborating on essential data and definitions, ER/Studio users find it simpler and faster to successfully manage their data and use it for making high-value decisions.
---
Address the Challenges of Managing Enterprise Data
With many organizations seeing 25 percent year-on-year data growth, and with data becoming more diverse and updated more frequently, the role of data management professionals has become increasingly complex. Data management professionals face three distinct challenges:
Leveraging enterprise data as an organizational asset
Improving and managing data quality
Clearly and effectively communicating data throughout an organization
---
"I cannot adequately emphasize the impact that ER/Studio will have on the success of your enterprise. The cost of the product is barely a concern compared to the money it will save your company and the modeling enhancements it will offer your development team."
– InfoWorld
---
To address these issues, they need to define a data management strategy, in order to create and maintain large data models. Those companies that can make even incremental improvements to the accurate and effective use of large data volumes will benefit from significant competitive advantages. When an organization can interpret data accurately, share data effectively, and re-use data quickly, the quality of business decision-making improves.
Data architecture has evolved well beyond traditional relational modeling, now encompassing areas such as dimensional modeling and enhanced metadata management. ER/Studio's Repository change management capability now includes tasks which allow data modelers to capture not only what changes are being made, but also why. The tasks can be used to represent requirements or user stories, and can be tied directly to data model updates and versions, keeping the models aligned with database and application development efforts using an Agile workflow.
ER/Studio has expanded the support for naming standards to enable automatic application of a template across entities and attributes in logical and physical models. When a data modeler types in a logical entity name, the physical entity name is immediately generated, and the same for physical to logical mapping.
With a well-earned reputation for balancing powerful features with ease of use, ER/Studio gives data modelers and data architects the capabilities needed to analyze, document, and share essential metadata. These features are coupled with organizational visibility and alignment to pre-defined standards and data formats. ER/Studio provides direct access to existing data assets while reducing re-creation and redundancy.
---
There is an ongoing and urgent requirement to improve the quality and consistency of data that evolves into essential organizational information.
---

---
Integrate Multiple Diverse Platforms
Data management professionals turn to ER/Studio when they need to document, interpret, and fully take control of their enterprise data environment.
Many organizations must deal with both structured and schema-less data, as well as a broad landscape of platforms. ER/Studio builds even further on its support of strategic enterprise systems including Teradata, Netezza, and Greenplum, as well as Big Data platform support for Hadoop Hive and MongoDB, so that organizations can manage their data residing in diverse locations, from data centers to mobile platforms.