Embarcadero Analytics
Know how your Apps are being used. Guide your development process with quantitative, critical metrics for application, middleware, and end user behavior. AppAnalytics provides developers with clear insight to how end-users are interacting with client side apps. Enterprise Mobility Services (EMS) API Analytics tracks how your app is consuming hosted REST APIs.
---
RAD Studio XE8 opens new horizons for developers with its impressive new features.

Kelson Palharini

Developer, Ponto.Sys Sistemas
---
Understand How Your Customers Are Using Apps with AppAnalyics
La compréhension des modes d'utilisation de vos applications vous permet de mieux fidéliser vos utilisateurs Ces analyses peuvent également guider et orienter vos efforts d'ingénierie. Vous optimisez vos interventions pour offrir aux utilisateurs une qualité d'expérience incomparable.
AppAnalytics is a new Embarcadero hosted service that enables tracking of anonymous end user events within your app; how many times they start and close an app, how they flow through the user interface, which device and operating system version they are using, crash and error metrics, as well as capturing custom events. With these analytics, understand how end users use an app to guide engineering efforts and make the app the best it can possibly be! With the inclusion of a single component, AppAnalytics works for mobile and desktop apps including existing VCL applications for Windows.
Learn More About AppAnalytics >
---
Enterprise Mobility Services API Analytics
EMS fournit automatiquement des analyses en temps réel pour superviser les interactions des utilisateurs avec le middleware EMS et les API REST qu'ils appellent. Naviguez dans les listes d'utilisateurs et de groupes pour visualiser les activités quotidiennes en ligne et leur historique. Vous pouvez également afficher l'utilisation globale de l'API REST (annuelle, mensuelle ou quotidienne) et zoomer sur des ressources REST (appels individuels d'API REST, etc.). Vous supervisez la façon dont vos clients utilisent les applications et les services et sources de données avec lesquels ils travaillent.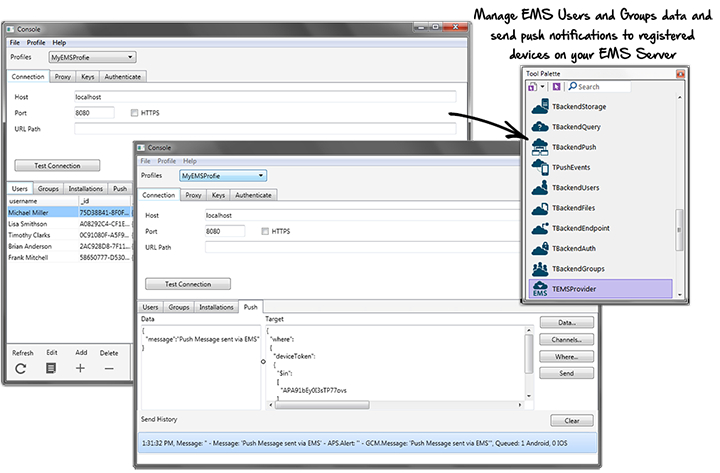 ---
Integrate Your VCL and FireMonkey Apps With Backend-as-a-Service (BaaS) Analytics
Integrate cloud based services from Backend as a Service (BaaS) providers, Kinvey, Parse, and App42 with components for popular BaaS services like notifications, user management, and storage. Additionally, you can take advantage of BaaS provider hosted API usage tracking and reporting.
Learn More about BaaS Integration and the Cloud >