BeaconFence
Beacon Fencing Proximity Solution for Developers
O BeaconFence é uma solução de proximidade do desenvolvedor que fornece rastreio e eventos de localização do usuário em ambientes abertos/fechados, "sem uso de GPS", com zonas radiais e geométricas para qualquer local ou layout físico. Desenhe visualmente o layout da localização física e do posicionamento do beacon para rastrear informações de localização com precisão de centímetros. Crie zonas radiais e retangulares e rastreie interseções, entradas e saídas com eventos callback. O BeaconFence permite que os desenvolvedores levem os beacons de proximidade além, adicionando percepção precisa da localização espacial às suas aplicações, tanto em áreas internas quanto em externas.
The BeaconFence component has many different properties and events you can set up, such as the OnZoneEnter event to trigger an event in the user's client application as he enters a pre-defined zone.
It also includes the Beacon Fencing Map Editor. You can easily create a new map using this GUI editor, and load an existing bitmap, such as an office floor plan, to use as your beacon-fencing map. With BeaconFence, you can set up several maps for different areas in your factory, for example, or floors in your building.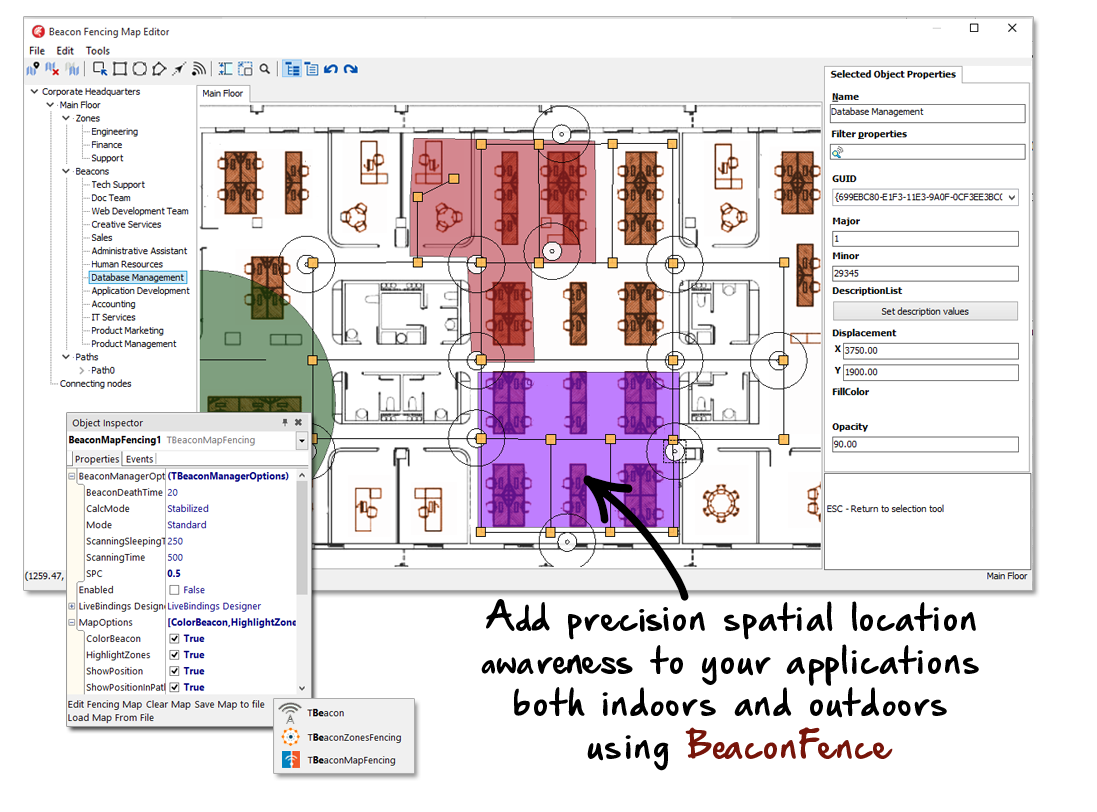 Pricing and Availability
BeaconFence is available through GetIt, a package manager integrated into RAD Studio for easily accessing, downloading and updating components.
Try BeaconFence today for free. Launch GetIt in RAD Studio to request access to a free Pluto license, allowing you to set up and deploy BeaconFence with support of up to 3 beacons, 1 location with a building size of up to 1,500 square feet / 150 square meters and 1 application.
To use BeaconFence, you need a RAD Studio XE8 with Update Subscription or any later version.
BeaconFence is now included under RAD Server licensing for simpler, cheaper deployment!