Gratis C++-Compiler
Der Embarcadero BCC32C C++-Compiler ist das leistungsstarke Fundament und die Kerntechnologie von Embarcaderos preisgekrönter C++Builder-Produktlinie.
Dieser Gratis-Download des C++-Compilers für C++Builder enthält Sprachunterstützung für C++11, das Dinkumware STL-Framework (Standard Template Library) und die vollständige Embarcadero C/C++-Runtime Library (RTL). In der Gratis-Version finden Sie ebenfalls eine Anzahl an C/C++-Kommandozeilenwerkzeugen, wie den leistungsstarken Linker und den Ressourcen-Compiler.
Zum GRATIS-Tool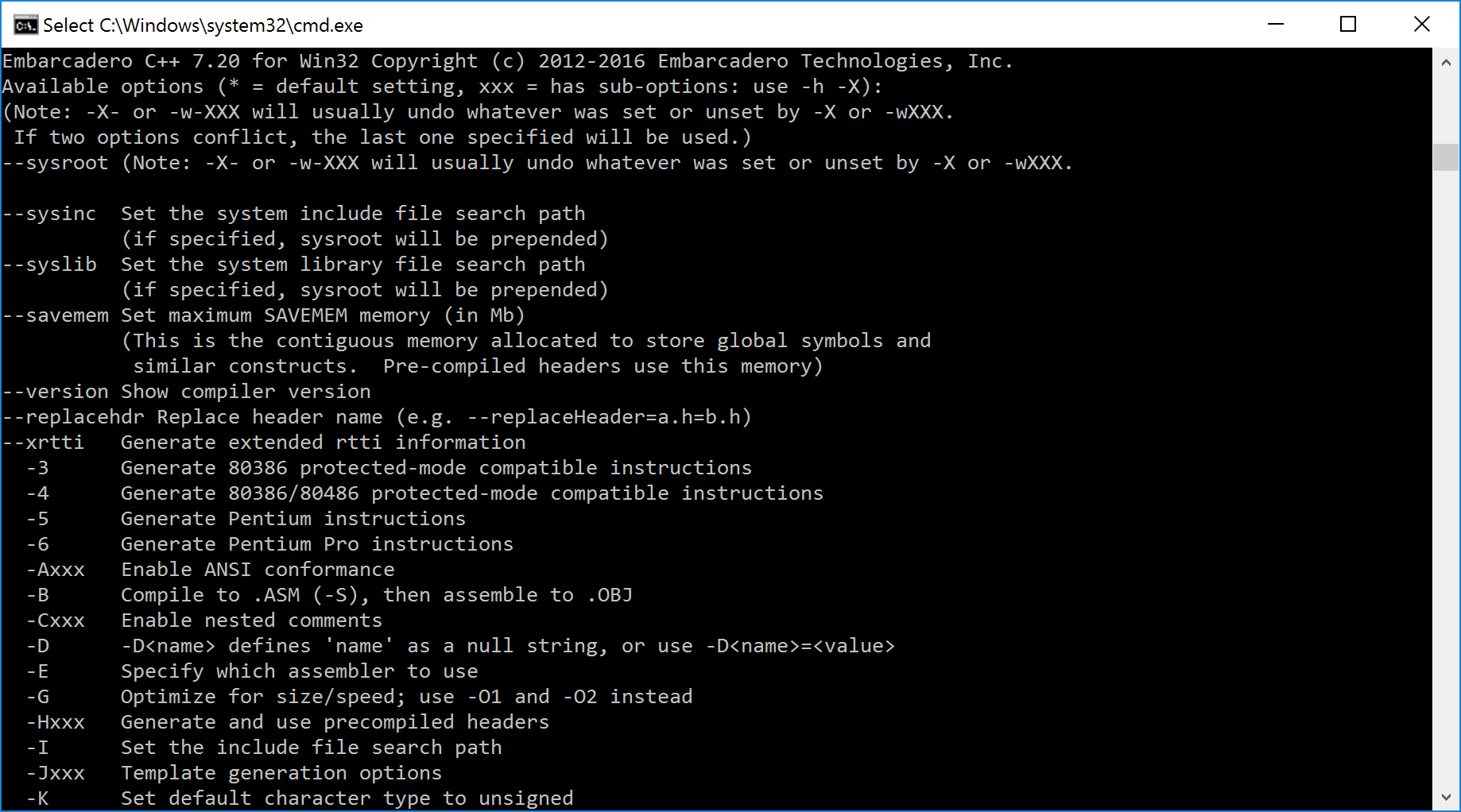 Produkteditionen
| | Gratis C++-Compiler | C++Builder Starter | C++Builder Pro, Enterprise oder Architect * |
| --- | --- | --- | --- |
(*) Einen detaillierten Vergleich finden Sie in der vollständigen Feature-Matrix für Starter, Pro, Enterprise und Architect.
So erhalten Sie den C++-Compiler
Gratis Compiler-Download
Sie können den Embarcadero C++ Compiler (BCC32C) und die zugehörigen Kommandozeilentools unter folgendem Link herunterladen.
Download des Gratis Compilers >
New Starter Edition
Quickly get up and running on the fastest tool for C++ programming with our C++Builder Starter edition—at a great price! C++Builder Starter includes the very latest version of the Windows C++ Compiler. Click the link below to learn more about the Starter Edition.
Learn more about C++Builder Starter >
Gratis 30-Tage-Lizenz
Klicken Sie auf den folgenden Link und Sie erhalten eine kostenfreie 30-Tage-Lizenz der vollständigen C++Builder IDE. Diese Version mit vollem Funktionsumfang enthält die neuesten Compiler für Windows, Mac OS X, Android und iOS sowie die komplette IDE und visuelle Designer.
Download der Testversion von C++Builder&nbsp >
Der Gratis-Download des Compilers enthält:
Embarcadero C++-Compiler (bcc32c)
Turbo Incremental Linker (tlink32)
C++ Win32 Präprozessor (cpp32)
Import-Library-Dienstprogramm zur Erstellung von Import-Libraries aus DLLs (implib)
Bibliothek für Symbol-Case-Konvertierung, das Erstellen von erweiterten Bibliotheken und das Ändern der Seitengröße (tlib)
Andere nützliche Kommandozeilen-Utilities wie Make, Grep und Touch
Enthält die Embarcadero C/C++ Runtime Library und die DinkumwareANSI/ISO Standard Template Library (STL)
C++Builder enthält Compiler für Win64, OSX, iOS und Android. Auch bietet C++Builder eine moderne, sehr produktive RAD Studio IDE, Debugger-Tools und Konnektivität der Enterprise-Klasse, um die plattformübergreifende UI-Entwicklung zu beschleunigen. Weitere Infos zu RAD Studio auf der Produktseite.