Embarcadero - Analysen
Know how your Apps are being used. Guide your development process with quantitative, critical metrics for application, middleware, and end user behavior. AppAnalytics provides developers with clear insight to how end-users are interacting with client side apps. Enterprise Mobility Services (EMS) API Analytics tracks how your app is consuming hosted REST APIs.
---
RAD Studio XE8 opens new horizons for developers with its impressive new features.

Kelson Palharini

Developer, Ponto.Sys Sistemas
---
Understand How Your Customers Are Using Apps with AppAnalyics
Verfolgen Sie, wie Ihre Endbenutzer Ihre Anwendung verwenden. Sie können damit auf einfache Weise sicherstellen, dass diese adäquat benutzt wird. Und Sie erhalten Hinweise, worauf Ihre Techniker ihr Augenmerk legen sollten. Maximieren Sie Ihre Bemühungen für eine optimale Benutzerführung.
AppAnalytics is a new Embarcadero hosted service that enables tracking of anonymous end user events within your app; how many times they start and close an app, how they flow through the user interface, which device and operating system version they are using, crash and error metrics, as well as capturing custom events. With these analytics, understand how end users use an app to guide engineering efforts and make the app the best it can possibly be! With the inclusion of a single component, AppAnalytics works for mobile and desktop apps including existing VCL applications for Windows.
Weitere Infos zu AppAnalytics >
---
Enterprise Mobility Services API Analytics
EMS bietet automatisch Echtzeitanalysen, mit denen die Aktivitäten der Benutzerinteraktion mit EMS-Middleware und die von ihnen aufgerufenen REST-APIs nachverfolgt werden können. Die täglichen Aktivitäten und Verläufe lassen sich Benutzer- und Gruppenlisten entnehmen. Die REST-API-Nutzung kann jährlich, monatlich oder täglich angezeigt und nach individuellen REST-Ressourcen inklusive individuellen REST-API-Aufrufen aufgeschlüsselt werden. Sie haben damit die Möglichkeit, nachzuverfolgen, wie Ihre Kunden die Anwendungen nutzen und mit welchen Diensten und Datenquellen diese im Zeitablauf arbeiten.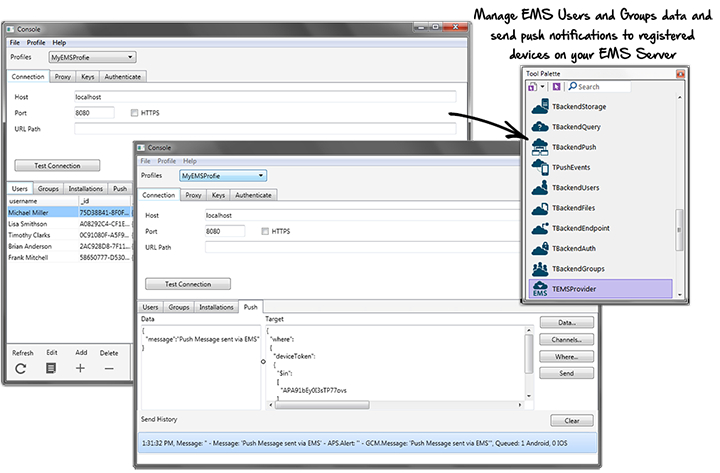 ---
Integrate Your VCL and FireMonkey Apps With Backend-as-a-Service (BaaS) Analytics
Integrate cloud based services from Backend as a Service (BaaS) providers, Kinvey, Parse, and App42 with components for popular BaaS services like notifications, user management, and storage. Additionally, you can take advantage of BaaS provider hosted API usage tracking and reporting.
Weitere Infos über BaaS-Integration und die Cloud >