One Codebase, One Team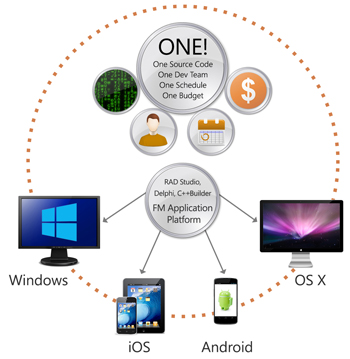 Les entreprises subissent une forte pression pour fournir des applications utilisables au bureau mais aussi en déplacement soulevant de multiples problématiques de coût et de complexité pour codifier et administrer ces différentes versions. Avec les solutions de développement Embarcadero, telles que RAD Studio, Delphi et C++Builder, vous gérez une seule base de code, une seule équipe et un seul planning pour prendre en charge de multiples plateformes – sans compromis de performance.
---
The overall vision of where RAD Studio is going is awesome!

Davis Peterson
---
Une seule base de code, une seule équipe pour de multiples bénéfices
Les développeurs créent à moindre effort des applications plus performantes sur toutes les plateformes et plus séduisantes pour les utilisateurs.
Les responsables du développement réduisent les coûts et la complexité en n'ayant à gérer qu'une équipe, une base de code, un budget et un planning.
Les décideurs sont assurés que leurs projets technologiques touchent un nombre maximal de clients potentiels grâce à une stratégie multisystème garantissant une satisfaction supérieure des utilisateurs – et un avantage concurrentiel décisif.
---
Les fonctionnalités clés pour prendre en charge le développement multisystème avec une seule base de code et une seule équipe sont les suivantes :
Plateforme applicative intégrale pour Windows, Mac, iOS et Android
FireUI : un environnement complet de développement visuel pour créer une seule interface pour les postes de travail et les dispositifs mobiles de différents types, résolutions et orientations
Contrôles d'interface et services natifs (mouvement, senseurs caméra, localisation géographique, partage ShareSheet, notifications etc.)
Workflow optimisé de développement automatisant le déploiement et le débogage sur les appareils physiques
Cibles de déploiement multicanal (App Store) et débogage ad-hoc des cibles de déploiement
Base de code unique pour connecter différents types de systèmes sous-jacents d'entreprise (sur site, cloud, etc.)
Prise en charge des bases de données locales SQLite, IBLite et InterBase ToGo
IBLite - Une nouvelle version librement déployable de la fameuse base de données intégrée InterBase ToGo pour Windows, Mac OS X, Android et iOS
Connectivité multi-tier d'entreprise intégrée pour Oracle, Sybase, IBM DB2, InterBase, MySQL, Microsoft SQL Server, Microsoft Azure, Amazon Web Services, SOAP, services RESTful, etc.
RAD Studio est la solution complète pour développer des applications connectées pour Windows, Mac, iOS, Android et l'Internet des objets.