One Codebase, One Team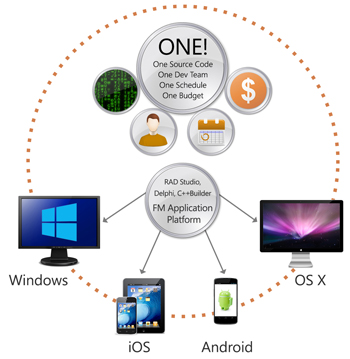 Unternehmen stehen vor der Aufgabe, Anwendungen zur Verfügung zu stellen, die ihre Kunden sowohl im Büro als auch unterwegs nutzen können. Solche verschiedenen Versionen zu programmieren und zu verwalten, kann kosten- und zeitaufwändig sein. Mit den Softwareentwicklungslösungen von Embarcadero (RAD Studio, Delphi und C++Builder) arbeiten Sie mit einer Quellcodebasis, einem Team und einem Zeitplan, können aber mehrere Plattformen ohne Leistungseinbußen adressieren.
---
The overall vision of where RAD Studio is going is awesome!

Davis Peterson
---
Zentrale Vorteile des Prinzips "Eine Codebasis, ein Team"
Entwickler können Anwendungen ohne zusätzlichen Aufwand für alle Plattformen erstellen – das vereinfacht die Entwicklung und ermöglicht Entwicklern gleichzeitig die Schaffung beeindruckender Ergebnisse.
Entwicklungsmanager können Kosten und Komplexität reduzieren: mit einem einmaligen Aufwand für die Anwendungsentwicklung: ein Entwicklungsteam, eine Codebasis, ein Budget, ein Zeitplan.
Führungskräfte haben die Möglichkeit, sicherzustellen, dass ihre Technologieentscheidungen die maximale Anzahl von Kunden erreichen, wodurch die Zufriedenheit erhöht wird. Die geräteübergreifende Strategie führt außerdem zu schnellen Markterfolgen, womit der Vorsprung vor den Wettbewerbern erhalten bleibt.
---
Zentrale Funktionen zur Unterstützung geräteübergreifender Softwareentwicklung mit einer Codebasis und einem Team
Komplette Anwendungsplattform für Windows, Mac, iOS und Android
FireUI: Sie erhalten einen kompletten visuellen Designer für das Erstellen einer Benutzeroberfläche für Desktop- und Mobilanwendungen mit mehreren Gerätetypen, Auflösungen und Ausrichtungen
Nativ gestaltete Steuerelemente der Benutzeroberfläche und native Dienste wie Bewegungs- und Kamerasensoren und Geopositionierung, Teilfelder sowie Benachrichtigungsdienste
Optimierter Entwickler-Workflow zur Automatisierung von Bereitstellung und Debugging auf physischen Geräten
Mehr-Kanal-App Store und Ad-hoc- sowie Debugging-Bereitstellungsziele
Eine Quellcodebasis zur Verbindung mit verschiedenen Unternehmens-Backends, vor Ort oder in der Cloud
Lokale Datenbankunterstützung für SQLite, IBLite und InterBase ToGo in mobilen Anwendungen
IBLite – eine neue kostenfreie, bereitstellungsfähige Version der populären eingebetteten InterBase ToGo-Datenbank für Windows, Mac OS X, Android und iOS
Integrierte mehrschichtige Unternehmenskonnektivität für Oracle, Sybase, IBM DB2, InterBase, MySQL, Microsoft SQL Server, Microsoft Azure, Amazon Web Services, SOAP, RESTful-Services und mehr
RAD Studio is the complete solution to build connected apps for Windows, Mac, iOS, Android, and the Internet of Things.