One Codebase, One Team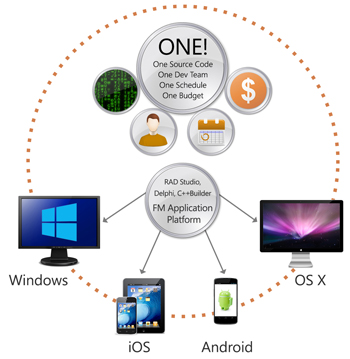 Las empresas tienen la presión de entregar aplicaciones que sus clientes puedan utilizar en la oficina y en la calle, pero codificar y administrar las diferentes versiones puede resultar costoso y requiere de tiempo. Con las soluciones de desarrollo de software de Embarcadero, incluidas RAD Studio, Delphi y C++Builder, administras un solo código fuente, un solo equipo, un solo cronograma y un solo presupuesto para múltiples plataformas sin descuidar el rendimiento.
---
The overall vision of where RAD Studio is going is awesome!

Davis Peterson
---
Principales beneficios de trabajar con un código fuente y un equipo
Los desarrolladores pueden crear aplicaciones para todas las plataformas, con menor esfuerzo de codificación, lo que facilita el desarrollo al mismo tiempo que permite a los desarrolladores lograr resultados más sorprendentes.
Los gerentes de desarrollo pueden reducir costos y la complejidad con una única solución para todo el desarrollo de las aplicaciones: un solo equipo de desarrollo, un solo código de fuente, un solo presupuesto, un solo cronograma de trabajo.
Los ejecutivos pueden asegurarse de que sus iniciativas tecnológicas alcancen al mayor número de clientes, lo cual incrementa la satisfacción y lleva su estrategia multidispositivo al mercado con rapidez para mantenerse por delante de la competencia.
---
Características principales del desarrollo de software multidispositivo con un código fuente y un equipo:
Plataforma de aplicaciones integral para Windows, Mac, iOS and Android.
FireUI: Diseñador visual para una interfaz de usuario para equipos de escritorio y móviles con múltiples tipos de dispositivo, resoluciones y orientaciones
Controles de interfaz de usuario de estilo nativo para y servicios nativos como sensores de movimiento y de cámara y ubicación geográfica, Share Sheet y servicios de notificaciones
Flujo de trabajo optimizado para el desarrollador que automatiza la implementación y depuración en los dispositivos físicos
Tienda de aplicaciones multicanal, destinos de implementación ad hoc y de depuración
Un solo código fuente para conectar con diferentes back-ends empresariales, de manera local o en la nube
Compatibilidad con bases de datos locales para SQLite, IBLite e InterBase ToGo en las aplicaciones móviles
IBLite – una nueva versión de implementación libre de la popular base de datos integrada InterBase ToGo para Windows, Mac OS X, Android e iOS
Conectividad empresarial multinivel integrada para Oracle, Sybase, IBM DB2, InterBase, MySQL, Microsoft SQL Server, Microsoft Azure, Amazon Web Services, SOAP, servicios RESTful y más
RAD Studio es la solución integral para crear aplicaciones conectadas para Windows, Mac, iOS, Android y el internet de las cosas (IoT).