Extend
RAD Studio 包含数百个组件,用于从创建用户界面到数据库连接等各种功能,可以快速轻松地为桌面和移动平台构建互联的业务应用程序。除了包含的 VCL 和 FireMonkey 组件外,Delphi 和 C++Builder 社区还提供了大量的工具和组件。
GetIt Package Manager
Using the GetIt Package Manager, developers can rapidly improve the functionality of their applications by downloading and integrating new components, without leaving the RAD Studio IDE! You can even require specific packages for a project, meaning that opening a project will ensure that the right libraries and controls are installed for you.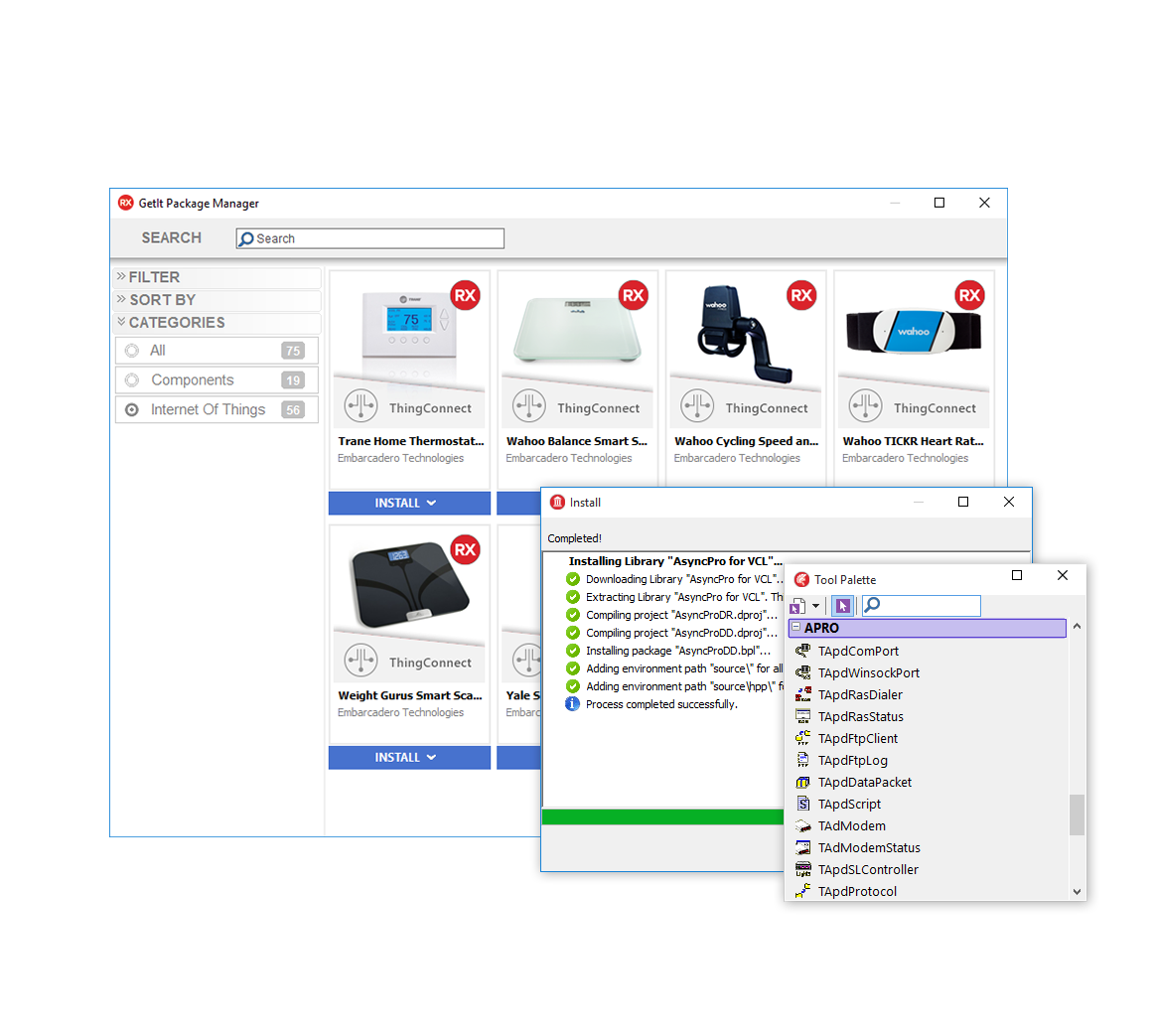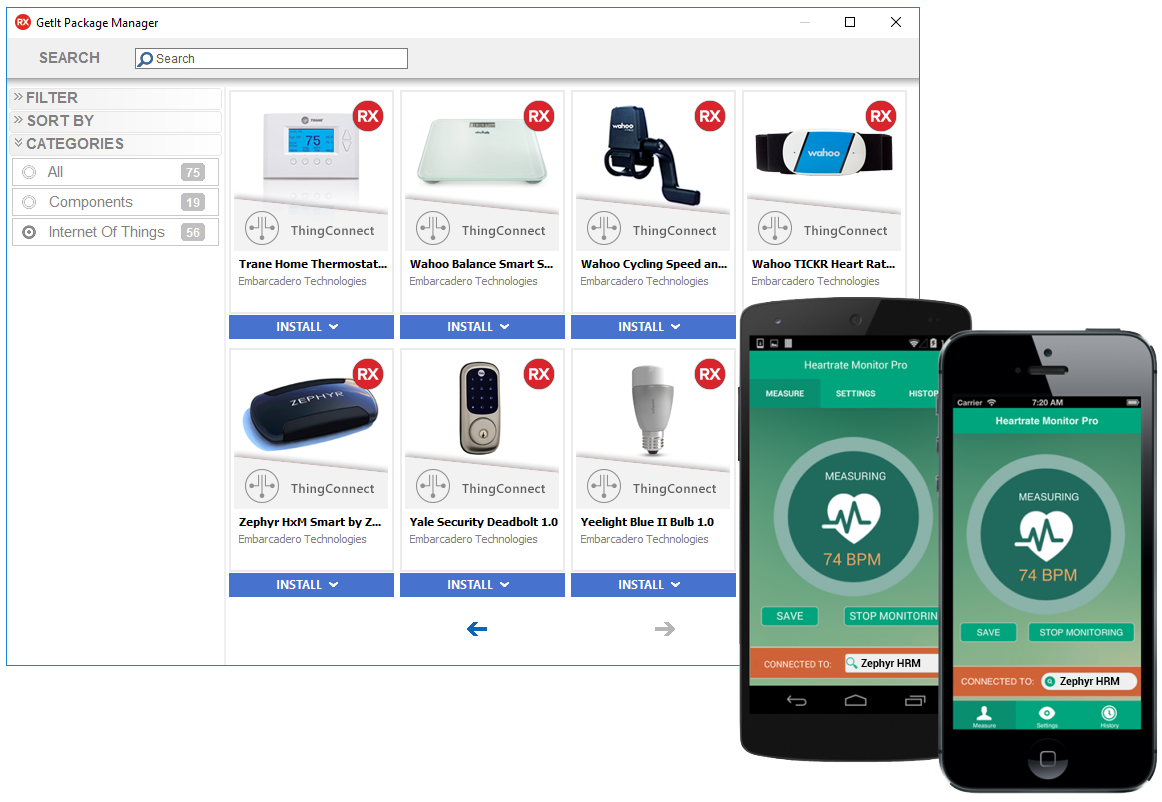 Build for the Internet of Things
Quickly add IoT capabilities to the RAD Studio IDE with over 50 IoT components available for FREE via GetIt. From Heart rate monitors to Bluetooth scales or ZigBee-enabled light bulb components help you rapidly expand cross-platform applications into the world of connected devices. Powered by the standard property, method, event design - The IoT components are easy to consume and integrate in minutes.
Tools and Components from Embarcadero Technology Partners
One of the key benefits of RAD Studio is the large ecosystem of third party tool and component builders who extend the capabilities of our products. We're pleased to support and work with these companies who support RAD Studio, Delphi and C++Builder. For detailed lists of tools and components compatible with RAD Studio, see:Compatible Third Party Tools and Components.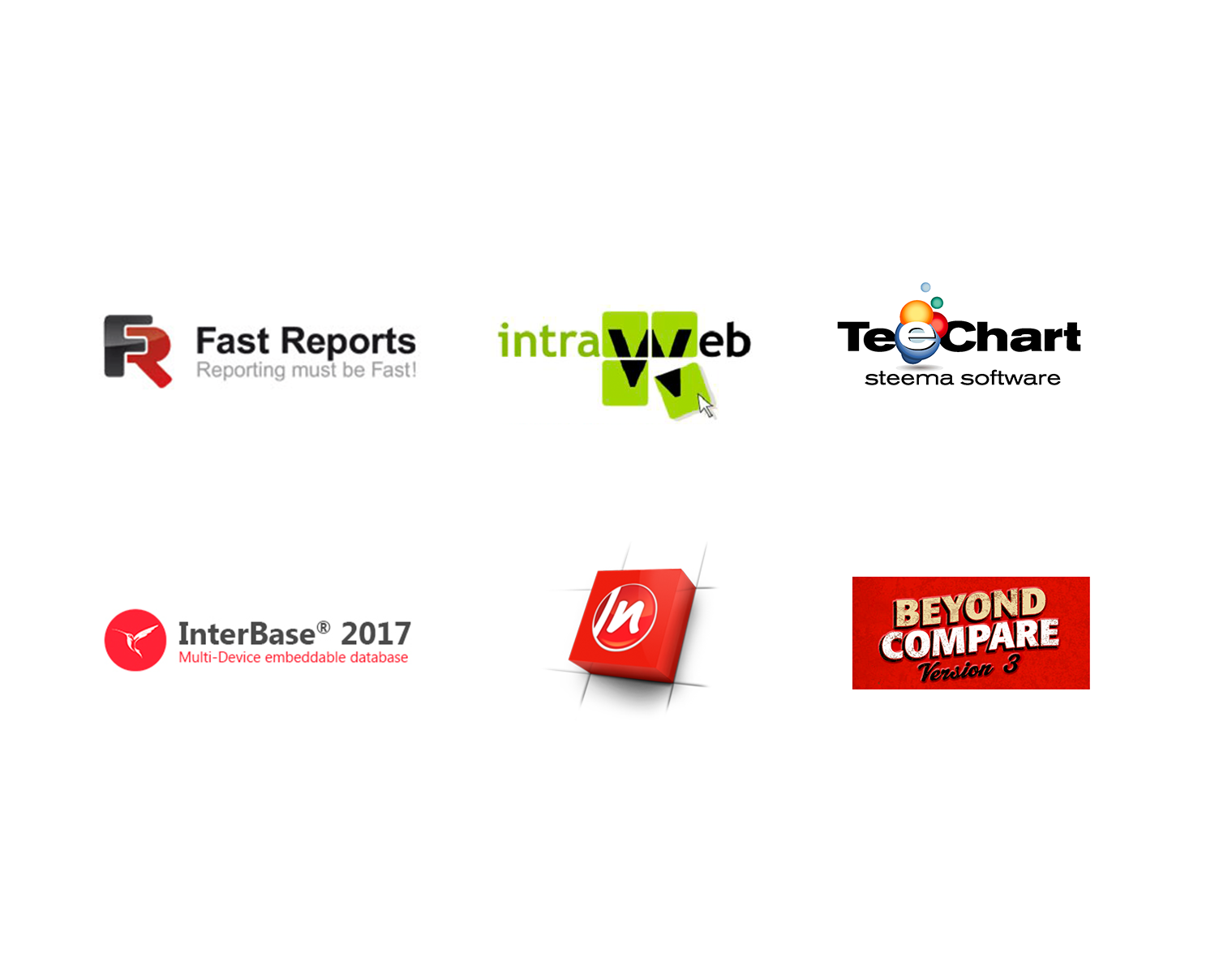 Tools and Components included in RAD Studio
RAD Studio includes special editions of popular tools and components from Embarcadero Technology Partners at no extra cost - enabling you to do more than ever before. Bundled tools vary by edition. See feature matrix for further details
Beyond Compare
FastReport
TeeChart
InterBase
IP*Works!
Generate reports quickly and efficiently with Fast Reports
FastReport® RAD Edition. FastReport provides all the necessary tools to develop reports, including a visual report designer, a reporting core, and a preview window. Report Design Features include multiple report pages, bands, footers and headers. Report objects include text, HTML, RTF, multiple images formats, charts, barcodes and more. Export to PDF, RTF, HTML, TXT, JPEG, BMP, TIFF, GIF, EMF, and CSV. Convert from Quick Reports, Rave Reports, and Report Builder.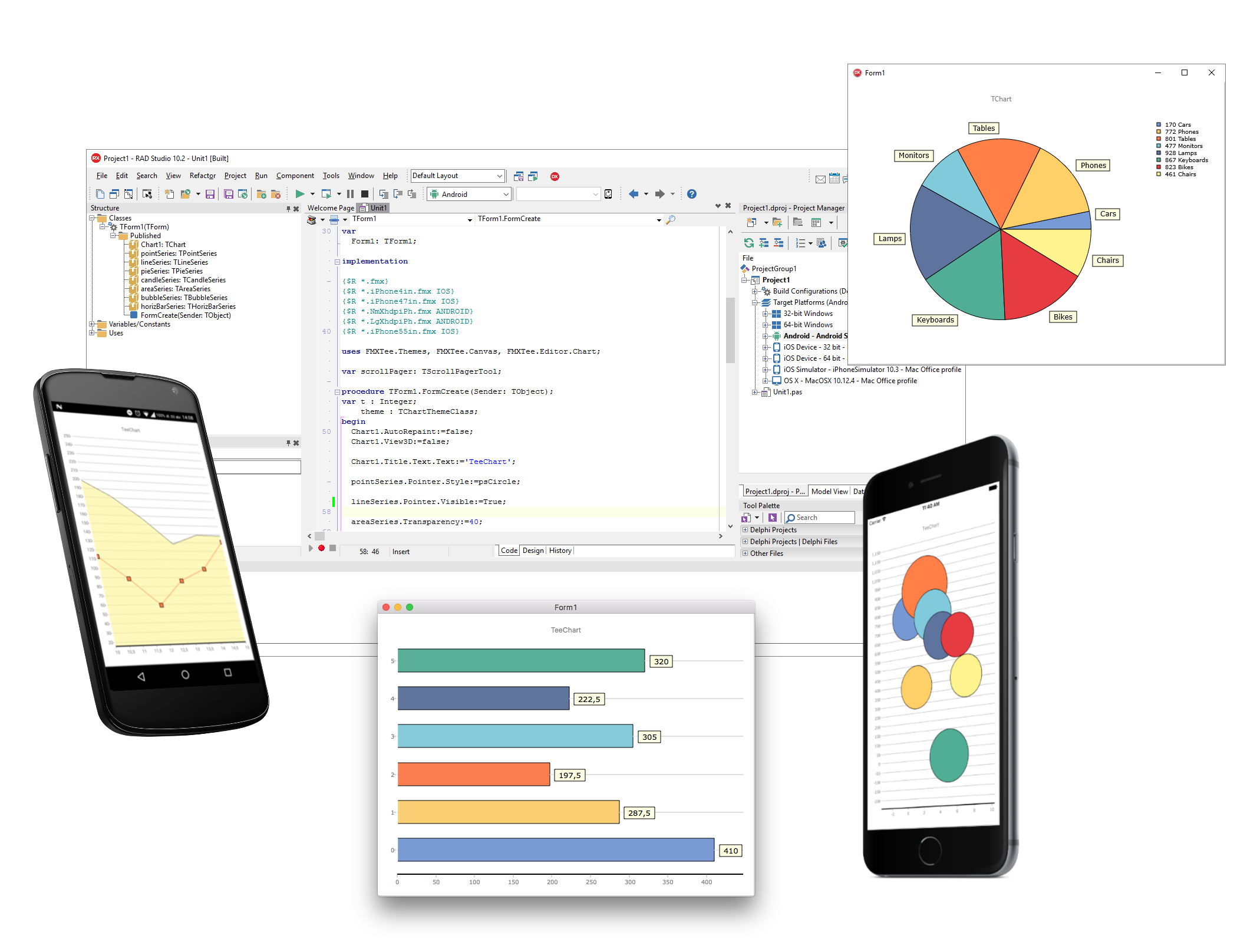 Incorporate graphs and charts using TeeChart
TeeChart Standard is the leading charting and graphing component library set offering a variety of graph styles for data visualization with mathematical, statistical and financial functions and 12 Palette components. TeeChart Standard for Delphi and C++Builder is the leading charting and graphing component set, offering a variety of graph styles with mathematical and statistical functions.With new TeeChart FMX Lite, you also gain charting capabilities for your FireMonkey applications. If you need component source code or additional features, Steema also offers other product editions.
Embed a High-Performance Database in Your Apps
InterBase is a full-featured, high performance and scalable relational database for software developers who are looking to embed a low cost, zero-admin, lightweight database into applications on Android, iOS, Windows, macOS, and Linux. With InterBase you get powerful security, disaster recovery and journaling and support for popular database drivers for increased deployment flexibility. RAD Studio includes a free developer edition of InterBase for Android, iOS, Windows and macOS. You also get a royalty free unlimited deployment license for the IBLite embeddable database for Windows, macOS, Android and iOS.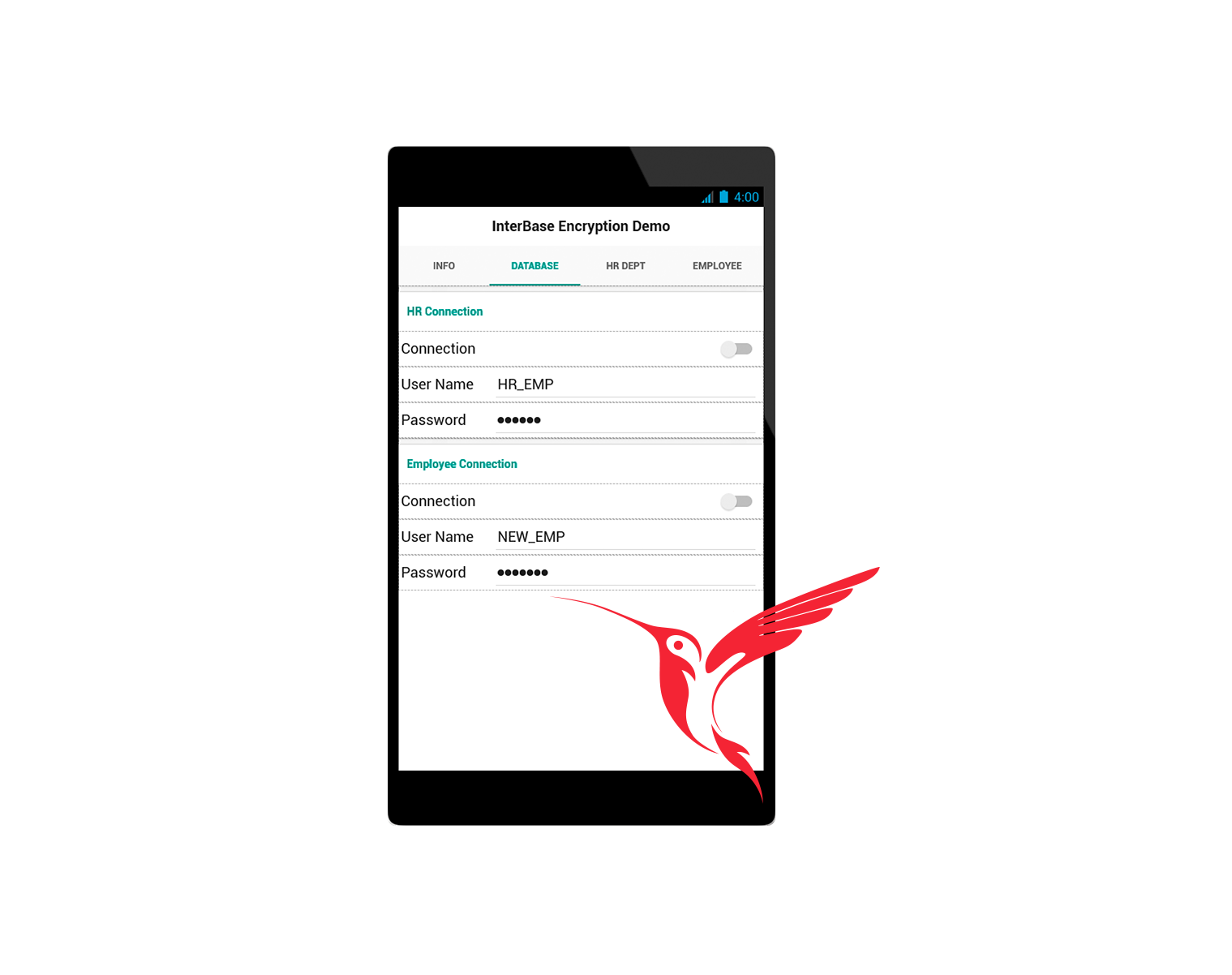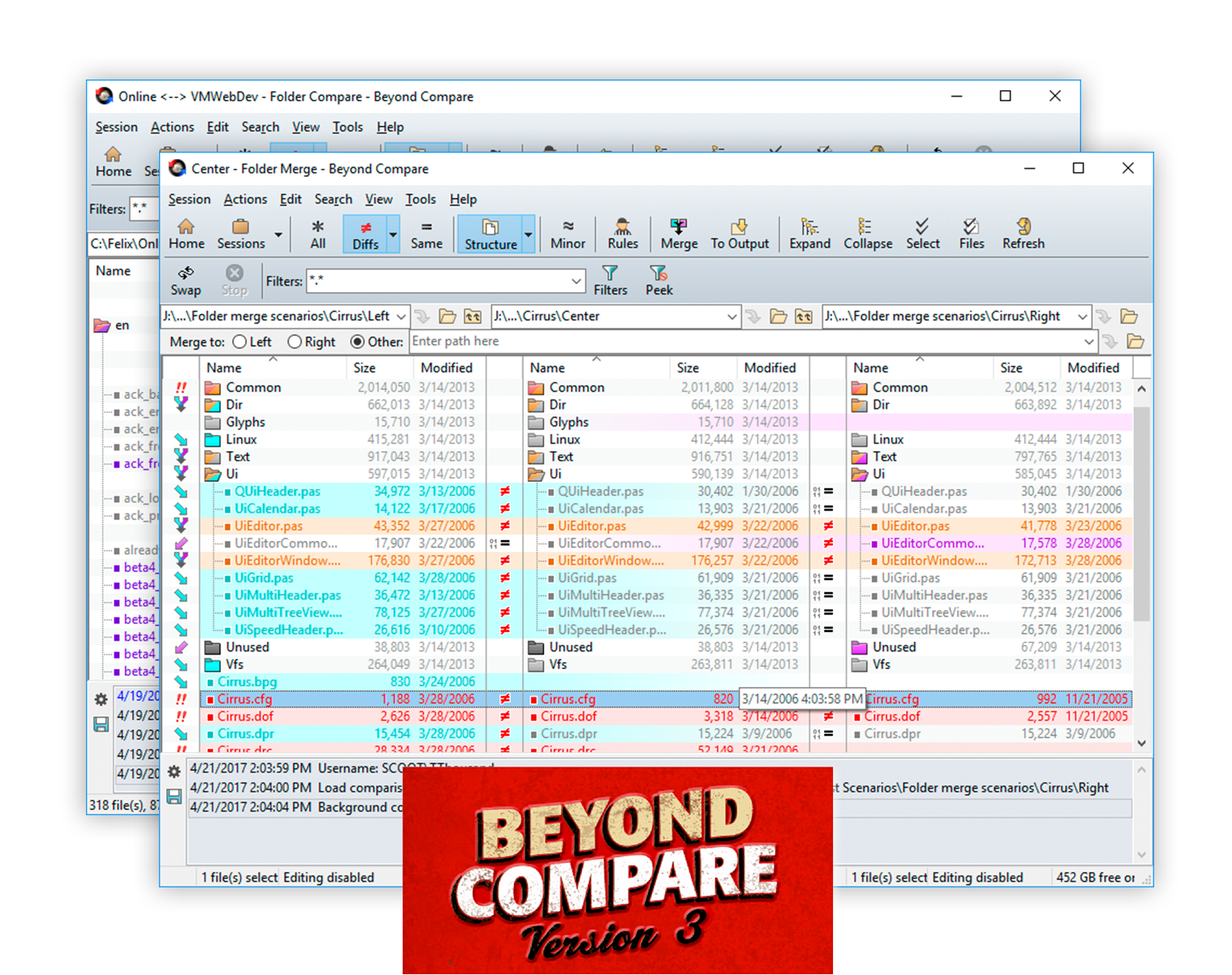 Compare files with Beyond Compare
Beyond Compare Text Compare gives you a rich interface for comparing the content of files and understanding the differences that happen between versions of files. Beyond Compare Text Compare integrates into the RAD Studio IDE and supplements the History View. An expanded version of Beyond Compare which includes folder compare features and FTP support is available from Scooter Software.
Get a jump start on component-based internet development with IP*Works!
IP*Works! eliminates the complexity of Internet development providing easy-to-use, programmable components that facilitate tasks such as sending email, transferring files, managing networks, browsing the web, and consuming web services. IP*Works! enables rapid integration of any major Internet communications protocol or technology including: FTP, HTTP, SMTP, POP, IMAP, LDAP, DNS, RSS, SMPP(SMS), XMPP (Jabber), SOAP, WebDav, and more!