Featured Webinar
Seeing is Believing: 
Data Visualization in
Multi-device Apps

Conveying the meaning of data quickly and concisely is a focal point of today's applications. This is especially true for mobile devices where real-estate and user attention are in short supply.
Delphi/C++ and the FM Application Platform, along with native code performance, provide the tools necessary to create vibrant, information rich displays leveraging data visualization techniques and infographics. Along with access to standard libraries and 2D/3D graphics support, the extensible FM Application Platform, allows developers to reuse their custom data visualizations by creating new FM controls.
About the presenter:
Ray Konopka is the creator of Raize Components and CodeSite, the award winning products from Raize Software, which he founded in 1995. Ray is also the author of the highly acclaimed Developing Custom Delphi Components books and has published numerous articles on software development. Ray specializes in user interface design and custom component development. An engaging presenter, Ray is an Embarcadero MVP and a frequent speaker at developer conferences.
Resources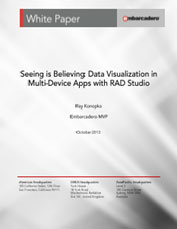 Throughout this paper, we will investigate many of the capabilities of the FM Application Platform involved in data visualization. We will cover the important role that FM primitives and vector graphics play in visualizing data.
We will take a look at charting and how we can incorporate modern looking charts into our own applications. We will also be taking a deep dive into customized lists on mobile devices and leveraging custom FM controls to achieve very rich displays. And finally, we will investigate how to create truly stunning hi-res images generated from mathematical data.
Mobile Resource Center
Visit the RAD Studio Mobile Resource Center for more information and resources including:
Code samples and videos
Sample applications
Step-by-step tutorials
Try It Yourself
Get started now with a free 30 day
RAD Studio Trial

Software development teams are under growing pressure to deliver apps for multiple mobile devices simultaneously and on time. But coding and managing different code bases and APIs for tablets and smartphones running multiple platforms is costly and time consuming.

RAD Studio delivers Android and iOS support to enable developers to build mobile apps using the same source codebase without sacrificing app quality or performance. Both developers and their managers will appreciate the ability to quickly get their apps to multiple devices without having to code with multiple frameworks and languages.
RAD Studio is the multi-language, multi-device, true native app development solution enables developers to address the hottest, largest platform markets in the world, and get their apps to those markets fast.
---