Dies erhalten Sie mit Ihrer kostenlosen REST Debugger!
Praktische Tests über den gesamten Entwicklungszyklus
Explore and understand RESTful web services
Einfache Prototypen Ihrer Delphi- oder C++Builder-REST-Apps
No code required to integrate REST functionality
For easy REST/JSON End-point creation, publishing and management have a look at RAD Server, the perfect back-end for Delphi and C++Builder apps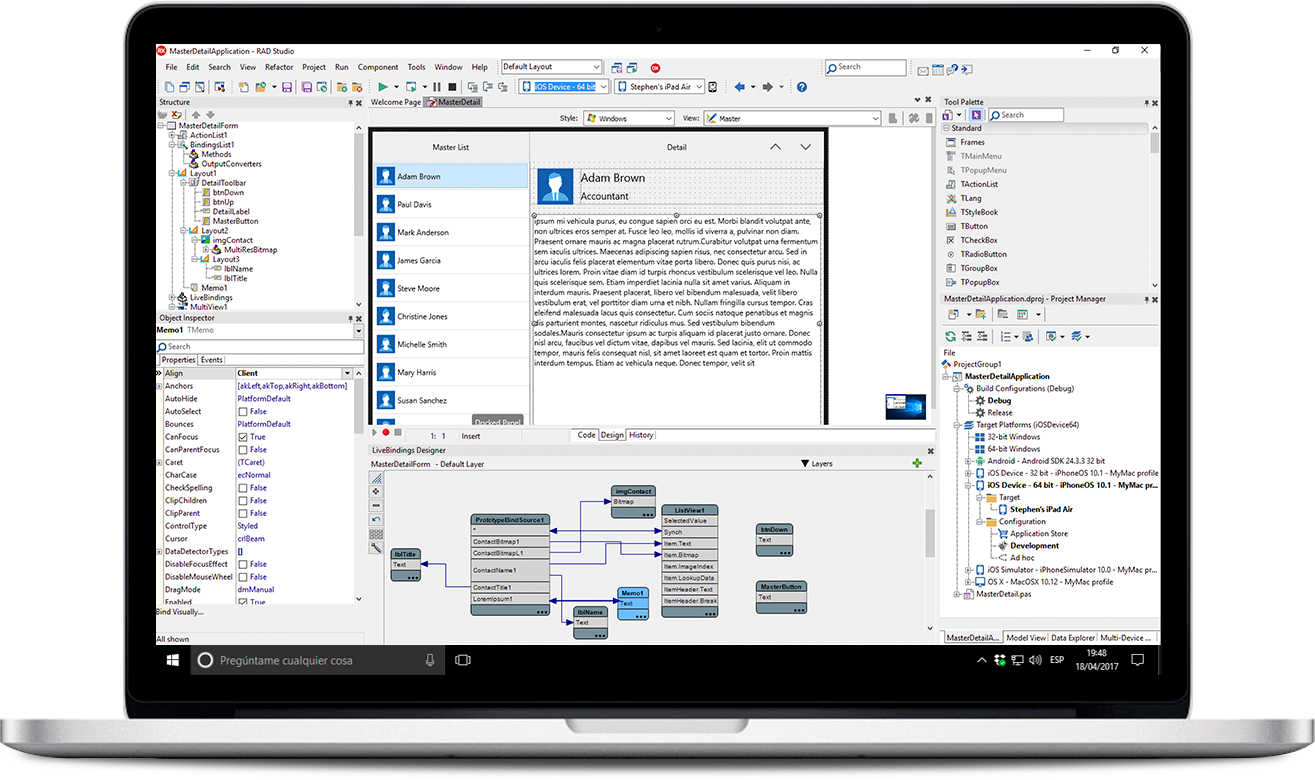 Füllen Sie das Formular aus mit einer gültigen E-Mail, um das Produkt zu erhalten.
Die führenden Unternehmen der Welt vertrauen auf Software, die mit Embarcadero-Produkten entwickelt wurden
































Mit RAD Studio 11 können nun Binärdateien für macOS-ARM kompiliert werden. Da der neue M1-Prozessor enorm schnell ist, hat die Entwicklung nativer Anwendungen für ihn hohe Priorität. Es geht kein Weg daran vorbei: RAD Studio 11 ist ein Muss für jeden Delphi-Entwickler!
---
Roman Kassebaum, IRK
Was mir an RAD Studio am besten gefällt, ist die Leichtigkeit und Geschwindigkeit, mit der eine Anwendung entwickelt werden kann und die Möglichkeit, alles zu entwerfen, was man sich vorstellen kann. Es ist wie mein Motto: Nichts ist unmöglich!
---
Paul Denham, IT Manager, Unique Car Mats (UK) Ltd.
Mit C++Builder kann ich ohne großen Zeitaufwand eine atemberaubende Benutzeroberfläche entwickeln, während ich mich gleichzeitig auf die alogrithmischen Kernbereiche der Anwendung konzentrieren kann.
---
Engineer, Medium Enterprise Infrastructure And Engineering
Mit InterBase waren wir in der Lage, unseren Kunden eine zuverlässige und leistungsstarke Datenbank zu liefern, die über mehrere Jahre hinweg mit nahezu null Verwaltungsaufwand läuft.
---
Juergen Konewitz, Application Developer, Abies ITS Gmbh