Internet of Things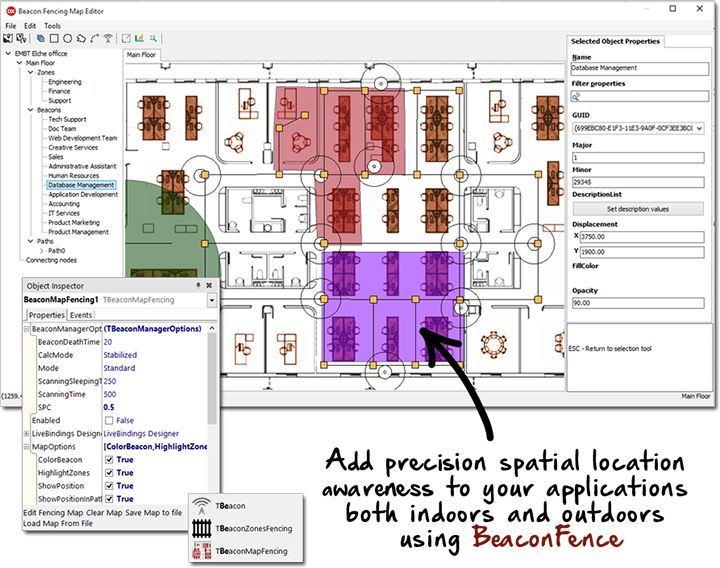 BeaconFence
BeaconFence ist eine Entwicklungslösung zur Näherungserkennung, die eine präzise, GPS-unabhängige Nachverfolgung der Benutzerposition im Haus wie im Freien bietet sowie Ereignisse mit radialen und geometrischen Zonen für jeden physischen Ort und jede Umgebung. Sie können damit visuell die Umgebung der physischen Position und der Beacon-Platzierung zur zentimetergenauen Nachverfolgung der Positionsinformationen bestimmen. Erstellen Sie radiale und rechtwinklige Zonen und verfolgen Sie Schnittpunkte sowie Ein- und Austritte mit Callback-Ereignissen nach. BeaconFence bietet Entwicklern Näherungs-Beacons auf einer neuen Ebene, mit denen sie ihre Anwendungen sowohl im Haus wie im Freien mit einer räumlich präzisen Positionserkennung ausstatten können.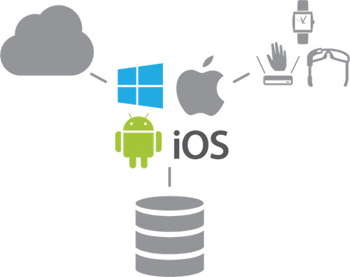 Lösungen für das Internet of Things
Die Art und Weise, wie wir Geräte der Informationstechnologie benutzen, ändert sich fortwährend. Embarcadero Technologies unterstützt die Weiterentwicklung vorhandener Anwendungen, indem es Entwicklern die Möglichkeit gibt, ihre Anwendungen einfach mit Gadgets, Geräten, Sensoren, Unternehmensdaten und Cloud-Diensten zu verknüpfen.
Build complete IoT solutions that deliver innovative user experiences. Easily deploy IoT enabled apps to Android, iOS, Windows, and MacOS X natively with a single C++ or Object Pascal codebase!
Jetzt starten
Extend Your Apps to Gadgets and Wearables
Immer mehr Gadgets und Geräte werden täglich dem System des Internet of Things hinzugefügt. Die Vernetzung dieser Gadgets und Geräte hat das Potenzial für außergewöhnliche neue Benutzerführungen.
Embarcadero Technologies enables developers to harness the power of IoT solutions. Add new capabilities to existing desktop and mobile applications by integrating devices, sensors, enterprise data, and cloud services.
Jetzt starten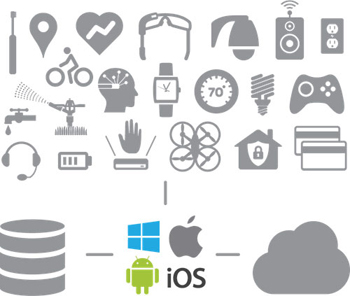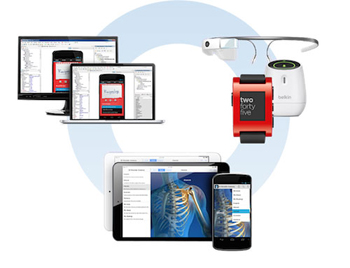 Build Connected Apps
App tethering enables you to very easily distribute an existing app user experience across devices and gadgets. This is especially powerful for extending the utility of existing desktop and mobile apps to integrate IoT. Virtually all industries can immediately benefit, such as Point of Sale, Food Services, Healthcare, Manufacturing and Shipping, but the applications are limitless.
Jetzt starten
App Tethering
App Tethering enables developers to easily extend the user experience of mobile and desktop apps to include the devices and gadgets that make up the Internet of Things ecosystem.
With App Tethering developers can empower connected apps with:
Auto Device Discovery
Trigger Events and Methods on Other Devices
Remote Control Apps
Send Data back and forth
Bluetooth & Wifi Support
Jetzt starten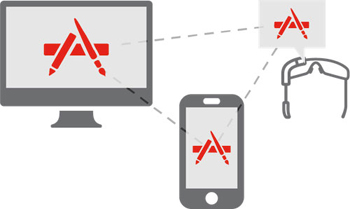 Bluetooth, Wifi, & REST Built-in
Building IoT solutions requires data to flow between devices, gadgets, the connected app, and the internet. Embarcadero Technologies streamlines application development by providing an easily to use components based solution for Bluetooth, WIFI, and REST communication protocols.
Jetzt starten
Get Started Building Solutions for the Internet of Things
RAD Studio is the complete solution to build Internet of Things connected apps for Windows, OS X, iOS, Android, gadgets, and wearables.
GRATIS-TEST DOWNLOADEN
---
---
---
---