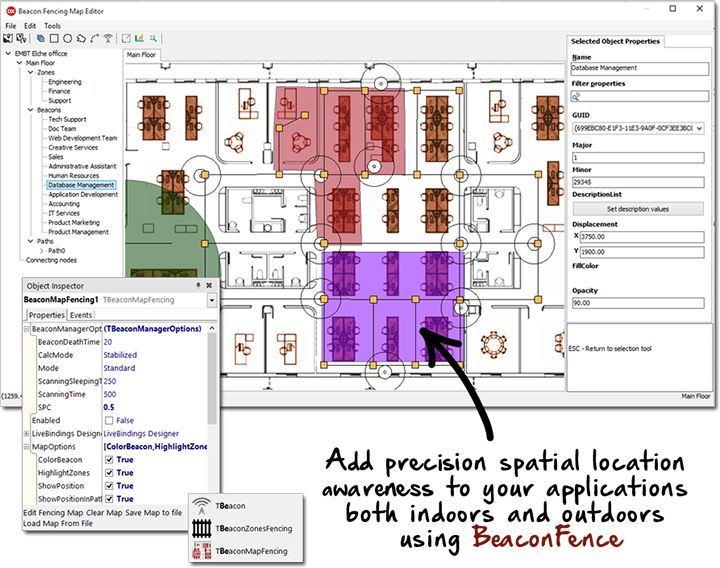 BeaconFence
BeaconFence ist eine Entwicklungslösung zur Näherungserkennung, die eine präzise, GPS-unabhängige Nachverfolgung der Benutzerposition im Haus wie im Freien bietet sowie Ereignisse mit radialen und geometrischen Zonen für jeden physischen Ort und jede Umgebung. Sie können damit visuell die Umgebung der physischen Position und der Beacon-Platzierung zur zentimetergenauen Nachverfolgung der Positionsinformationen bestimmen. Erstellen Sie radiale und rechtwinklige Zonen und verfolgen Sie Schnittpunkte sowie Ein- und Austritte mit Callback-Ereignissen nach. BeaconFence bietet Entwicklern Näherungs-Beacons auf einer neuen Ebene, mit denen sie ihre Anwendungen sowohl im Haus wie im Freien mit einer räumlich präzisen Positionserkennung ausstatten können.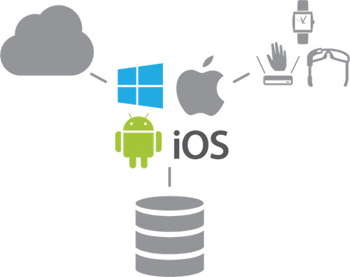 Lösungen für das Internet of Things
Die Art und Weise, wie wir Geräte der Informationstechnologie benutzen, ändert sich fortwährend. Embarcadero Technologies unterstützt die Weiterentwicklung vorhandener Anwendungen, indem es Entwicklern die Möglichkeit gibt, ihre Anwendungen einfach mit Gadgets, Geräten, Sensoren, Unternehmensdaten und Cloud-Diensten zu verknüpfen.
Sie erstellen komplette IoT-Lösungen, die innovative Benutzererlebnisse bieten. Einfache Bereitstellung von IoT-fähigen Anwendungen für Android, iOS, Windows und MacOS X nativ mit einer einzigen C++- oder Object Pascal-Codebasis!
Jetzt starten
Erweitern Sie Ihre Apps für Gadgets und Wearables
Immer mehr Gadgets und Geräte werden täglich dem System des Internet of Things hinzugefügt. Die Vernetzung dieser Gadgets und Geräte hat das Potenzial für außergewöhnliche neue Benutzerführungen.
Embarcadero Technologies ermöglicht es Entwicklern, die Leistungsfähigkeit von IoT-Lösungen zu nutzen. Erweitern Sie bestehende Desktop- und mobile Anwendungen um neue Funktionen durch die Integration von Geräten, Sensoren, Unternehmensdaten und Cloud-Services.
Jetzt starten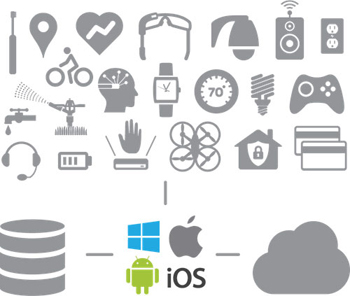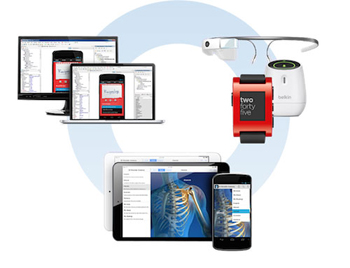 Erstellung vernetzter Anwendungen
Mit App-Tethering haben Sie die Möglichkeit, auf schnelle Weise die Benutzerführung einer Anwendung auf andere Geräte und Gadgets zu übertragen. Dies ist speziell hilfreich, um die Nutzungsmöglichkeiten Ihrer vorhandenen Desktop- und Mobilanwendungen durch Integration in das Internet der Dinge zu vergrößern. Praktisch alle Branchen wie u. a. Handel, Lebensmitteldienste, Gesundheitswesen, Produktion und Transport können davon unmittelbar profitieren. Den potenziellen Anwendungen sind keine Grenzen gesetzt.
Jetzt starten
App Tethering
App Tethering ermöglicht es Entwicklern, die Benutzerführung von mobilen und Desktop-Anwendungen auf Geräte und Gadgets zu übertragen, aus denen das Ökosystem Internet of Things besteht.
Mit App Tethering erweitern Entwickler ihre verbundene Anwendungen mit:
Automatischer Geräteerkennung
Triggern von Ereignissen und Methoden auf anderen Geräten
Fernbedienungs-Apps
Senden von Daten hin und her
Bluetooth & Wifi Support
Jetzt starten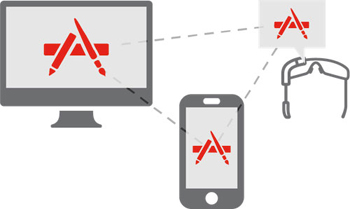 Integration von Bluetooth, Wifi und REST
Das Erstellen von Lösungen für das Internet of Things erfordert eine Datenübertragung zwischen Geräten, Gadgets, der vernetzten Anwendung und dem Internet. Embarcadero Technologies optimiert die Anwendungsentwicklung, indem es einfach verwendbare Komponenten für eine Unterstützung von Lösungen für Bluetooth-, WIFI- und REST-Kommunikationsprotokolle zur Verfügung stellt.
Jetzt starten
Beginnen Sie mit der Erstellung von Lösungen für das Internet of Things
RAD Studio ist die Komplettlösung zur Erstellung von mit dem Internet of Things verbundenen Anwendungen für Windows, OS X, iOS, Android, Gadgets und Wearables.
GRATIS-TEST DOWNLOADEN
---
---
---
---