Free C++ Compiler
El compilador BCC32C C++ de Embarcadero es la tecnología central y la base de alto rendimiento de la galardonada línea de productos C++Builder de Embarcadero.
Esta descarga gratuita de C++ Compiler para C++Builder incluye compatibilidad con lenguaje C++11, el framework Dinkumware STL (Standard Template Library) y la completa Biblioteca en Tiempo de Ejecución (RTL) de Embarcadero C/C++. En esta versión gratuita, también encontrarás una cantidad de herramientas de línea de comandos C/C++, como el compilador de recursos y el vinculador de alto rendimiento.
Obtén la herramienta GRATIS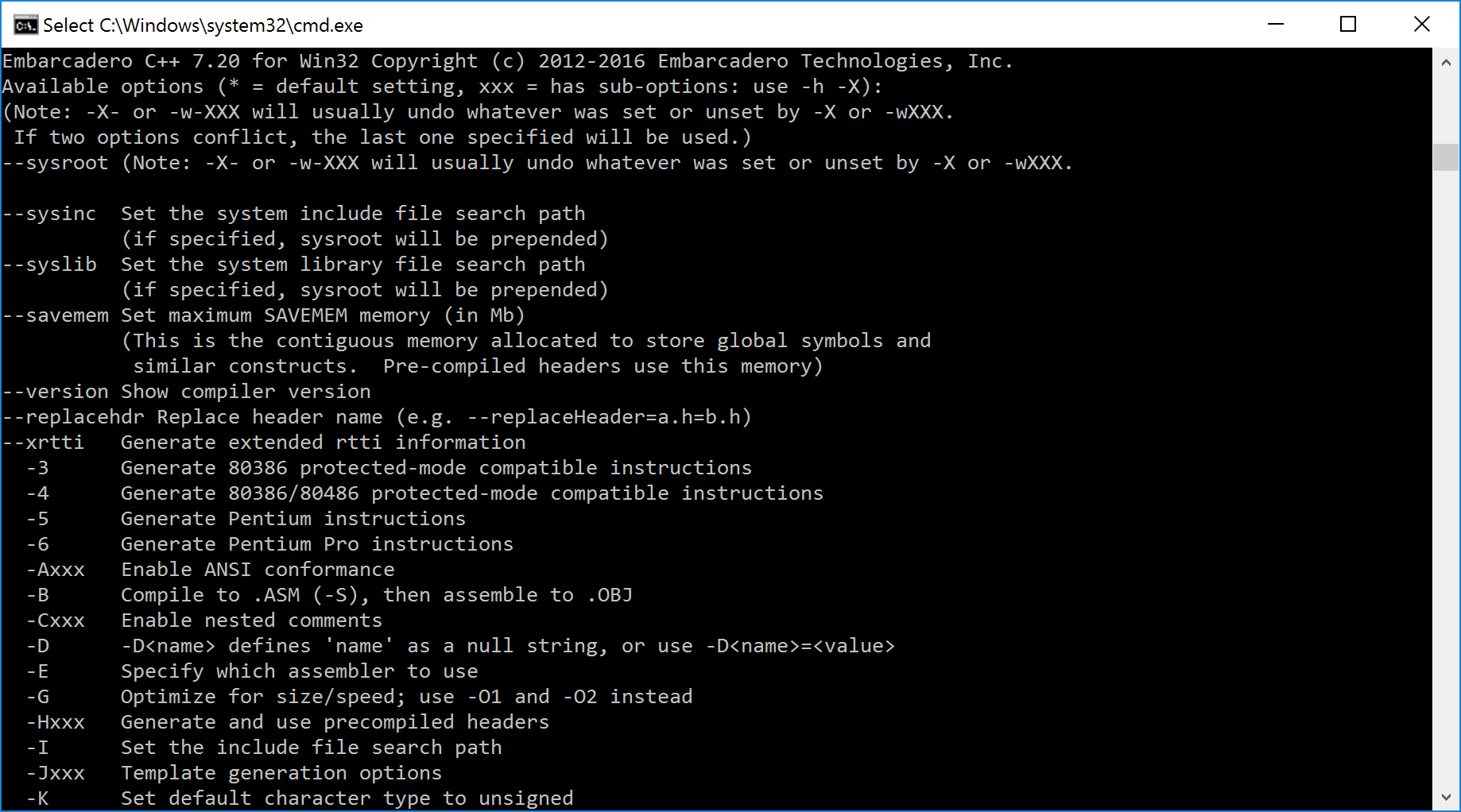 Ediciones de productos
| | Free C++ Compiler | C++Builder Starter | C++Builder Pro, Enterprise or Architect * |
| --- | --- | --- | --- |
(*) See the full feature matrix of Starter, Pro, Enterprise and Architect.
How to get the C++ Compiler
Free Compiler Download
Download the Embarcadero C++ Compiler (BCC32C) and command line tools by clicking the link below.
Download the free compiler now >
Die neue Starter Edition
Starten Sie durch mit dem schnellsten Tool zur C++-Programmierung, unserem C++Builder Starter - zu einem tollen Preis! C++Builder Starter enthält die neueste Version des Windows C++-Compilers.
Weitere Infos zu C++Builder Starter >
free 30-day license
Click the link below to get a free, 30-day trial license of the complete C++Builder IDE. This full-feature version includes the latest compilers for Windows, Mac OS X, Android and iOS—plus a complete IDE and visual designer.
Download the C++Builder trial >
Der Download des kostenfreien Compilers enthält:
Embarcadero C++ Compiler (bcc32c)
Turbo Incremental Linker (tlink32)
C++ Win32 Preprocessor (cpp32)
Import Library utility—for creating import libraries from DLLs (implib)
Librarian for symbol case-conversion, creating extended libraries and modifying page size (tlib)
Other useful command-line utilities such as make, grep, and touch
Includes the Embarcadero C/C++ Runtime Library, and the DinkumwareANSI/ISO Standard Template Library (STL)
C++Builder includes compilers for Win64, OSX, iOS, and Android. And, C++Builder also features a modern, high-productivity RAD Studio IDE, debugger tools, and enterprise connectivity for to accelerate cross-platform UI development. Learn more about RAD Studio on its product page.