¿Qué obtienes con tu versión gratis de InterBase Developer Edition?
Una base de datos SQL ultra-rápida, embebida, y repleta de funcionalidad.
Una base de datos confiable por su solidez y seguridad en ambientes de misión crítica.
Base de datos compatible con diversos lenguajes.
Una comunidad mundial de desarrolladores.
Obtén más información sobre las capacidades y ediciones de InterBase.
Nota: Los productos basados en el servidor de InterBase 2020 actualmente soportan Windows y Linux.
Términos y condiciones:
Limitado a un máximo de 20 usuarios (y 80 conexiones lógicas al servidor)
Limitado a trabajar sólo por 48 horas, después de ese tiempo las nuevas conexiones son rechazadas y tendrás que reiniciar el servidor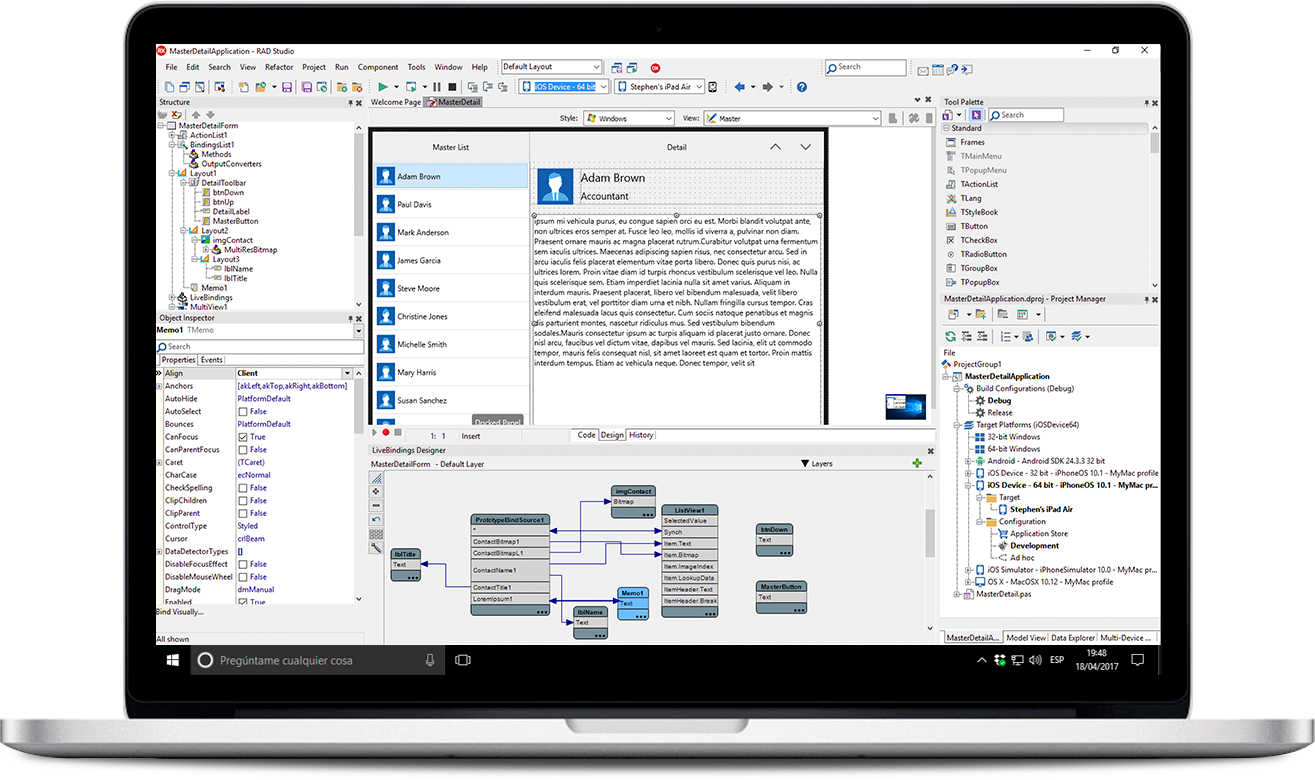 Llene el formulario y proporcione una dirección de correo electrónico válida para descargar este producto
Las principales empresas del mundo confían en Software construido con productos Embarcadero
































With RAD Studio 11 it is possible to compile binaries for macOS ARM. Since the new M1 processor is incredibly fast it is more than important to create native apps for it. That's why RAD Studio 11 is a must have for every Delphi Developer!
---
Roman Kassebaum, IRK
"Lo que más me gusta de RAD Studio es la facilidad y velocidad en la que desarrollas una aplicación y la capacidad de diseñar todo lo que quieras. ¡Es como mi lema, nada es imposible!"
---
Paul Denham, IT Manager, Unique Car Mats (UK) Ltd.
"C++Builder me permite desarrollar increíbles UI sin tomarme mucho tiempo, a la vez, se enfoca en las partes algorítmicas de la aplicación"
---
Engineer, Medium Enterprise Infrastructure And Engineering
"Con InterBase, fuimos capaces de entregarle a nuestros clientes una base de datos confiable y poderosa que trabaja durante muchos años con casi cero administración"
---
Juergen Konewitz, Application Developer, Abies ITS Gmbh