Nouveautés de RAD Studio 10.3
RAD Studio Rio (10.3) permet aux développeurs de créer de superbes applications à hautes performances pour Windows, MacOS, iOS, Android et Linux Server* avec la même base de code natif. RAD Studio 10.3 apporte des améliorations significatives aux développeurs C++ : prise en charge de C++17 Win32, meilleures performances mathématiques Win64, codage assisté, débogage pour optimisation des versions, nouvelles bibliothèques, etc. Les développeurs Delphi peuvent désormais bénéficier de déclarations de variables en ligne, d'inférence de type, etc. RAD Studio Rio offre aux développeurs C++ et Delphi des améliorations VCL pour écrans haute résolution, la prise en charge de Per Monitor V2, les nouvelles API Windows 10 et WinRT, un support actualisé des plateformes mobile, etc.
Enfin, RAD Studio Rio ajoute plus de valeur et de fonctionnalités à l'édition Enterprise grâce à une licence de déploiement mono-site de RAD Server et à une licence de déploiement InterBase ToGo. L'édition Architect inclut désormais une licence Sencha ExtJS Professional, une licence de déploiement InterBase ToGo, une licence de déploiement multisite RAD Server et une licence AquaData Studio. Ces licences additionnelles étendent les fonctionnalités Web, de serveur d'applications et de base de données pour vos applications d'entreprise.
10.3 Release 2 est disponible dès maintenant
We are pleased to announce that version 10.3.2 is now available. 10.3 Rio Release 2 (also known as 10.3.2) adds new capabilities throughout the product designed to benefit Delphi multi-device developers & C++ Windows developers. Delphi 10.3.2, C++Builder 10.3.2 and RAD Studio 10.3.2 are available to download by any active Update Subscription customer.
Pour en savoir plus sur la version 10.3.2, cliquez ici.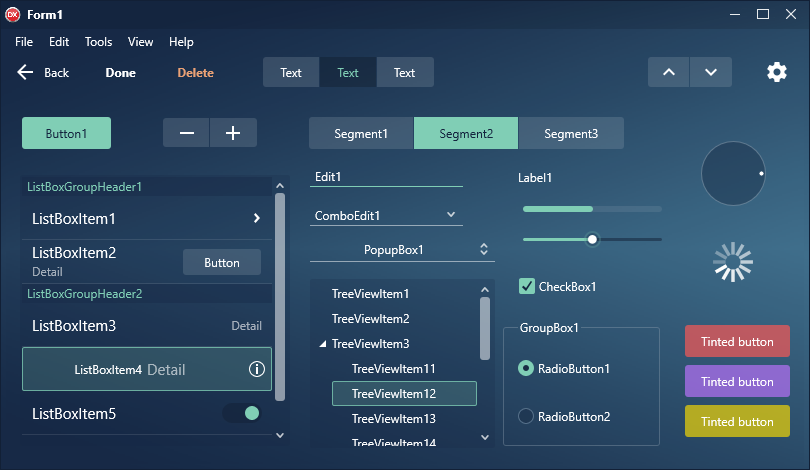 Créez des applications connectées
Construisez une solution de bout en bout pour les applications les plus modernes sous Windows 10, macOS, iOS, Android et Linux.
Une seule base de code
Créez des applications multiplateformes en réduisant la charge de codage. Vous écrivez une seule fois et compilez...partout
Accessibilité des données
Connectez-vous nativement à plus de 20 bases de données grâce au système d'accès direct à haute vitesse de FireDAC.
Niveau intermédiaire
Modernisez le code existant et compilez-le pour de multiples plateformes.
Applications Windows 10
Modernisez les applications vieillissantes pour Windows 10 grâce à des contrôles actualisés et à la prise en charge de Windows Store.
Applications macOS
Développez rapidement et simplement des applications macOS avec RAD Studio.
Systèmes mobiles
Livrez vos applications mobiles plus rapidement et plus intelligemment grâce aux contrôles d'IHM orientés plateforme. Prototypez plus rapidement grâce au concepteur multisystèmes et à la visualisation en direct dans l'EDI.
Internet of Things (IoT)
Connectez facilement vos applications à des gadgets, des appareils, des capteurs, des données d'entreprise, des services cloud, etc.
Cloud
RAD Studio dispose d'une bibliothèque client HTTP et REST, disponible sur toutes les plateformes, pour appeler des services REST et même des composants AWS et Azure spécifiques.
Extensions
Créez un plugin pour ajouter de nouvelles fenêtres d'outils ou des graphes à l'éditeur de code, accélérer l'achèvement du code, surligner votre code, accrocher les événements de haut ou bas niveau, suivre les processus et les threads lors du débogage, etc.
Nouveau Power Pack de l'édition Architect
Obtenez plus de l'édition Architect grâce à l'intégration de ces licences de la gamme Idera.
Licence Sencha ExtJS Professional. Créez une interface Web parfaite avec javascript et ExtJS. (Valeur de 1 200 $)
InterBase ToGo Licence de déploiement. Ajoutez du stockage de données à vos applications avec cette base de données flexible, cryptée et intégrable.
Licence de déploiement multisite de RAD Server. Parfait pour les architectures sous-jacentes de micro-services. (Valeur de 5 000$)
Licence AquaData Studio. Analyse avancée de bases de données (Valeur de 500$)
GetIt gère désormais les téléchargements parallèles pour installer plus rapidement les derniers composants de l'EDI - N'hésitez pas à le télécharger dès maintenant pour bénéficier de la version 10.3.
Visit Embarcadero docwiki for a full lit of 10.3. new features