What's New in RAD Studio 10.3
RAD Studio Rio (10.3) empowers developers to create stunning, high performing apps for Windows, macOS, iOS, Android and Linux Server*, using the same native code base. RAD Studio 10.3 makes significant improvements for C++ developers including C++17 Win32 support, improved code completion, debugging for optimized builds and new libraries. Delphi developers can now enjoy inline variable declaration, type inference, and more. For both C++ and Delphi developers, RAD Studio Rio brings enhancements to VCL for High DPI displays, Per Monitor V2 support, new Windows 10 and WinRT APIs, updated mobile platform support, and more.
Finally, RAD Studio Rio adds more value and capabilities to the Enterprise edition with a RAD Server single site deployment license and an InterBase ToGo for mobile deployment license. The Architect edition now includes a Sencha ExtJS Professional license, InterBase ToGo for mobile deployment license, RAD Server multi-site deployment license, and an Aqua Data Studio license. These additional licenses expand web enablement, application backend server, and database capabilities for your enterprise applications.
10.3 Release 2 is Now Available
We are pleased to announce that version 10.3.2 is now available. 10.3 Rio Release 2 (also known as 10.3.2) adds new capabilities throughout the product designed to benefit Delphi multi-device developers & C++ Windows developers. Delphi 10.3.2, C++Builder 10.3.2 and RAD Studio 10.3.2 are available to download by any active Update Subscription customer.
This new release also includes key fixes and notable enhancements. To learn more about 10.3.2, click here.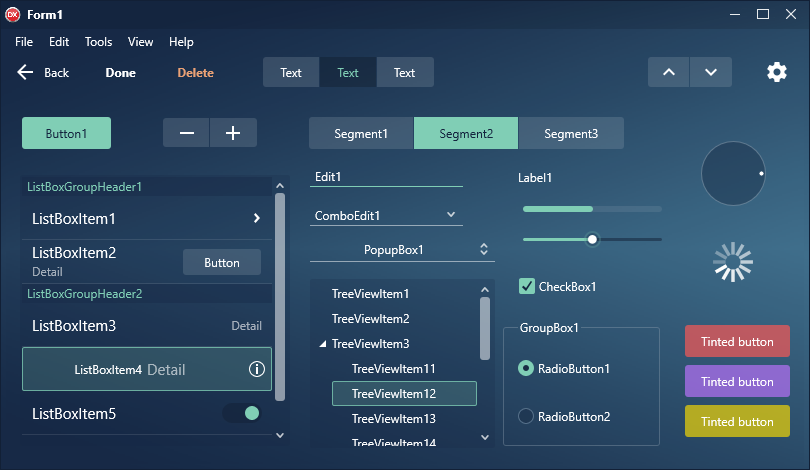 Build Connected Applications
Build end-to-end solution for modern Windows 10, macOS, iOS, Android and Linux applications.
Single Code Base
Create apps for all platforms with less coding effort. Write once, compile everywhere.
Accessible Data
Connect to over 20 databases natively with FireDAC's high speed direct access.
Middle Tier
Modernize existing code and compile cross platforms.
Windows 10 App
Modernize aging apps to support Windows 10 with up-to-date controls and Windows Store support
macOS App
Develop macOS applications quickly and easily with RAD Studio.
Mobile
Deliver mobile applications faster and smarter with platform-aware user interface controls. Protoype faster with multi-device designer and live preview in the IDE
Internet of Things (IoT)
Easily connect your apps to gadgets, devices, sensors, enterprise data, and cloud services.
Cloud
RAD Studio has an HTTP and a REST client library, available on all platforms, to invoke REST services and even specific AWS and Azure components
Extensions
Create a plugin that adds new tool windows, draws in the code editor, provides code completion, adds new syntax highlighting, hooks into high-level and low-level events, tracks processes and threads while debugging, and more.
All New Architect Edition Power Pack
Get more from the Architect Edition with these included Idera family licenses.
Sencha ExtJS Professional license: Create your perfect web-enabled front end using javascript and ExtJS. ($1200 Value)
InterBase ToGo mobile deployment license: Add data storage to your apps with this flexible, encrypted, embeddable database.
RAD Server multi-site deployment license: Perfect for your microservices architecture backend. ($5000+ Value)
Aqua Data Studio license: Versatile database design and administration, and data management and visualization. ($499 Value)
GetIt now supports parallel downloads to get your new IDE installed with the latest components faster - So get downloading now and enjoy the 10.3 release.
Visit Embarcadero docwiki for a full list of 10.3. new features