What's New in RAD Studio 10.3
RAD Studio Rio (10.3) empowers developers to create stunning, high performing apps for Windows, macOS, iOS, Android and Linux Server*, using the same native code base. RAD Studio 10.3 makes significant improvements for C++ developers including C++17 Win32 support, improved code completion, debugging for optimized builds and new libraries. Delphi developers can now enjoy inline variable declaration, type inference, and more. For both C++ and Delphi developers, RAD Studio Rio brings enhancements to VCL for High DPI displays, Per Monitor V2 support, new Windows 10 and WinRT APIs, updated mobile platform support, and more.
最终,RAD Studio Rio 通过 RAD Server 单点部署许可证和 InterBase ToGo 移动部署许可证,为企业版增加了更多价值和功能。架构师版本现在包括 Sencha ExtJS 专业许可证、InterBase ToGo 移动部署许可证、RAD Server 多点部署许可证和 AquaData Studio 许可证。这些附加许可证扩展了企业应用程序的 Web 支持、应用程序后端服务器和数据库功能。
10.3 Release 2 is Now Available
We are pleased to announce that version 10.3.2 is now available. 10.3 Rio Release 2 (also known as 10.3.2) adds new capabilities throughout the product designed to benefit Delphi multi-device developers & C++ Windows developers. Delphi 10.3.2, C++Builder 10.3.2 and RAD Studio 10.3.2 are available to download by any active Update Subscription customer.
This new release also includes key fixes and notable enhancements. To learn more about 10.3.2, click here.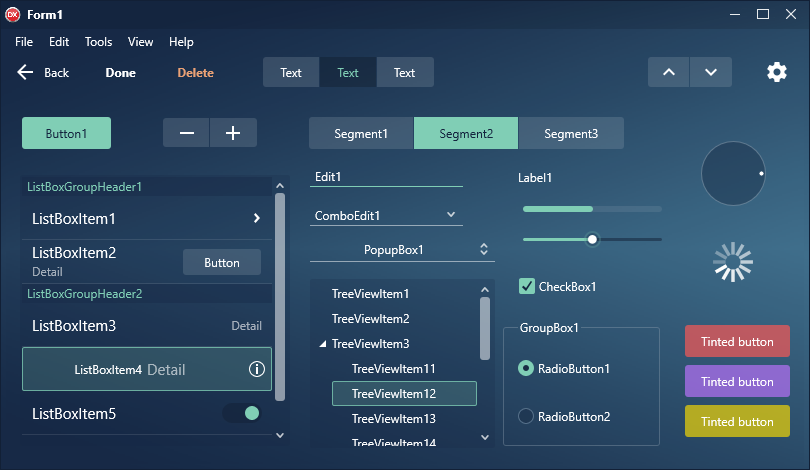 构建互联的应用程序
为目前的 Windows 10、macOS、iOS、Android 和 Linux 系统应用程序构建端到端解决方案。
单一代码库
利用更少的编码工作为所有平台创建应用程序。编写一次代码,可在任何环境进行编译。
可访问的数据
使用 FireDAC 的高速直接访问功能来连接 20 多个本地数据库。
Windows 10 系统应用程序
更新老旧的应用程序以支持 Windows 10 系统,并提供最新的控件和支持 Windows 应用商店
macOS 系统应用程序
使用 RAD Studio 来快速轻松地开发 macOS 系统应用程序。
移动端
通过平台感知的用户界面控件,更快、更智能地交付移动应用程序。使用多设备设计器和 IDE 中的实时预览可以更快地实现原型设计
Internet of Things (IoT)
轻松地将您的应用程序连接到小工具、设备、传感器、企业数据和云服务。
云
RAD Studio 具有一个 HTTP 和 REST 客户端库,可在所有平台上使用,以调用 REST 服务甚至特定的 AWS 和 Azure 组件
扩展功能
创建一个插件,它可添加新的工具窗口,在代码编辑器中进行绘制,提供代码完成,添加新的语法高亮显示,钩挂到高级和低级事件,在调试时跟踪进程和线程,等等。
All New Architect Edition Power Pack
Get more from the Architect Edition with these included Idera family licenses.
Sencha ExtJS Professional license: Create your perfect web-enabled front end using javascript and ExtJS. ($1200 Value)
InterBase ToGo mobile deployment license: Add data storage to your apps with this flexible, encrypted, embeddable database.
RAD Server multi-site deployment license: Perfect for your microservices architecture backend. ($5000+ Value)
Aqua Data Studio license: Versatile database design and administration, and data management and visualization. ($499 Value)
GetIt now supports parallel downloads to get your new IDE installed with the latest components faster - So get downloading now and enjoy the 10.3 release.
Visit Embarcadero docwiki for a full list of 10.3. new features