BeaconFence
Beacon Fencing Proximity Solution for Developers
BeaconFence 是一种开发人员邻近感知解决方案,它运用任何物理位置和布局的径向和几何区域,提供精准的 "免费GPS" 室内/户外用户位置跟踪和事件。在视觉上绘制物理位置和信标位置布局,跟踪小至以英寸计的位置信息。创建径向和矩形区域,跟踪回叫事件的交集、参加和退出。BeaconFence通过添加精度空间位置感知到室内和户外的应用程序,使开发人员得以将邻近信标带往更高级别。
The BeaconFence component has many different properties and events you can set up, such as the OnZoneEnter event to trigger an event in the user's client application as he enters a pre-defined zone.
It also includes the Beacon Fencing Map Editor. You can easily create a new map using this GUI editor, and load an existing bitmap, such as an office floor plan, to use as your beacon-fencing map. With BeaconFence, you can set up several maps for different areas in your factory, for example, or floors in your building.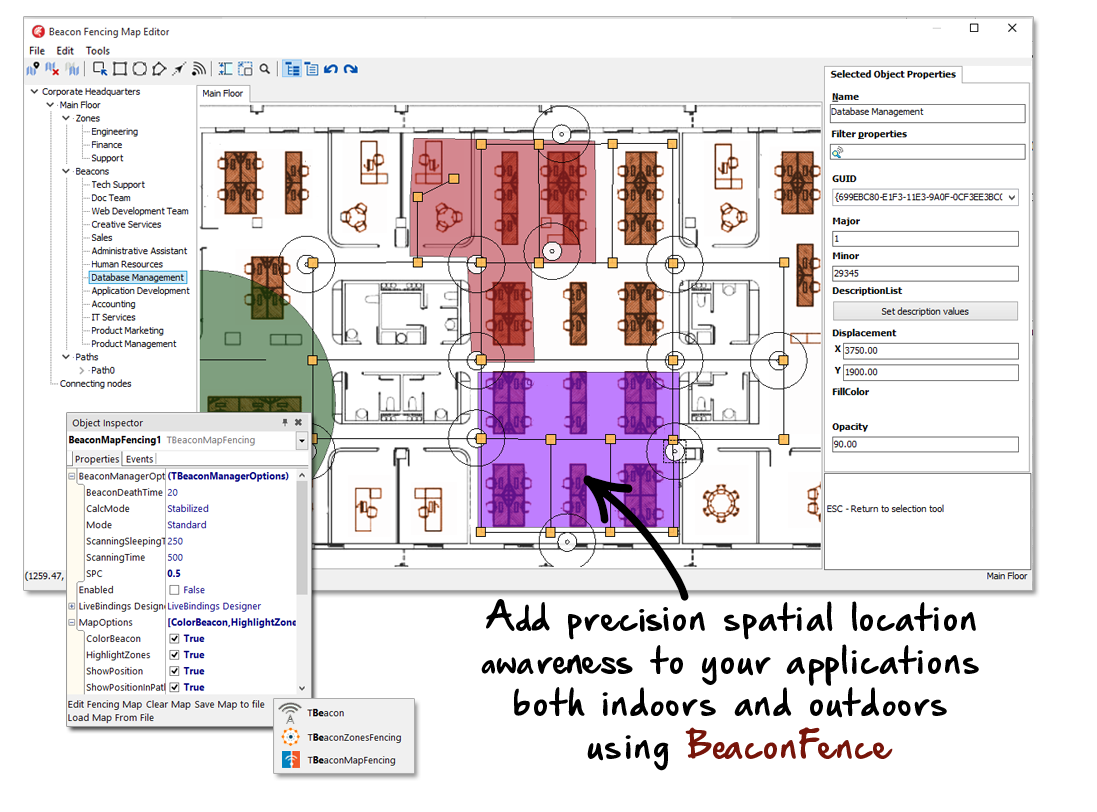 Pricing and Availability
BeaconFence is available through GetIt, a package manager integrated into RAD Studio for easily accessing, downloading and updating components.
Try BeaconFence today for free. Launch GetIt in RAD Studio to request access to a free Pluto license, allowing you to set up and deploy BeaconFence with support of up to 3 beacons, 1 location with a building size of up to 1,500 square feet / 150 square meters and 1 application.
To use BeaconFence, you need a RAD Studio XE8 with Update Subscription or any later version.
BeaconFence is now included under RAD Server licensing for simpler, cheaper deployment!