Dies erhalten Sie mit Ihrer kostenlosen Delphi Community Edition!
Embarcadero® Delphi Community Edition ist der perfekte Einstieg in die Entwicklung visuell beeindruckender, leistungsstarker nativer Delphi-Anwendungen für Windows, MacOS, iOS und Android. Die Delphi Community Edition enthält eine optimierte IDE, einen Code-Editor, einen integrierten Debugger, preisgekrönte visuelle Designer zur Beschleunigung der Entwicklung, leistungsstarke Datenzugriffskomponenten und Datenbindungstechnologien, Hunderte von visuellen Komponenten und eine begrenzte kommerzielle Benutzerlizenz.
Weitere Informationen zur Delphi Community Edition finden Sie hier.
Mögliche Produkt-Upgrades:
Die Community Edition ist nicht für Testzwecke gedacht. Wenn Sie die Berechtigung für die Community Edition nicht erfüllen, laden Sie bitte die GRATIS 30-Tage-Testversion herunter, die zusätzliche Funktionen enthält, die in allen Produktversionen verfügbar sind.
*Für die Benutzer der Community Edition gelten besondere Bedingungen und Einschränkungen. Sie finden sie hier.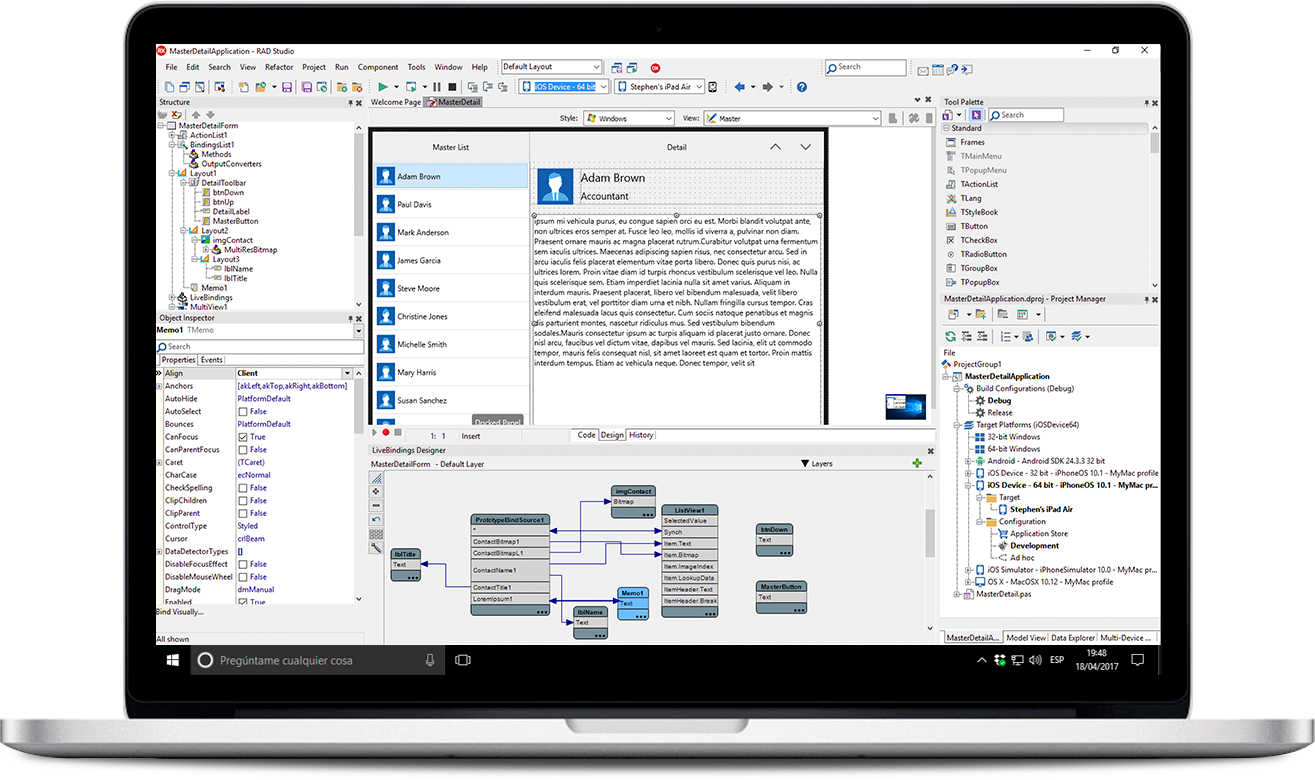 Füllen Sie das Formular aus mit einer gültigen E-Mail, um das Produkt zu erhalten.
Die führenden Unternehmen der Welt vertrauen auf Software, die mit Embarcadero-Produkten entwickelt wurden
































With RAD Studio 11 it is possible to compile binaries for macOS ARM. Since the new M1 processor is incredibly fast it is more than important to create native apps for it. That's why RAD Studio 11 is a must have for every Delphi Developer!
---
Roman Kassebaum, IRK
What I like best about RAD Studio is the ease and speed of developing an application, and the ability to design whatever you can think of. It's like my motto, Nothing is impossible!
---
Paul Denham, IT Manager, Unique Car Mats (UK) Ltd.
C++ Builder allows me to develop stunning UI without involving a lot of time, while at the same time focusing on the core alogrithmic parts of the application.
---
Engineer, Medium Enterprise Infrastructure And Engineering
With InterBase, we were able to deliver to our customers a reliable and powerful database that runs for several years with nearly zero administration.
---
Juergen Konewitz, Application Developer, Abies ITS Gmbh