FastReport in Delphi, C++Builder and RAD Studio
Your Applications Generate Reports Quickly with FastReport VCL Edition and FastReport FMX Edition
FastReport® VCL - is an add-on component that allows your application to generate reports quickly and efficiently. FastReport® provides all the necessary tools to develop reports, including a visual report designer, a reporting core, and a preview window. It can be used in the Delphi, C++Builder and RAD Studio environments.
Check the RAD Studio registered users page at http://cc.embarcadero.com/reg/rad_studio for availability of FastReport updates and FastReport FMX.
Features of FastReport VCL:
Advanced report designer
Data Grouping and Master-Detail reports
Caching of the big reports
Exports to popular formats (PDF, RTF, HTML, BMP, JPEG, TIFF, GIF, TxT, CSV)
Report inheritance
UNICODE support
Report encryption
Nested reports by using sub report object
Dot Matrix reports
Linear barcodes
Composite reports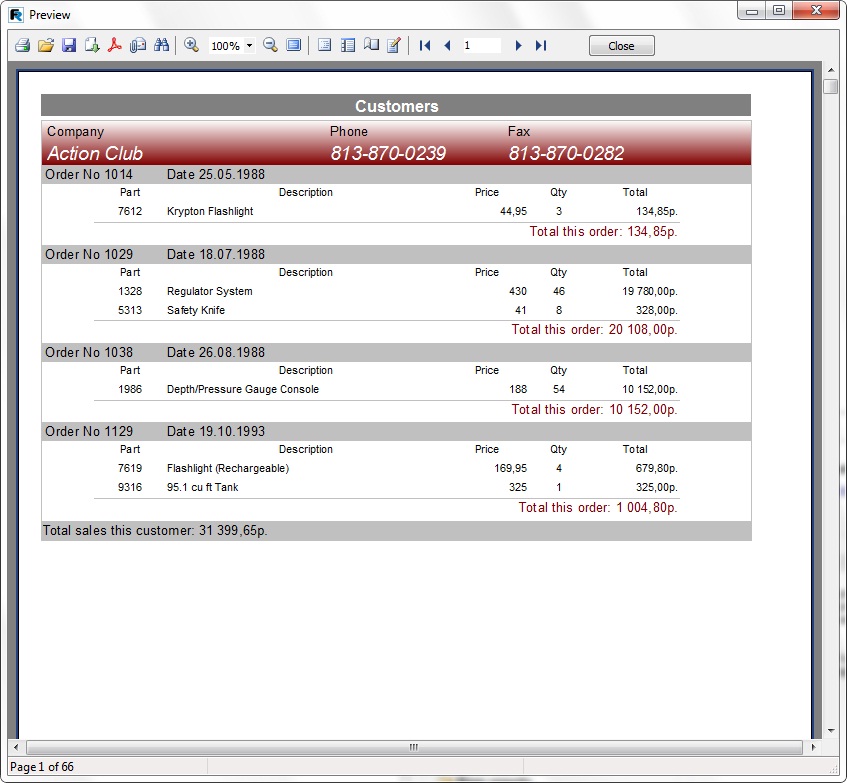 Move up from FastReport VCL Embarcadero edition to other editions from Fast Reports, Inc for additional functionality
Embarcadero
Basic
Standard
Professional
Enterprise
Report Design Features
Just-in-time localization
Object inspector localization
Multiple Report Pages
Multiple Bands on Page
Right to Left Text Support
UI Localization
Final Report Modification
Event handlers
RunTime end-user designer
Visual SQL builder
Report Objects
Special Bands (Footers, Headers)
Hyperlink Embedding
SingleLine Texts
MultiLine Texts
HTML-formatted Texts
RTF-formatted Texts
BMP Pictures
Metafile Pictures
JPEG Pictures
PNG Pictures
ICO Pictures
Charts
Barcodes
Gradients
CheckBoxes
Arrows
Simple Geometry Objects
Vertical Bands
Cross Tabs
Dialog forms designer
Internal datasets
InterBase Express (IBX), IBOjects, ActiveX Data Objects (ADO), dbExpress support
Exports
PDF
RTF
HTML
TXT
JPEG, BMP, TIFF, GIF, EMF
CSV
ODS, ODT
Excel Binary
Excel XML
E-Mail
XLSX, PPTX, DOCX
DBF
Additional features
Script
Source code
Components for web-applications
Converters from
Quick Reports
Rave Reports
Report Builder
Learn more about the other product editions from Fast Reports >
Why do developers choose FastReport?
Technological leadership
Time leadership
More subtle and quick to address the needs of the customer
Learn more at www.fast-report.com