What do you get with your RAD Studio Quote?
Desarrollo moderno de Windows con nuestro marco interfaz de usuario de Windows de aspecto y plataforma nativo de clase mundial. Biblioteca de componentes visuales (VCL)
Escriba su código en los lenguajes modernos de Delphi o C++ y compile su código para múltiples plataformas
Desarrollo rápido y multiplataforma nativo con el marco interfaz de usuario de FireMonkey y una única base de código.
Pruebe las características de la edición Architect que incluyen nuestro motor de servicio web basado en REST de RAD Server, una amplia conectividad de base de datos remota y la edición integrada de InterBase ToGo para dispositivos móviles.
Ediciones de prueba de Sencha ExtJS, Ranorex y Aqua Data Studio
Obtén consejos y tutoriales para ayudarte a comenzar
Diseña increíbles interfaces de usuario de aplicaciones para celular móvil o computadora.
Programa más rápida e inteligentemente con frameworks potentes y un IDE repleto de características
Depura más rápido con depuración nativa integrada
¡Crea aplicaciones de escritorio y móviles desde una base de código y distribuye a Windows, macOS, iOS, Android y Linux!
Extiende el IDE con una amplia gama de herramientas y componentes disponibles en la comunidad de Delphi y C++Builder
* Después de descargar la versión de prueba de RAD Studio, se enviarán correos electrónicos separados con enlaces de descarga para sus pruebas gratuitas del otro software complementario que se incluye como parte de la edición Architect.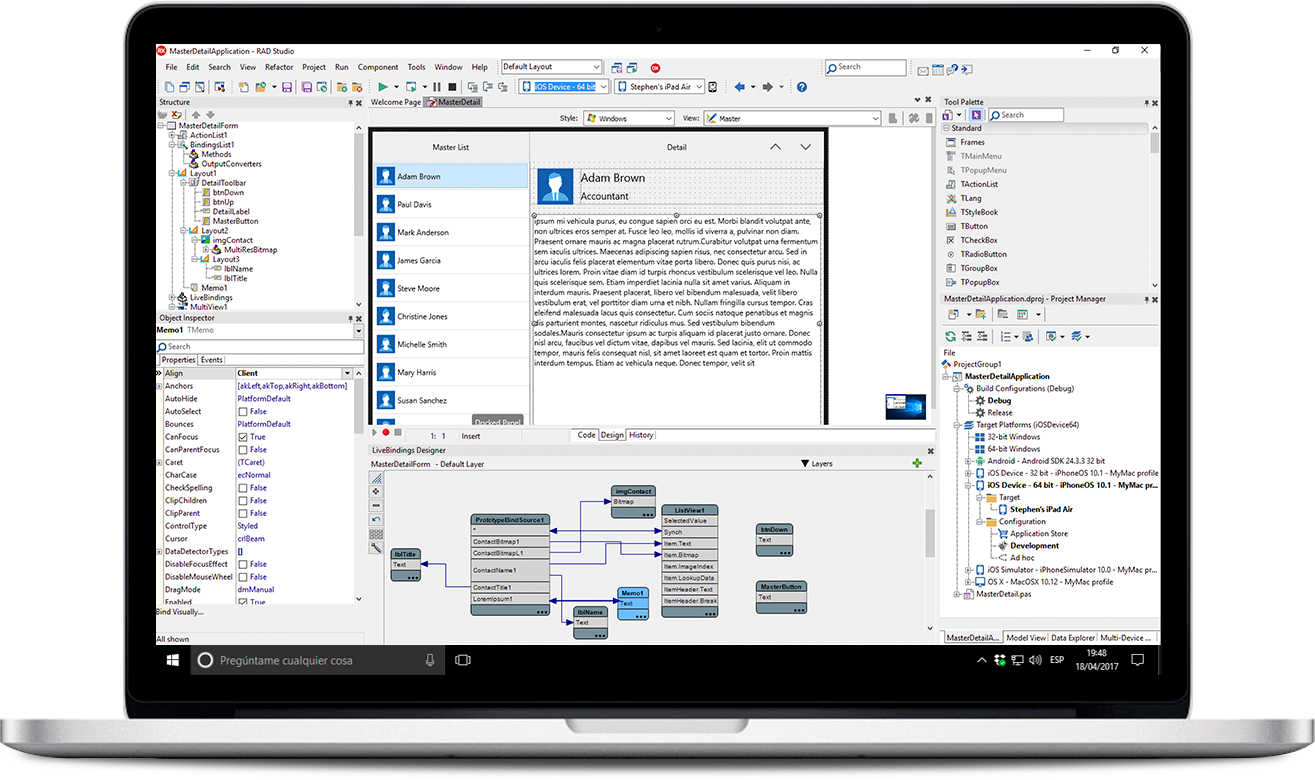 Por favor complete el formulario para solicitar un presupuesto
Confiado por más de tres millones de desarrolladores en todo el mundo
































With RAD Studio 11 it is possible to compile binaries for macOS ARM. Since the new M1 processor is incredibly fast it is more than important to create native apps for it. That's why RAD Studio 11 is a must have for every Delphi Developer!
---
Roman Kassebaum, IRK
"Lo que más me gusta de RAD Studio es la facilidad y velocidad en la que desarrollas una aplicación y la capacidad de diseñar todo lo que quieras. ¡Es como mi lema, nada es imposible!"
---
Paul Denham, IT Manager, Unique Car Mats (UK) Ltd.
"C++Builder me permite desarrollar increíbles UI sin tomarme mucho tiempo, a la vez, se enfoca en las partes algorítmicas de la aplicación"
---
Engineer, Medium Enterprise Infrastructure And Engineering
"Con InterBase, fuimos capaces de entregarle a nuestros clientes una base de datos confiable y poderosa que trabaja durante muchos años con casi cero administración"
---
Juergen Konewitz, Application Developer, Abies ITS Gmbh