Fast Development, Single Code Base
C++Builder allows developers to easily create native cross-platform apps for Windows, macOS, iOS and Android without needing to learn separate languages for each platform.
One Codebase, One Team
Companies are under pressure to deliver apps that their customers can use in the office and on the road, but coding and managing these different versions can be costly and time-consuming. With Embarcadero software development solutions including RAD Studio, Delphi and C++Builder, you manage one codebase, one team, and one schedule, to support multiple platforms without sacrificing performance.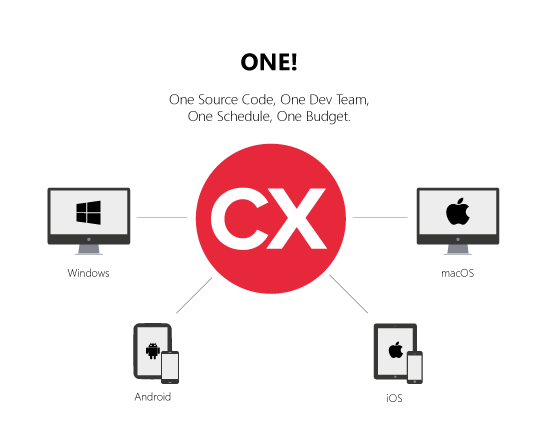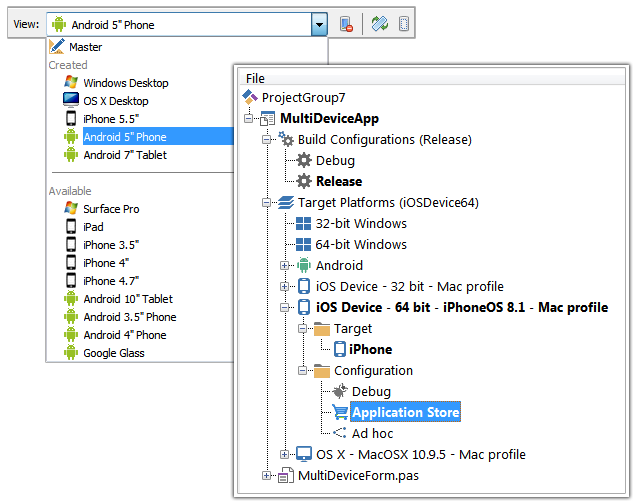 Key benefits of one codebase, one team
Developers can create apps for all platforms, with less coding effort – making development easier while enabling developers to deliver more impressive results at the same time.
Development Managers can reduce cost and complexity with just one of everything for your app development: one dev team, one code base, one budget, one schedule.
Executives can ensure their technology initiatives are reaching the maximum number of customers, which increases satisfaction and gets their multi-device strategy to market fast to stay ahead of competitors.
Key features supporting multi-device software development with One Codebase and One Team are:
Full application platform for Windows, Mac, iOS and Android.
FireUI: Full visual designer for creating one user interface for desktop and mobile with multiple device types, resolutions, and orientations
Native styled user interface controls and native services such as motion and camera sensors and geo-location, Share Sheet, and notification services
Optimized developer workflow that automates deployment and debugging on physical devices
Multi-Channel App Store, Ad-Hoc and Debug deployment targets
One codebase to connect to different enterprise back-ends, on-premises or in the Cloud
Local database support for SQLite, IBLite, and InterBase ToGo in mobile apps
IBLite – a new freely deployable version of the popular embedded InterBase ToGo database for Windows, Mac OS X, Android and iOS
Built-in Multi-tier Enterprise connectivity for Oracle, Sybase, IBM DB2, InterBase, MySQL, Microsoft SQL Server, Microsoft Azure, Amazon Web Services, SOAP, RESTful services and more
RAD Studio is the complete solution to build connected apps for Windows, Mac, iOS, Android, and the Internet of Things.