Database
Making data accessible at design-time and run-time is FireDAC our powerful cross platform database components. Connect to the leading databases faster and easier with FireDAC.
Explore your database direct from the IDE
The Data Explorer enables developers to quickly navigate database tables, views, stored procedures, and functions, directly from the RAD Studio IDE. Using the Data Explorer, you can quickly view and edit your live data and also create and alter tables from supported databases. The data explorer also allows you to drag and drop data directly into your project, automatically adding the database connection and query for you to utilize in your code.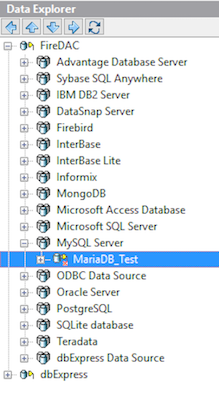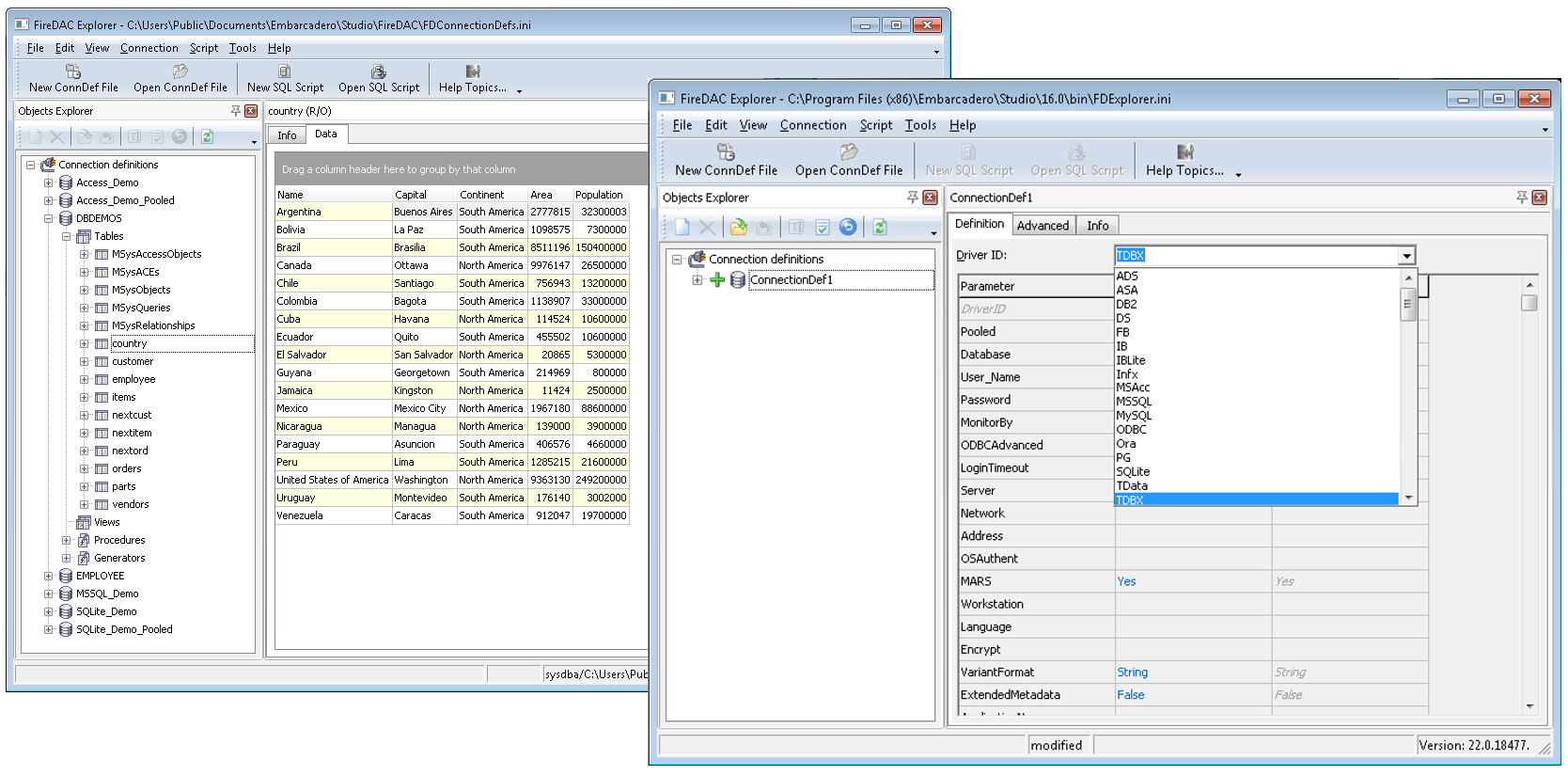 Blazing fast, optimized for speed and stability!
FireDAC is a Universal Data Access library for developing applications for multiple devices, connected to enterprise databases. With its powerful universal architecture, FireDAC enables native high-speed direct access from Delphi and C++Builder to InterBase, SQLite, MySQL, MariaDB, SQL Server, Oracle, PostgreSQL, DB2, SQL Anywhere, Advantage DB, Firebird, Access, Informix, DataSnap and more, including the NoSQL Database MongoDB.
Heterogeneous queries
FireDAC Local SQL enables developers to quickly combine data sources to run Heterogeneous queries across multiple types of data source.
Local SQL works with any data source that can be loaded into a TDataSet (e.g. CSV files or queries from multiple databases) to produce a virtual database that can have SQL run against it. - Ideal for data migration and consolidation.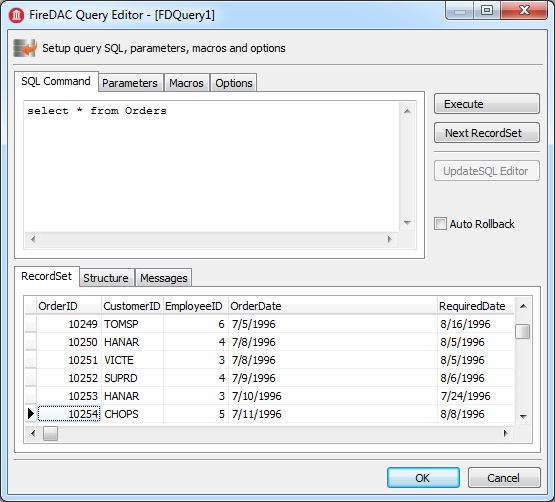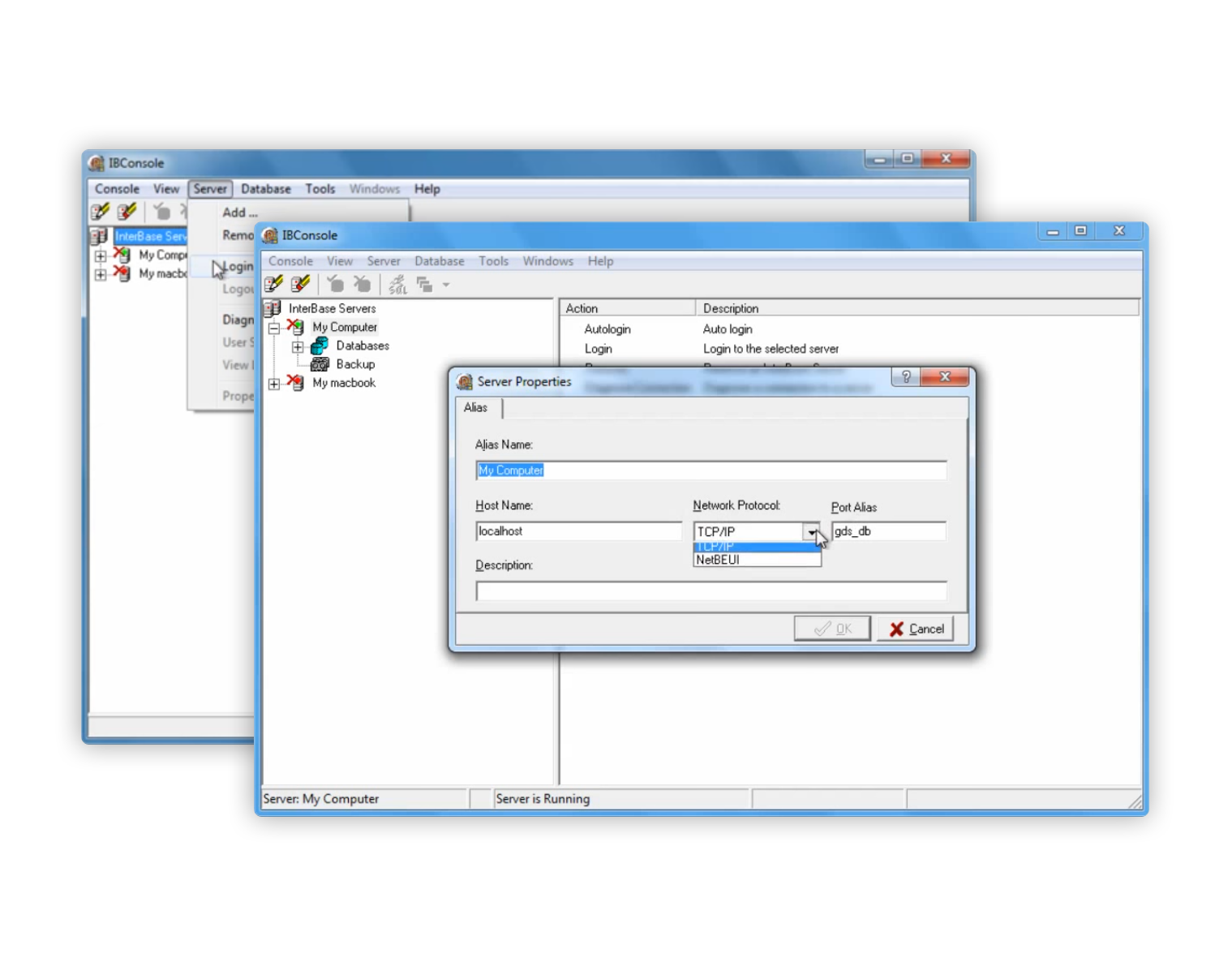 Business Grade Embeddable SQL Database
InterBase is the cross-platform DB engine of choice for ISVs and developers who require a commercial-grade database with an ultra-low total cost of ownership.
InterBase delivers Enterprise database features (like column level transparent encryption and database journaling) at ultra-low pricing in a SQL database engine that you can deploy inside your own installer.
InterBase has a small footprint so is also widely used as a deeply embeddable database working across Windows, Linux, macOS, iOS and Android. Read more on InterBase