Extend your VCL and FireMonkey Apps with Mobile, Cloud, Wearables and the Internet of Things
RAD Studio stellt Entwicklern die Anwendungsplattform mit den Tools zur Verfügung, mit denen sie Ihre vorhandenen VCL-Windows- oder FireMonkey-Anwendungen auf mobile Geräte, Wearables und Lösungen für das Internet der Dinge erweitern können. Diese Lösungen basieren auf leistungsstarken verteilten und vernetzten Anwendungen, die sich für Windows, Android, iOS, OS X, Wearables wie z. B. Smartwatches, Geräte des Internets der Dinge wie z. B. Beacons, Middleware, Unternehmens-Backends und Cloud-gehosteten Diensten bereitstellen lassen.
---
As a power user the new productivity features and clipboard history is a huge plus! It has never been so easy to get things done quickly! Great work Embarcadero!

Anthony West

Software Developer - The Analytical Group, Inc
---
Check out some Codebeispiele and get started extending your app with great new features!
---
Support Windows, OS X, Android and iOS With One High Performance Codebase
With Delphi and C++Builder in RAD Studio, and the FireMonkey framework, you can write a connected app once and natively target Android, iOS (32-bit and 64-bit), Windows (32-bit and 64-bit), OS X, and the Internet of Things from a single IDE and single source code base. Maximize your development effort using one solution to deliver stunning connected apps for Windows, OS X, mobile and the Internet of Things.
---
BeaconFence
Näherungserkennung durch BeaconsFence für Entwickler
BeaconFence ist eine Entwicklungslösung zur Näherungserkennung, die eine präzise, GPS-unabhängige Nachverfolgung der Benutzerposition im Haus wie im Freien bietet sowie Ereignisse mit radialen und geometrischen Zonen für jeden physischen Ort und jede Umgebung. Sie können damit visuell die Umgebung der physischen Position und der Beacon-Platzierung zur zentimetergenauen Nachverfolgung der Positionsinformationen bestimmen. Erstellen Sie radiale und rechtwinklige Zonen und verfolgen Sie Schnittpunkte sowie Ein- und Austritte mit Callback-Ereignissen nach. BeaconFence bietet Entwicklern Näherungs-Beacons auf einer neuen Ebene, mit denen sie ihre Anwendungen sowohl im Haus wie im Freien mit einer räumlich präzisen Positionserkennung ausstatten können.
---
Build Connected Apps with App Tethering
App Tethering ermöglicht es Ihnen, die Benutzerführung Ihrer Anwendung über mehrere vernetzte Apps hinweg über verschiedene Plattformen, Geräte und Gadgets hinweg schnell zu erstellen und zu erweitern. Damit erweitern Sie besonders effektiv den Nutzen bestehender Desktop- und Mobilanwendungen. Praktisch alle Branchen können sofort profitieren, wie Handel, Lebensmitteldienste, Gesundheitswesen, Produktion und Transport; die Einsatzmöglichkeiten sind unbegrenzt.
Build connected apps with App Tethering and take advantage of:
Proximity awareness powered by Beacons
Automatischer Geräteerkennung
Discover other applications that are using App Tethering
Triggern von Ereignissen und Methoden auf anderen Geräten
Fernbedienungs-Apps
Share data between connected apps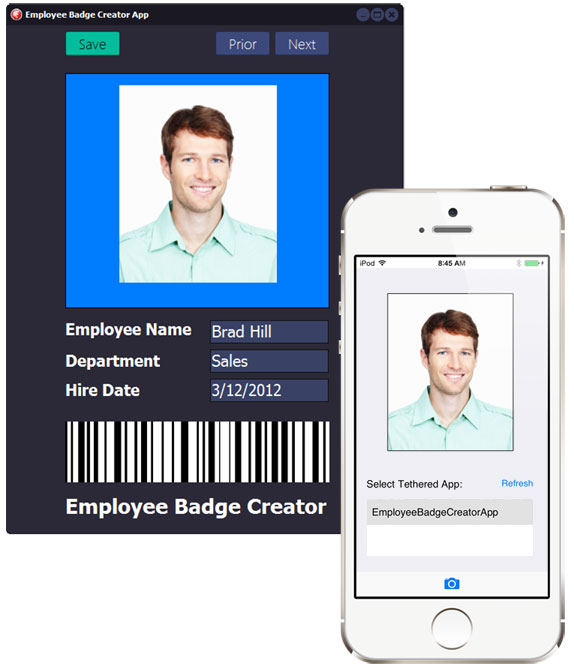 ---
Proximity Awareness with Beacons
Now is the time to start building innovative IoT solutions with exciting new technologies like proximity awareness powered by Beacons!
RAD Studio bietet Entwicklern die erforderlichen Tools für das schnelle Entwerfen, Erstellen und Bereitstellen vernetzter Anwendungen, die innovative Lösungen für das Internet of Things ermöglichen. Die Komponentenunterstützung für Beacons eröffnet Ihren Anwendungen die Welt des Internet of Things – durch Unterstützung von Umgebungserkennung, Kontextidentifikation und vieles mehr! Erweitern Sie auf einfache Weise Ihre vorhandenen VCL-Windows-Anwendungen durch Nutzung der Vorteile der Beacon-Technologie!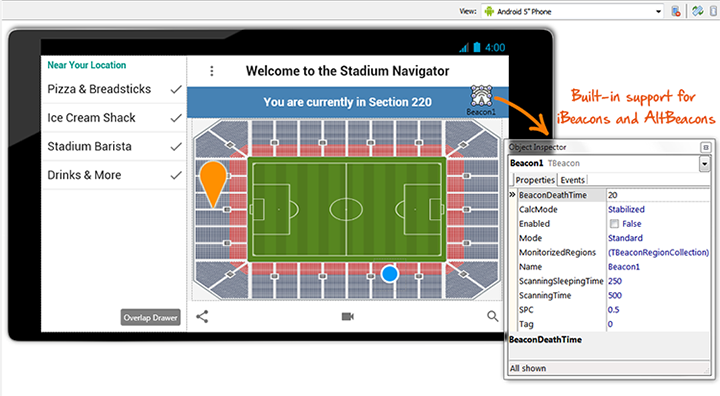 ---
Bluetooth & WiFi Built-in Supports Thousands of Devices
RAD Studio integrates Bluetooth and WiFi support at the component level in the RTL. This support enables developers to take full advantage of IoT gadgets and devices that communicate over Bluetooth or WiFi.
RAD Studio integrated wireless support works with thousands of "off the shelf" consumer and industry specific devices. RAD Studio's approach makes it easy to integrate virtually any device into the app user experience, and even support multiple device vendors with the same code.

---
Connect With Popular BaaS Providers and Cloud Services Using Native HTTP Libraries
Bring your VCL Windows app to the cloud with RAD Studio! Integrate cloud based services from Backend as a Service (BaaS) providers, Kinvey, Parse, and App42 with components for popular BaaS services like notifications, user management, and storage. You get easy access to these common services in the cloud without having to build them yourself or maintain them. Add user authentication to your apps. Use push notifications to engage your users. Access data and object storage in the cloud. The REST Client library, available on all platforms, simplifies the invocation of REST web services by any third party provider, such as, Facebook, eBay, Amazon, Google, etc.