BeaconFence
Beacon Fencing Proximity Solution for Developers
BeaconFence is a developer proximity solution that delivers precise "GPS-Free" indoor/outdoor user location tracking and events with radial and geometric zones for any physical location and layout. Visually draw the layout of the physical location and beacon placement to track location information down to inches. Create radial and rectangular zones and track intersections, enters, and exits with callback events. BeaconFence enables developers to take proximity beacons to the next level by adding precision spatial location awareness to their applications both indoors and outdoors.
The BeaconFence component has many different properties and events you can set up, such as the OnZoneEnter event to trigger an event in the user's client application as he enters a pre-defined zone.
It also includes the Beacon Fencing Map Editor. You can easily create a new map using this GUI editor, and load an existing bitmap, such as an office floor plan, to use as your beacon-fencing map. With BeaconFence, you can set up several maps for different areas in your factory, for example, or floors in your building.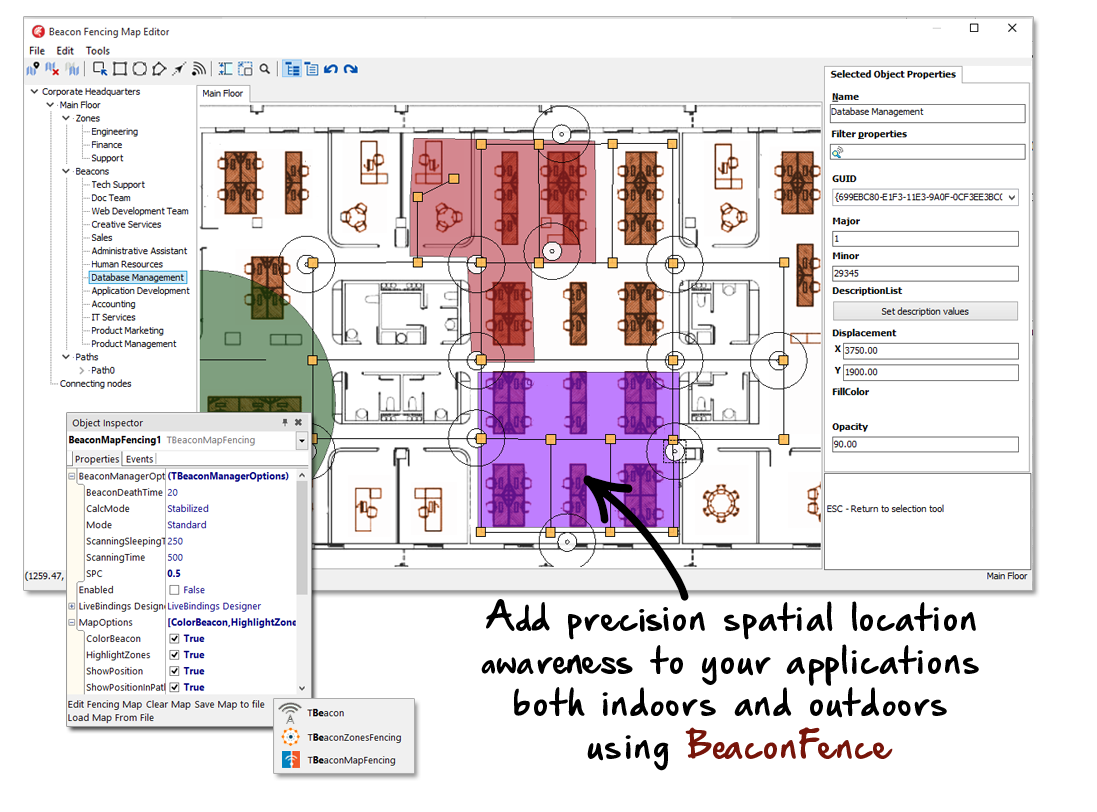 Pricing and Availability
BeaconFence is available through GetIt, a package manager integrated into RAD Studio for easily accessing, downloading and updating components.
Try BeaconFence today for free. Launch GetIt in RAD Studio to request access to a free Pluto license, allowing you to set up and deploy BeaconFence with support of up to 3 beacons, 1 location with a building size of up to 1,500 square feet / 150 square meters and 1 application.
To use BeaconFence, you need a RAD Studio XE8 with Update Subscription or any later version.
BeaconFence is now included under Servidor RAD licensing for simpler, cheaper deployment!