Enterprise Connectors
Para que conectar con cualquier aplicación sea tan fácil como conectar con una base de datos
Migra, integra y analiza datos de forma sencilla con nuestros NUEVOS conectores FireDAC Enterprise, de CData. Estos componentes inigualables te permiten integrar más de 180 aplicaciones Enterprise y simplificar la conectividad con un modelo estándar usando SQL.
Hoy, los datos están más descentralizados que nunca, sin mencionar la dificultad de acceso para empresas que utilizan más de 20 aplicaciones SaaS y al menos la misma cantidad de aplicaciones en las instalaciones. Toma mejores decisiones comerciales, sufre menos dolores de cabeza y aumenta el tiempo de productividad organizando grandes cantidades de datos en un formato práctico y eficiente con estos drivers.
RAD STUDIO ADD-ON - Extiende las aplicaciones Delphi y C++Builder con conectividad SaaS, NoSQL y macrodatos. La manera más rápida y sencilla de crear aplicaciones basadas en datos. Enterprise Connectors requiere Delphi, C++Builder o RAD Studio 10.2 Professional o superior.
Más de 180 fuentes y contando - Con la mayor cantidad de fuentes de datos compatibles de la industria. Las suscripciones difieren según la cobertura de la fuente de datos.
Acceso en tiempo real - Acceso en tiempo real a datos en directo. Sin depender de servicios de nube ni otros intermediarios.
Distribución libre de regalías - Suscripciones con licencia para cada desarrollador, con distribución RF (libre de regalías). Al finalizar el periodo de suscripción, los derechos de distribución continúan vigentes pero los derechos de compilación expiran.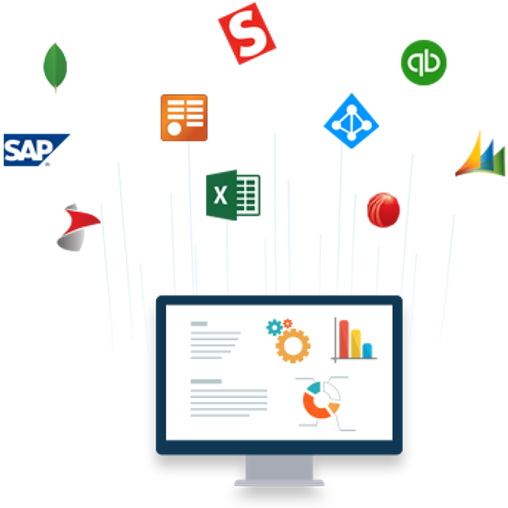 Características
Potentes características de desarrollo de nivel empresarial
Replicación y Caché
Copie fácilmente los datos a almacenes de datos a nivel local y en nubes, como Oracle, SQL Server, Google Cloud SQL, etc. Los comandos de replicación incluyen diversas funciones que posibilitan actualizaciones incrementales inteligentes para datos en caché.
Biblioteca de funciones
Una biblioteca de más de 50 funciones de cadenas, fechas y funciones numéricas SQL que pueden manipular los valores de las columnas en el resultado final. Algunos ejemplos populares son las funciones de procesamiento Regex, JSON y XML.
Procesamiento del lado cliente
Mejora las capacidades de la fuente de datos con un proceso adicional de las consultas del lado del cliente para permitir resúmenes analíticos de datos como SUM, AVG, MAX, MIN, etc.
Personalizable:
Personalice el modelo de datos para agregar o eliminar tablas/columnas, cambiar los tipos de datos, etc. sin necesidad de una nueva compilación. Estas personalizaciones están soportadas en el tiempo de ejecución usando archivos de esquema editables y legibles por personas.
Conectividad segura:
Incluye características de seguridad estándar de clase empresarial, como la encriptación de datos TLS/ SSL para todas las comunicaciones cliente-servidor.
Favorable a los desarrolladores:
Soporte total en tiempo de diseño para operaciones de datos directamente desde RAD Studio.
Ejemplos
Conectar con cualquier aplicación es tan fácil como conectar con una base de datos
Componentes FireDAC estándar
Igual que conectar con un sistema RDBMS típico, como MySQL o SQL Server. Usa componentes FireDAC estándar, como TFDManager, TFDConnection, TFDQuery, etc.
FDConnection1.Name := 'SalesforceConnection';
FDConnection1.DriverName := 'CData.Fire.Salesforce';
with FDConnection1.Params as
TFDPhysCDataSalesforceConnectionDefParams do begin
...
end;
FDConnection1.Connected := true;
FDQuery1.Active := true;
FDQuery1.Open('select * from Account where Industry = ''Healthcare''');
Consultas conforme el estándar SQL-92
La manera más sencilla de crear aplicaciones basadas en datos.  Consultas SQL estándar compatibles con unión, actualización, agregación y más.
SELECT with Inner JOIN
SELECT Account.Id, Account.Name, Account.Fax,
Opportunity.AccountId, Opportunity.CloseDate
FROM Account
INNER JOIN Opportunity
ON Account.Id = Opportunity.AccountId
Aggregate Functions
SELECT Name, AVG(AnnualRevenue) FROM Account GROUP BY Name
Update Data
UPDATE Account SET Name='John' WHERE Id = @myId
Aplicaciones compatibles
Disponible para EC Professional
Disponible para ЕС Universal
* Próximamente
Contabilidad
Blackbaud FE NXT
Exact Online
FreshBooks
Freshdesk
MYOB AccountRight
Microsoft Dynamics GP
QuickBooks Desktop
QuickBooks Online
QuickBooks Point of Sale
Reckon
SAP Concur
Sage 50 UK
Sage Business Cloud Accounting
Sage Intacct
TSheets *
Xero Accounting
Zoho Books
CRM y marketing
Act-On
Act CRM
Adobe Analytics
Bing Ads
Dynamics 365 Sales
Facebook Ads
Google Ad Manager
Google Ads
Google Analytics
Google Campaign Manager
Highrise CRM
HubSpot
Magento
MailChimp
Marketo
Microsoft Dynamics CRM
NetSuite CRM & ERP
Oracle Eloqua
Oracle Sales Cloud
SAP Hybris C4C
Salesforce & Force.com
Salesforce Marketing Cloud
Salesforce Pardot
SendGrid
Sugar CRM
SuiteCRM
Twitter Ads *
YouTube
YouTube Analytics
Zoho CRM
ERP y colaboración
AWS Data Management
Acumatica ERP
Alfresco
Basecamp
BugZilla
DigitalOcean
DocuSign
Dynamics 365 Business Central
Dynamics 365 Finance & Ops
Dynamics 365 Sales
Epicor ERP
Evernote
FinancialForce *
Google Directory
Jira
Jira Service Desk *
Magento
Microsoft Dynamics GP
Microsoft Dynamics NAV
Microsoft Excel Online
Microsoft Exchange
Microsoft Office 365
Microsoft OneNote
Microsoft Planner
Microsoft Project
Microsoft SharePoint
Microsoft Teams
NetSuite CRM & ERP
Odoo ERP
SAP Business ByDesign
SAP Business One
SAP Business One DI
SAP NetWeaver
SAP SuccessFactors
ServiceNow
SharePoint Excel Services
Smartsheet
Splunk
SurveyMonkey
Tally ERP *
Trello
WordPress
Xero WorkflowMax
Zendesk
NoSQL & Big Data
Active Directory
Amazon Athena
Amazon DynamoDB
Amazon Redshift
Apache Cassandra
Apache HBase
Apache HDFS *
Apache Hive
Apache Parquet *
Apache Phoenix
Apache Spark SQL
Azure Analysis Services *
Azure Cosmos DB
Azure Data Catalog *
Azure Data Lake Storage *
Azure Table Storage
CockroachDB *
Couchbase
Elasticsearch
Google BigQuery
Google Data Catalog *
Google Spanner
HPCC Systems
IBM Cloud SQL Query
IBM Cloudant
MariaDB
MarkLogic
Microsoft Access
MongoDB
Oracle Database
Pivotal GreenPlum
Presto
Redis
SAP HANA
SAP HANA XS Advanced *
Snowflake
Sybase
Sybase IQ
Teradata
xBase
eCommerce/finanzas
Amazon Marketplace
Authorize.Net
BigCommerce
Blackbaud FE NXT
EDGAR Online
FedEx
OFX
Open Exchange Rates
PayPal
Quandl
Shopify
Square
Stripe
UPS
USPS
WooCommerce
X-Cart *
eBay
Documentos y archivos
Apache HDFS *
Apache Parquet *
CSV/TSV Files
Google Sheets
Microsoft Excel
Microsoft Excel Online
SharePoint Excel Services
XML Files
Redes y autenticación
Email
FTP Servers
JSON
LDAP
OData
OFX
REST
RSS Feeds
SFTP
Redes sociales
Facebook
Instagram
LinkedIn
Pinterest
Salesforce Chatter
Slack
Twitter
y más…
Alfresco
Amazon S3
Azure Data Management
Bing Search
Box
Dropbox
Gmail
Google Calendar
Google Contacts
Google Drive
Google Search
IBM Cloud Object Storage *
Kintone
Microsoft Common Data Service
Microsoft OneDrive
SAP Fieldglass
Salesforce Einstein Analytics
Twilio
Veeva Vault
Wasabi Object Storage
Suscripciones a Enterprise Connectors
Professional
Más de 90 fuentes
Prácticamente igual que la suscripción Universal, con un subconjunto de fuentes de datos disponible.
Incluido en todas las ediciones de Delphi, C++Builder y RAD Studio Enterprise y Architect*.
* 10.3 o superiores
Fácil de instalar desde el IDE con GetIt Package Manager
La clave de suscripción desbloquea las funciones con licencia.
Soporte técnico de CData.
haga clic aquí para ver información sobre el Acuerdo de licencia de usuario y soporte técnico