AppAnalytics delivers insights that help developers create better user experiences; provides detailed information on how users are interacting with applications
SAN FRANCISCO – May 6, 2015 – Embarcadero Technologies, a leading provider of software solutions for application and database development, today released Embarcadero® AppAnalytics, the first hosted backend service to provide software application developers with detailed information on how users are interacting with Desktop, Mobile, and Wearable applications built with RAD Studio XE8. The component enables developers to create better apps by tracking anonymous user events within existing VCL Windows and FireMonkey mobile and desktop apps, and by providing relevant data that can be used to guide the development of new features and user experiences.
To help developers better understand user behavior, AppAnalytics captures usage statistics and insights into how users are using applications built with RAD Studio XE8, a software development platform for building connected apps. The XE8 release of RAD Studio enables Delphi/Object Pascal and C++ developers to build innovative solutions for mobile, cloud, and the Internet of Things (IoT). AppAnalytics can be embedded into existing Windows applications as well as OS X, iOS, Android, and wearable apps. Analytics are monitored via a cloud portal.
"By understanding the real world usage of an app, development teams can design better user experiences and features," said Michael Swindell, Senior Vice President of Products at Embarcadero Technologies. "AppAnalytics is the answer to the 'mythical' capability that software application developers, marketers, and product managers have always asked for – the ability to improve software by seeing how end users actually use an application in the real world. Developers can now quickly and easily identify what features are used, garden paths, runtime errors or crashes, and use the insights to build a better quality app."
AppAnalytics Features
With its 'event capturing' feature, AppAnalytics provides metrics that inform and guide the development process of an app to ensure engineering efforts are targeted and focused. It captures events such as when an app is opened and when it is closed, on which operating system and CPU the app is used, how users flow through the user interface, and when exceptions or crashes occur. Developers can define any custom event with a single API call. Product teams can use AppAnalytics to better understand which features of an app are the most used and focus efforts on those features.
Key features include:
Captured standard events like AppStart, FormActivate and ControlFocus, and ExceptionThrown which cover much of what a typical app needs
Custom events which are easy to add with one line of code, and can capture any event in an app
Anonymous demographic information such as the Operating System and CPU version, provided with each event
Analytics dashboard – provides visual reports over a requested time period and includes a flow graph showing how the user moves through the app
10,000 free events per month for one app
Scalable tiers for large Enterprise or popular mobile apps
Availability
AppAnalytics is immediately available for free to RAD Studio XE8, Delphi XE8 and C++Builder XE8 customers. To get started with AppAnalytics, users add either the VCL or FireMonkey AppAnalytics component to an app. For more information visit www.embarcadero.com/products/appanalytics.
Tweet This
AppAnalytics immediately available for free to existing @EmbarcaderoTech RAD Studio, Delphi or C++Builder XE8 customers.
About Embarcadero Technologies
Embarcadero Technologies, Inc. is a leading provider of award-winning tools for application developers and database professionals so they can design systems right, build them faster and run them better, regardless of their platform or programming language. Ninety of the Fortune 100 and an active community of more than three million users worldwide rely on Embarcadero products to increase productivity, reduce costs, simplify change management and compliance, and accelerate innovation. Founded in 1993, Embarcadero is headquartered in San Francisco, with offices located around the world. To learn more, please visit www.embarcadero.com.
###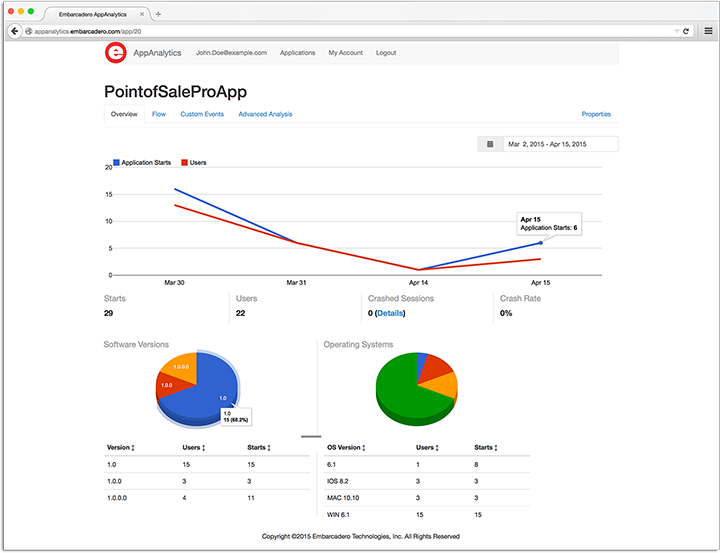 Embarcadero® AppAnalytics is the first analytics service for mobile, desktop, and wearables. Understand your end users, wherever they are, to deliver better apps and experiences.
Media Contact
Lizanne McReelis
Echo Communications (for Embarcadero)
647-438-5414
This email address is being protected from spambots. You need JavaScript enabled to view it.