RAD Studio ties for First Place in Mobile Application Development Category; named a Superstar in the 2014 Mobile Star Awards program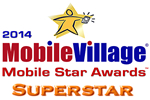 SAN FRANCISCO – December 22, 2014 – Embarcadero Technologies, a leading provider of software solutions for application and database development, today announced that its RAD Studio software development solution has been named one of the best mobile products of the year in the 2014 Mobile Star Awards™ program. The Mobile Star Awards are hosted annually by the mobile technology news and directory site MobileVillage.com. RAD Studio – which is relied on by software developers around the world to rapidly build native applications for Windows, OS X, iOS, and Android from a single codebase – was recognized as a Superstar in the Mobile Application Development category.
All categories and winners are listed on MobileVillage.com at: http://www.mobilevillage.com/.
The Mobile Star Awards program was launched in 2001 and each year has showcased the best products in categories covering consumer mobile apps, mobile devices, enterprise mobile software or services, technology visionaries, and success stories. Winners are chosen by the nearly 10,000 readers of MobileVillage.com and its bi-weekly "Go Mobile™" email newsletter, which delivers headline summaries and links to the top mobile stories on all of the web's popular mobile technology sites.
"Winning a Mobile Star Award is a great accomplishment that's recognized by the entire mobile industry," says MobileVillage founder and CEO Jon Covington. "Mobile is the fourth great wave of computing, and there are now millions of mobile products competing for our attention. Mobile Star Awards winners and nominees stand out from this crowd as the star innovators to watch and follow."
About MobileVillage / PDA Inc.
Since 1993, MobileVillage has been a pioneering market and solution development company dedicated to advancing mobile and wireless technology in a wide range of industries. MobileVillage accomplishes this by fostering education and alliances through "Best of Breed" solution identification, event partnerships, an online directory, daily news, the widely respected "Go Mobile™" newsletter, and annual Mobile Star Awards™ program. Visit MobileVillage online at www.mobilevillage.com.
About Embarcadero Technologies 
Embarcadero Technologies, Inc. is a leading provider of award-winning tools for application developers and database professionals so they can design systems right, build them faster and run them better, regardless of their platform or programming language. Ninety of the Fortune 100 and an active community of more than three million users worldwide rely on Embarcadero products to increase productivity, reduce costs, simplify change management and compliance, and accelerate innovation. Founded in 1993, Embarcadero is headquartered in San Francisco, with offices located around the world. To learn more, please visit http://www.embarcadero.com/.
MobileVillage®, the Mobile Star Awards™, and Go Mobile™ are trademarks or registered trademarks of MobileVillage / PDA Inc.
###
Media Contact
Lizanne McReelis 
Echo Communications (for Embarcadero)
647-438-5414 
media@embarcadero.com