Erply
Formats Tools Used
Delphi
Erply uses Delphi XE2 with FireMonkey to deploy their application to both Windows and Mac OS X. They also used FireMonkey the design their POS system's User Interface, allowing them to provide a rich user experience to their customers.
Erply is a provider of Software as a Service for the retail industry. Founded in 2009, it helps manage all data across stores, web-shops and warehouses, offering an easy to use Point of Sale inventory and e-commerce solution. Erply is located in Tallinn, Estonia.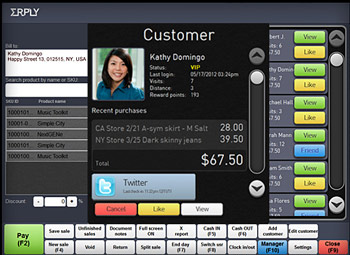 In 2009, Erply applied to Seedcamp, the London based investment program, and won an award, receiving $50,000 in funding. In 2010, less than one year after launch, Erply announced that it had closed a $2 million funding round. In the same year, the company was selected by Wall Street Journal as one of the top ten European startups of the year and Tech Crunch called it the "Skype of business software."
Now, Erply has over 20,000 users globally and is integrated with popular programs such as QuickBooks and Magneto.
Erply created its Windows POS Cloud solution with Delphi and FireMonkey. Erply developers have used Delphi capabilities including LiveBindings, JSON integration and RAD Cloud Amazon AWS connectivity. They did consider going with Microsoft Visual Studio and C#, however, the application performance with Visual Studio was less than desirable and the inability to easily deploy on Mac OS X and mobile devices was a showstopper.
With Delphi and FireMonkey they can now develop their application on Windows and deploy to both Windows and Mac OS X from a single code base. "In retail, more and more shops want to use Mac OS X hardware because they find it more appealing," says Hiiemaa. "As Windows developers we had a dilemma. We were concerned about the time we had to spend learning a new language and platform to create Mac OS X applications.
Using Delphi with FireMonkey now we have the ability to easily deploy a Windows application to Mac OS X using the same code base. It saves us tremendous amount of time."
With FireMonkey the Erply team can also create rich HD and 3D applications to provide better user experience to their customers. "We used FireMonkey to design a modern and rich user interface on Windows, giving our application a cutting-edge look and feel, which allows us to compete better in the market" says Hiiemaa.
Erply recently announced a strategic integration with PayPal providing businesses with a new way to accept mobile payments and manage their business operations. Erply's largest deployment has 500 locations and the Windows POS application is now being launched across the retail chain of Elizabeth Arden.