Desarrollo
El IDE de RAD Studio ayuda a los desarrolladores a crear código de manera más rápida e inteligente con las prácticas de OOP, robustos frameworks y un IDE con abundantes características. Dinámico soporte para equipos de desarrollo a nivel mundial - los desarrolladores inteligentes pueden diseñar, refactorizar y crear código más rápido con RAD Studio.
Compiladores de alto rendimiento
¡Compiladores altamente optimizados para todas las plataformas que garantizan el rendimiento y no te dejarán esperando cada vez que compiles! Una combinación híbrida de compiladores propios en Windows y profunda integración de LLVM y CLANG con compilación paralela ofrece velocidades de compilación multiplataforma líderes de la industria.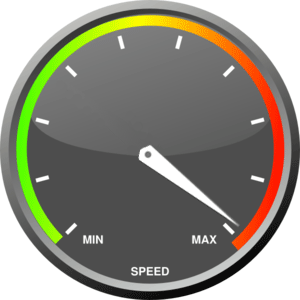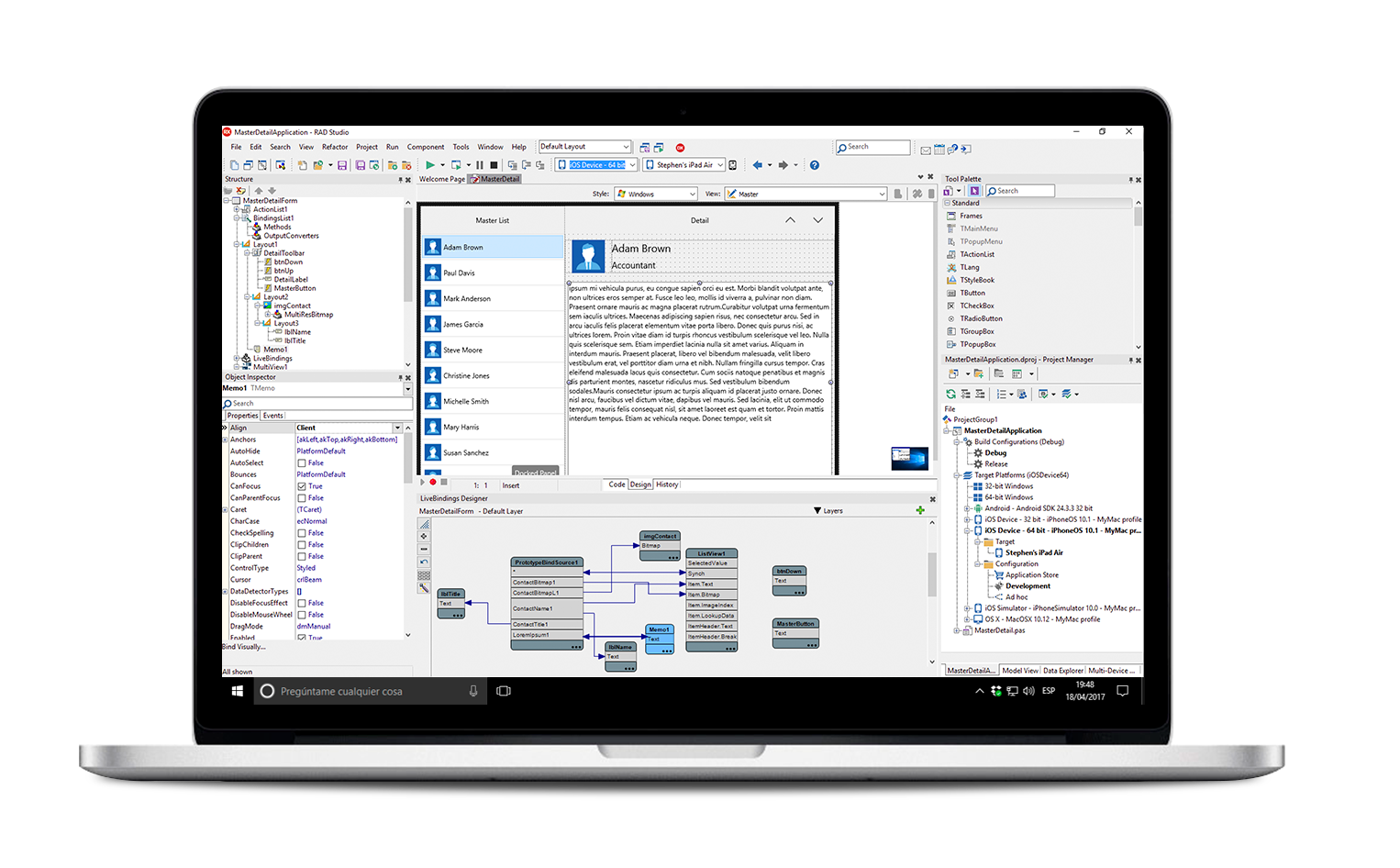 IDE moderno centrado en el desarrollador
RAD Studio IDE continues to pave the way for innovative Integrated Development Environments (IDEs), with the most advanced visual development toolset, an extensive array of unique features, shortcuts, and capabilities to significantly improve development productivity.
Split the panels in the IDE according to a wide range of preferences. Customize extensively and use multiple screens to enhance productivity further.
Lenguajes modernos centrados en OOP
RAD Studio cuenta con diversas clases e interfaces cuyo objetivo es facilitar el diseño polimórfico. Por eso, RAD Studio ofrece a los desarrolladores dos lenguajes de elección (Delphi y C++ optimizado). Esto proporciona las principales características de lenguaje, como Generics (Delphi), programación asíncrona, información de tipo en tiempo de ejecución (RTTI) muy potente o como dicen los desarrolladores C#, "reflection". Esto es así con C++ como con auxiliares (Class Helpers), conteo automático de referencias (ARC) y mucho más.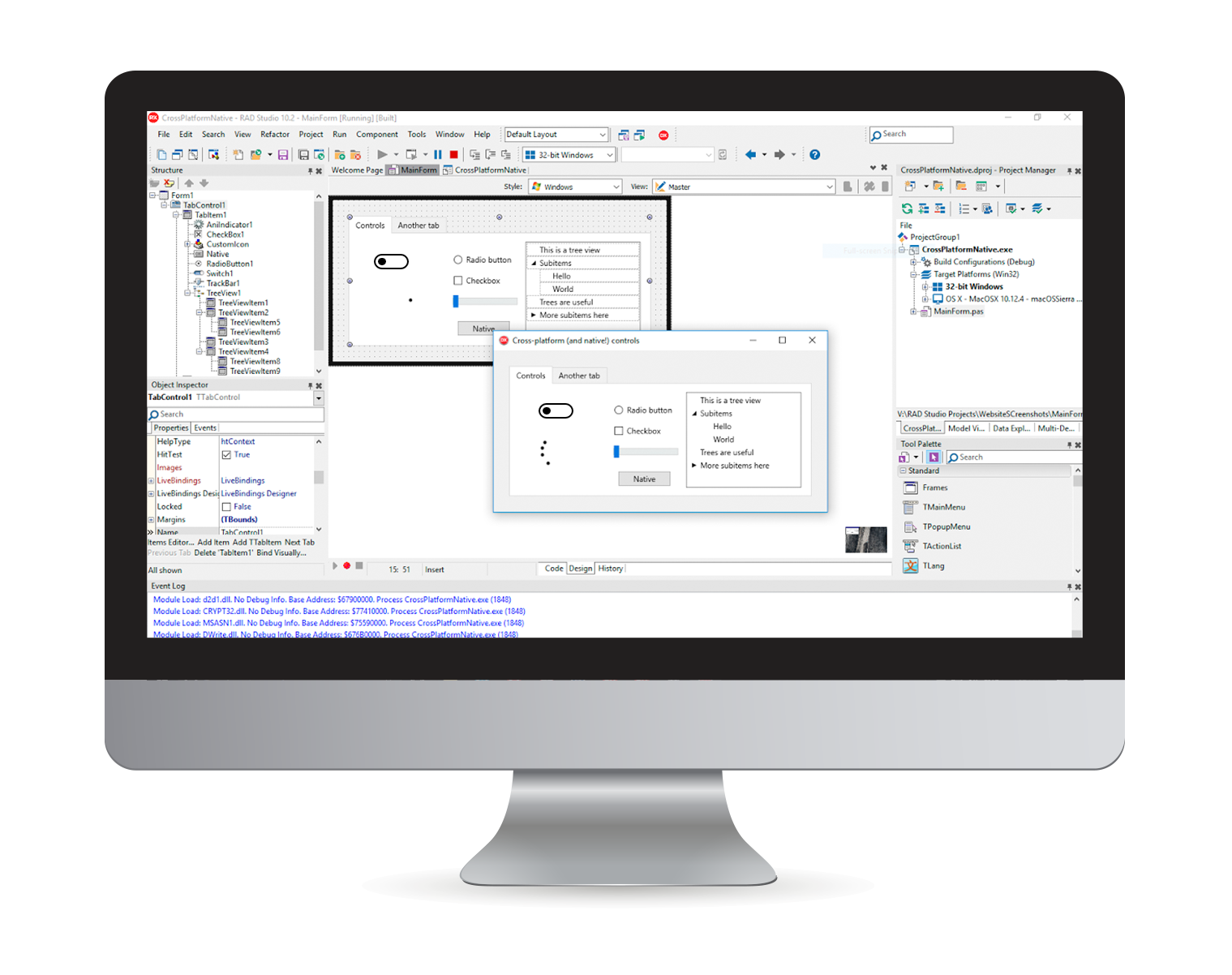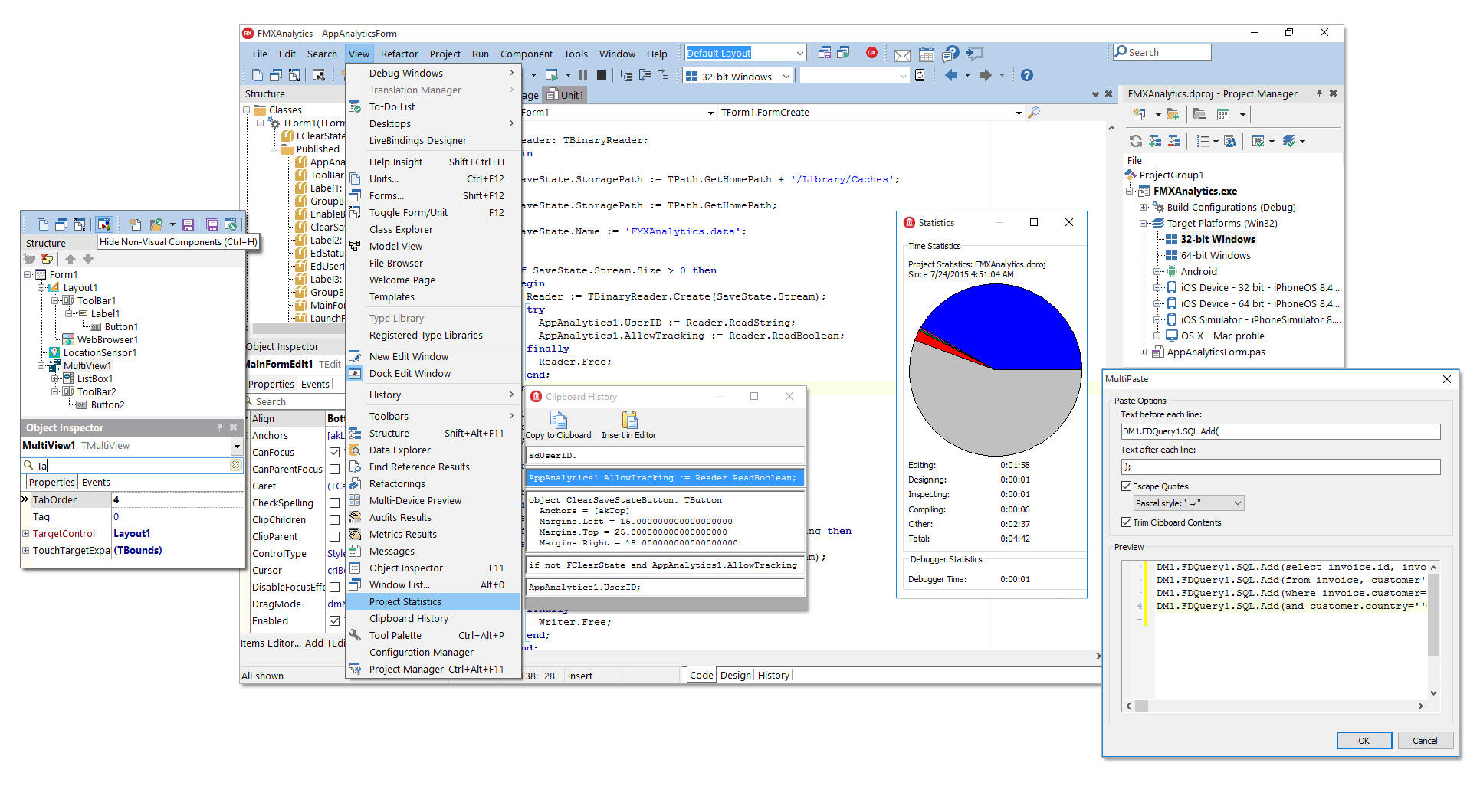 ¡Desarrolla con un IDE más inteligente!
¡Escribir y editar código nunca fue tan rápido! Code Insight™ ofrece completamiento automático de código de acuerdo al código y bibliotecas que usas, con documentación en línea que te brinda consejos y sugerencias a medida que escribes. Funciones de copiar y pegar y macro optimizadas para agilizar las tareas repetitivas. Los marcadores y las zonas contraíbles automáticas (o personalizadas) agilizan la navegación por el código al trabajar en grandes bloques de código.
Mantén la agilidad de tu diseño
Aumenta tu productividad en el diseñador VCL, que te permite modificar rápidamente el nombre, la leyenda, la alineación, el diseño y el color de un control, copia el nombre del componente, diseña rápidamente un formulario con una plantilla, conecta imágenes y listas de imágenes y vincula el control a una fuente o campo de datos.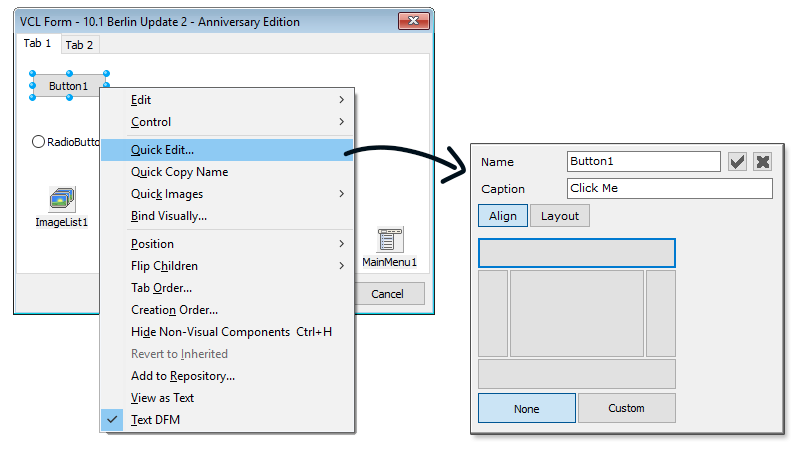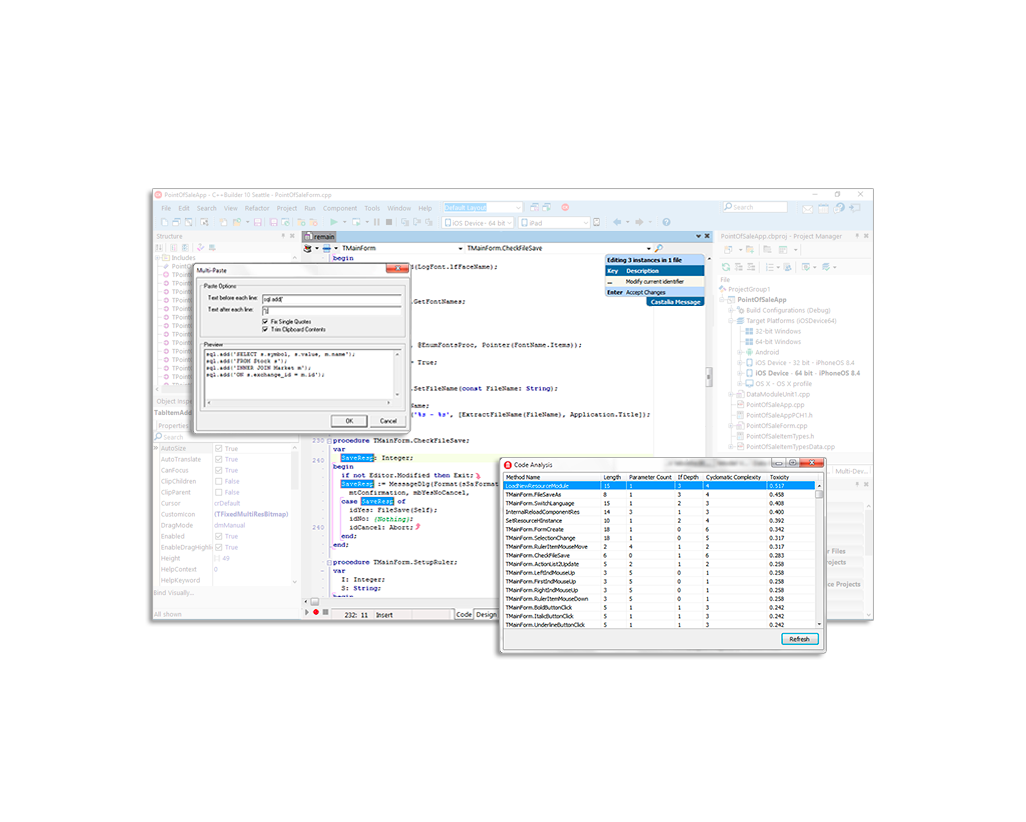 Ágil refactorización/Control de cambios
La refactorización te brinda velocidad y dinamismo, ya que alivia el estrés de esos cambios diarios que surgen con las transformaciones. El cambio de nombre de los identificadores, incluidas las variables, clases o campos en el código fuente, está integrado en el IDE de RAD Studio.
Codifica más rápido con Live Templates
Live Templates son plantillas reutilizables de declaración de código para que el desarrollador pueda codificar rápidamente estructuras repetitivas. Usa las plantillas integradas o agrega las tuyas, Live Templates son una herramienta invaluable para desarrollar rápidamente.