Embarcadero Dev-C++ is a new and improved fork (sponsored by Embarcadero) of Bloodshed Dev-C++ and Orwell Dev-C++. It is a full-featured Integrated Development Environment (IDE) and code editor for the C/C++ programming language. It uses Mingw port of GCC (GNU Compiler Collection) as its compiler. Embarcadero Dev-C++ can also be used in combination with Cygwin or any other GCC based compiler. Embarcadero Dev-C++ is built using the latest version of Embarcadero Delphi. Embarcadero Dev-C++ has a low memory footprint because it is a native Windows application and does not use Electron.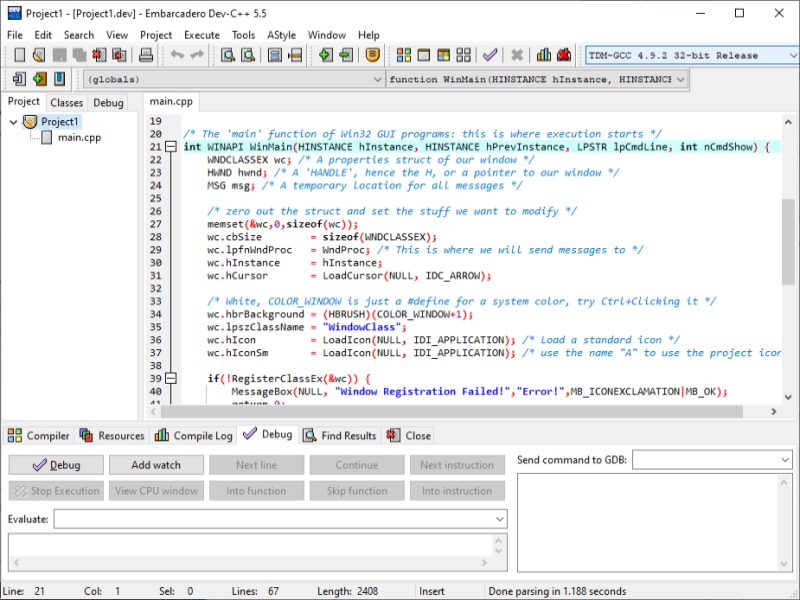 EMB_TEXT_MAIN_FEATURES_INCLUDE
TDM-GCC 4.9.2 32/64bit
Support GCC-based compilers
Integrated debugging (using GDB)
GPROF profiling
Project Manager
Customizable syntax highlighting editor
Class Browser
Code Completion
Code Insight
Function listing
AStyle code formatting support
GPROF Profiling support
Quickly create Windows, console, static libraries and DLLs
Support of templates for creating your own project types
Makefile creation
Edit and compile Resource files
Tool Manager
Devpak IDE extensions
Print support
Find and replace facilities
CVS support
EMB_TEXT_SUPPORTED_OPERATING_SYSTEM
EMB_TEXT_FMX_STENCILS_OVERVIEW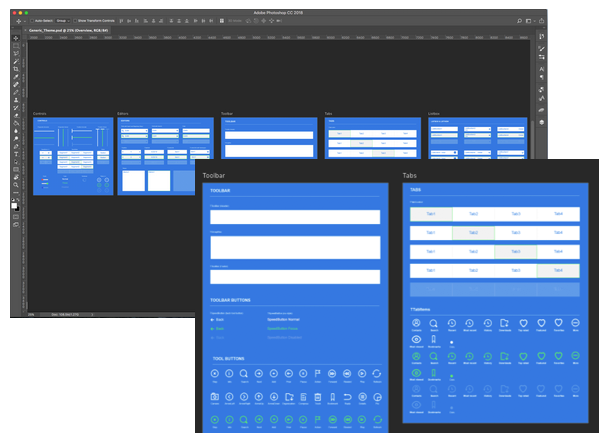 FireMonkey (FMX) Stencils are available for designers working with developers using RAD Studio, Delphi, or C++Builder to build multi-device applications. They provide enhanced communication between designers and developers, making it even easier to take advantage of the infinite design possibilities provided by the UI components and styles in the FMX Framework
The FMX Stencils pack includes:
Balsamiq, Sketch, Illustrator, Photoshop, SVG and PNG FMX stencils for a platform agnostic, generic user interface theme
Balsamiq, Sketch, Illustrator, Photoshop, SVG and PNG FMX stencils for the iOS Copper Dark Theme, part of the EMB_TEXT_FIREMONKEY_PREMIUM_STYLE_BUNDL
EMB_TEXT_BUILT_FOR_DESIGNERS__ASSISTS_D
Designers can create wireframes and mockups in Balsamiq, Sketch, Photoshop, Illustrator or other similar tools using FMX Stencils. Once mockups are finalized, designers can share redlines of designs, style guides and assets with application developers for implementation using the matching FireMonkey UI controls and FireMonkey style in Delphi, C++Builder and RAD Studio. Designers can also upload mockups to InVision and similar tools to create prototypes that illustrate component Interactions.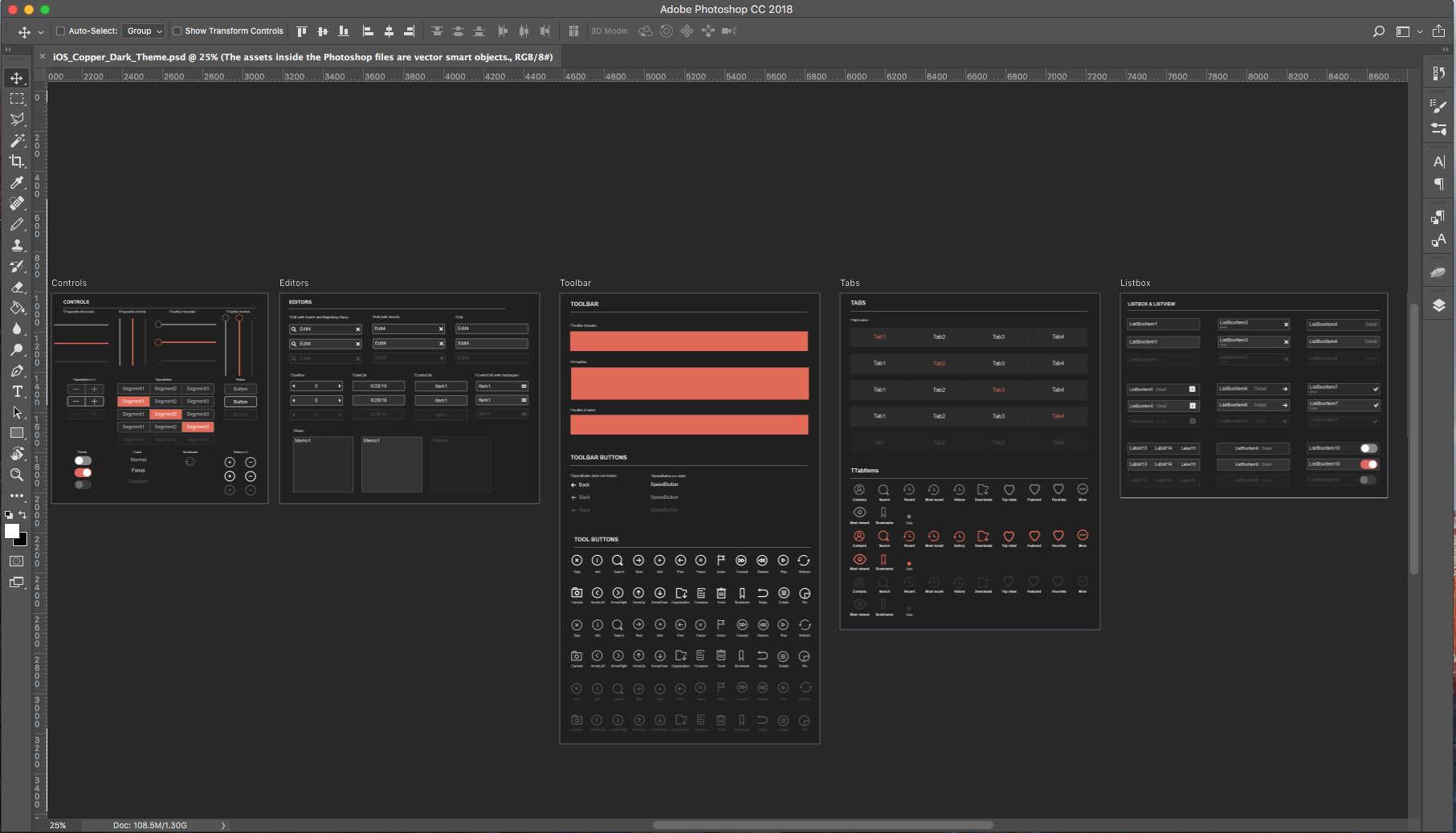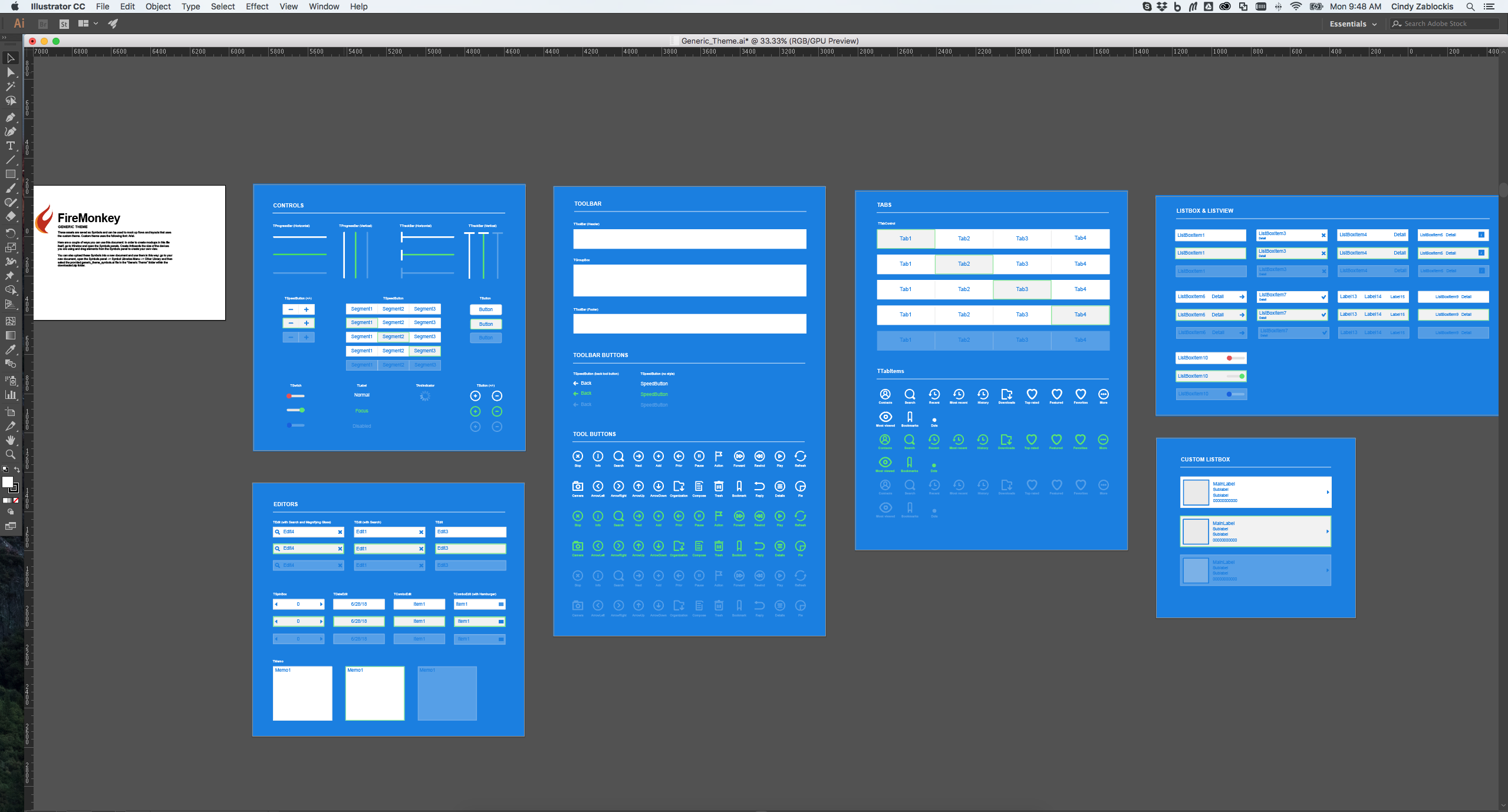 EMB_TEXT_STANDARDIZED_TERMINOLOGY_FOR_E
The FMX components were created in vector format and stylized to match the provided themes. The vector components were converted into Sketch and Illustrator symbols, Photoshop smart vector objects and SVGs so designers can quickly and easily create application UI mockups and prototypes. The symbols and smart vector objects are labeled following the FMX naming conventions so designers and developers are using the same component terminology, reducing errors due to miscommunication.
EMB_TEXT_GET_THE_FREE_TOOL_3115