Celebrating 22 years of RAD development with 22% OFF!
Enjoy the most powerful framework for windows and native application development on Windows, macOS, iOS, Android and Linux.
Discover the not so hidden treasures used by developers all around the world, and how tomorrows projects for mobile, IoT and enterprise are being developed today!
And choose now from these limited time 22% (minimum) offers.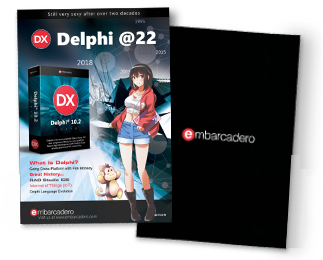 Additional 22% OFF the RAD Suites which are already bundled with a 54% discount
Using either C++ or Delphi as your language, our new RAD Suites come with everything you need to develop from the back to the front of the stack! InterBase, RAD Server and RAD Studio license, bundled with a years update subscription providing more than 54% discount!
22% EXTRA OFF
RAD SUITE


Architect (Save over 64%!)
Enterprise (Save over 59%!)
22% OFF
DELPHI, C++Builder & RAD STUDIO



Enterprise
Architect
22% OFF
RAD SERVER

For Enterprise or Architect
22% off RAD Suite Architect $9999 $7799
With over 54% discount already included, RAD Suite Architect provides everything you need to build a modern application stack. This RAD Studio Architect Suite - containing
RAD Studio Architect (Named User) with a Years Update Subscription
RAD Server Site License - including BeaconFence with a Years Update Subscription
InterBase 2017 Server with Unlimited Users with a Years Update Subscription
Get it now!
Terms and Conditions
Valid with purchase of
RAD Suite 10.2 Tokyo, Enterprise or Architect edition.
Offers ends 31st July 2017.
Embarcadero reserves the right to change, cancel or amend offer at any time.
Offer void where prohibited by law.
Additional restrictions may apply.