キャンペーン
ボーナスパックを無料ダウンロード(全アップデートサブスクリプション加入者が対象)
Konopka Signature VCL Controls と Radiant Shapesは、10.2 TokyoリリースからGetIt経由でインストールできるようになりました。
Konopka Signature 6 VCL Controls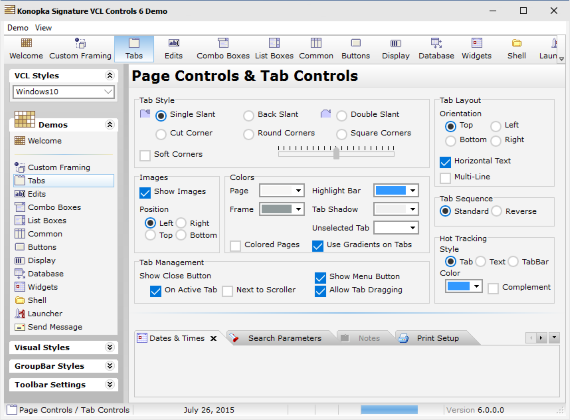 従来、単独製品として提供してきたKonopka Signature 6 VCL Controlsがボーナスパックに加わりました。豊富なWindows UIコントロールにより、最新の洗練されたユーザーインターフェイスを素早く設計可能。DelphiおよびC++Builder開発者は、すべての WindowsアプリケーションのUX構築において、現代化と簡素化を実現できます。Konopka Signature VCL Controlsは、VCLスタイルをフルサポートしており、容易に最新のWindows 10アプリケーションの外観に変更できます。製品は、製品は、GetItパッケージマネージャからインストールできます。GetItから入手できない方は、 こちらをクリックして入手してください。
Radiant Shapes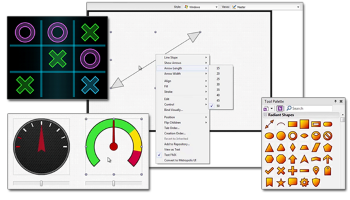 従来、RAD Solution Packに含まれていたRadiant Shapesがボーナスパックに加わりました。Radiant Shapes は、35種類の再利用可能なシェイプコントロールが含まれるFireMonkeyコンポーネントライブラリで、スタイルの構成やボタンのデコレーションから、データの可視化やダッシュボードのデザインまで、FireMonkeyアプリケーションのUI開発に役立てることができます。各コントロールは、Raize Software製品の特徴である細部へのこだわりがあり、最適なパフォーマンスと柔軟性を提供しています。製品は、GetItパッケージマネージャからインストールできます。GetItから入手できない方は、 こちらをクリックして入手してください。
VCL Premium Styles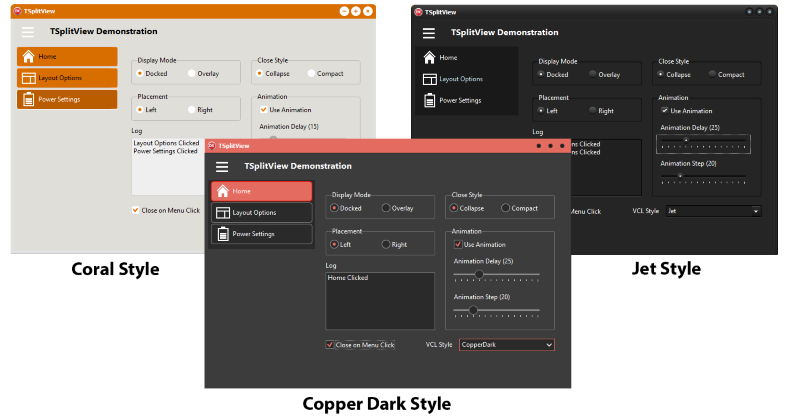 VCL Premium Styleを使って、VCL Windowsアプリケーションをカスタマイズ可能。Coral、Diamond、Emerald、Sterling、Jet、Vapor、Copper、Copper Dark、Radiantの9つのスタイルから選択できます。VCL Premium Styleは、 こちらからダウンロードできます。
FireMonkey Premium Styles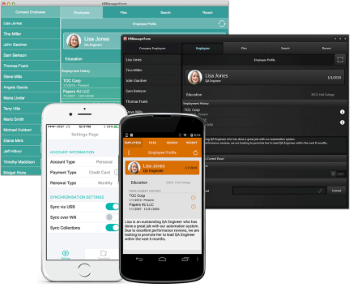 FireMonkey Premium Styleを使って、マルチデバイスアプリケーションをカスタマイズ可能。Jet、Sterling、Diamond、Emerald Crystal、Emerald Dark、Coral Crystal、Coral Dark、Vapor、Coppe、Copper Dark、Radiantスタイルから選択できます。Windows、Mac OS X、iOS、Androidのそれぞれに最適化されています。FireMonkey Premium Styleは、 こちらからダウンロードできます。
Object Pascal Handbook アップデート版(Marco Cantu・著:英語版)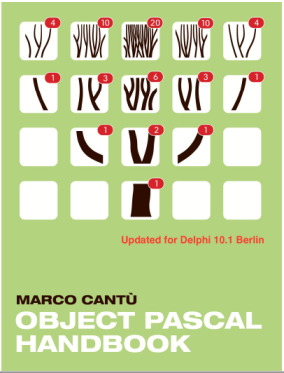 Delphi書籍のベストセラー作家でありDelphi製品担当マネージャのMarco CantuのObject Pascal言語解説書の最新版(英語)をダウンロード可能。アップデート版は、Delphi 10.1 Berlin向けに改訂されています。Object Pascal Handbookは、 こちらからダウンロードできます。
日本語版書籍は、カットシステムから発刊。 詳細はこちらをご覧ください。
ボーナスパックキャンペーン規約:
ボーナスパックの入手方法:製品登録を行ってから、以下のリンクをクリックしてボーナスパックを入手してください。
ボーナスパックは、RAD Studio、Delphi、C++Builder Berlin Professional、Enterprise、Architectを購入した人が対象です。対象製品のアップデートサブスクリプションが有効な方も、ボーナスパックをダウンロードできます。
すでにRAD Solution PackやKonopkaを購入していたり、過去のキャンペーンでこれらの製品を入手している人は、今回のボーナスパックから、Konopka Signature VCL ControlsとRadiant Shapes は除外されます。
対象は指名ユーザーライセンスのみです。ネットワーク指名およびネットワークコンカレントライセンスは対象外です。
エンバカデロ・テクノロジーズは、いつでもキャンペーン規定を変更、中止、修正する権利を保持します。
法律により禁じられている場合には本サービスは適用されません。
規定は予告なく変更する場合がありますので、予めご了承ください。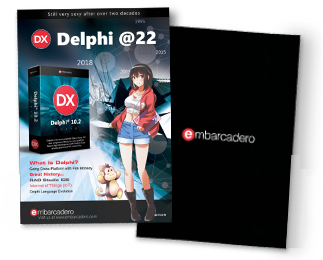 Additional 22% OFF the RAD Suites which are already bundled with a 54% discount
22% EXTRA OFF
RAD SUITE


Architect (Save over 64%!)
Enterprise (Save over 59%!)
22% OFF
DELPHI, C++Builder & RAD STUDIO



Enterprise
Architect
22% OFF
RAD SERVER

For Enterprise or Architect
22% off RAD Suite Architect $9999 $7799
With over 54% discount already included, RAD Suite Architect provides everything you need to build a modern application stack. This RAD Studio Architect Suite - containing
RAD Studio Architect (Named User) with a Years Update Subscription
RAD Server Site License - including BeaconFence with a Years Update Subscription
InterBase 2017 Server with Unlimited Users with a Years Update Subscription
Get it now!
Terms and Conditions
Valid with purchase of
RAD Suite 10.2 Tokyo, Enterprise or Architect edition.
Offers ends 31st July 2017.
エンバカデロ・テクノロジーズは、いつでもキャンペーン規定を変更、中止、修正する権利を保持します。
法律により禁じられている場合には本サービスは適用されません。
規定は予告なく変更する場合がありますので、予めご了承ください。