Internet of Things (IoT)
Internet of Things solutions
The way we experience and interact with devices is changing. Embarcadero Technologies breathes new life into existing applications by enabling developers to easily connect their apps to gadgets, devices, sensors, enterprise data, and cloud services.
More and more gadgets and devices are being added to the Internet of Things ecosystem every day. The inter-connection between these gadgets and devices has the potential to create remarkable, entirely new user experiences that integrate the physical environment.
Learn more at https://youtu.be/sSzD1VLJIyU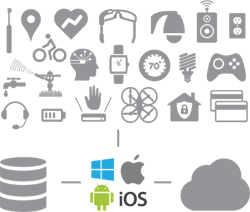 Cross Platform IoT Connectivity
Building IoT solutions require data to flow between devices, gadgets, the connected app, and the internet. Embarcadero Technologies streamlines application development by providing over 50 easy to use components, with support for solutions built on Bluetooth, WIFI, and REST communication protocols.
Interconnected Applications
App tethering enables you to very quickly distribute an existing app user experience across devices and gadgets. This is especially powerful for extending the utility of existing desktop and mobile apps to integrate IoT. Virtually all industries (including Point of Sale, Healthcare, and Shipping) can immediately benefit, but the applications are limitless.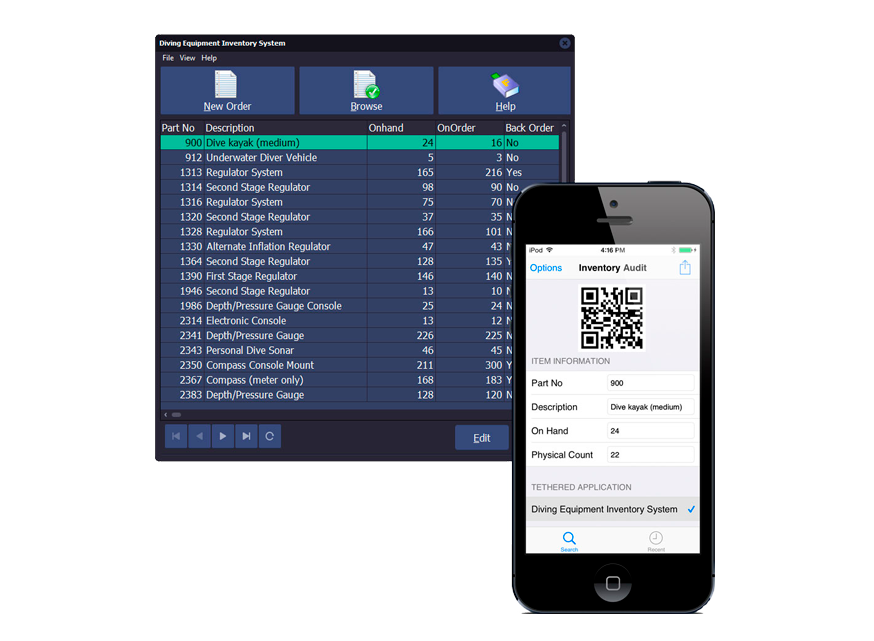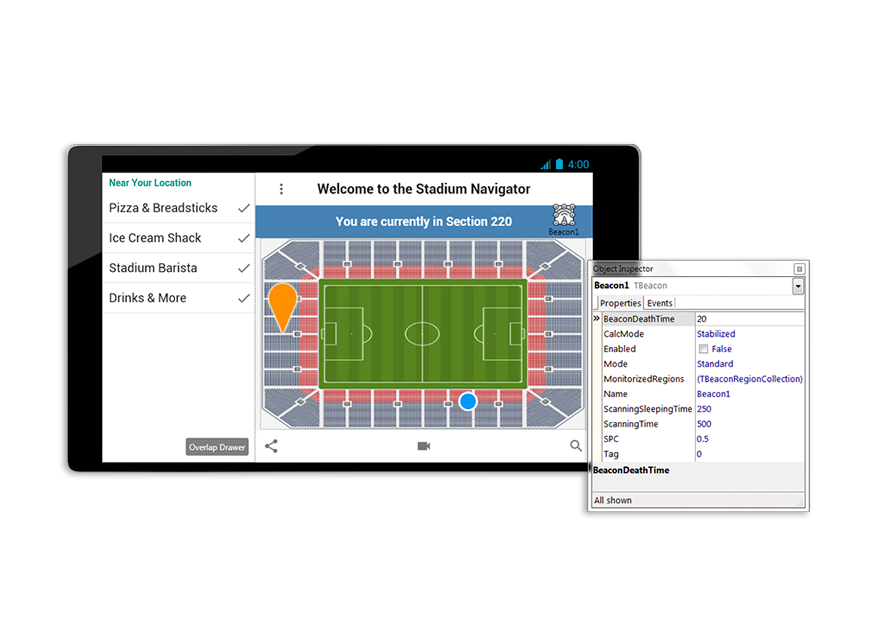 iBeacon, AltBeacon & Eddystone
Rapidly Integrate beacon connectivity into your applications. iBeacon, AltBeacon & Eddystone support ensures all the leading beacon standards are usable from a single component, keeping beacon integration fast and simple.
Indoor "GPS-Free" tracking
BeaconFence enables developers to quickly integrate a precise "GPS-Free" indoor/outdoor user location tracking and events with radial and geometric zones for any physical location and layout.
Visually draw the layout of the physical location and beacon placement to track location information down to inches. Create radial and rectangular zones and track intersections, enters, and exits with callback events. BeaconFence enables developers to take proximity beacons to the next level by adding precision spatial location awareness to their applications both indoors and outdoors.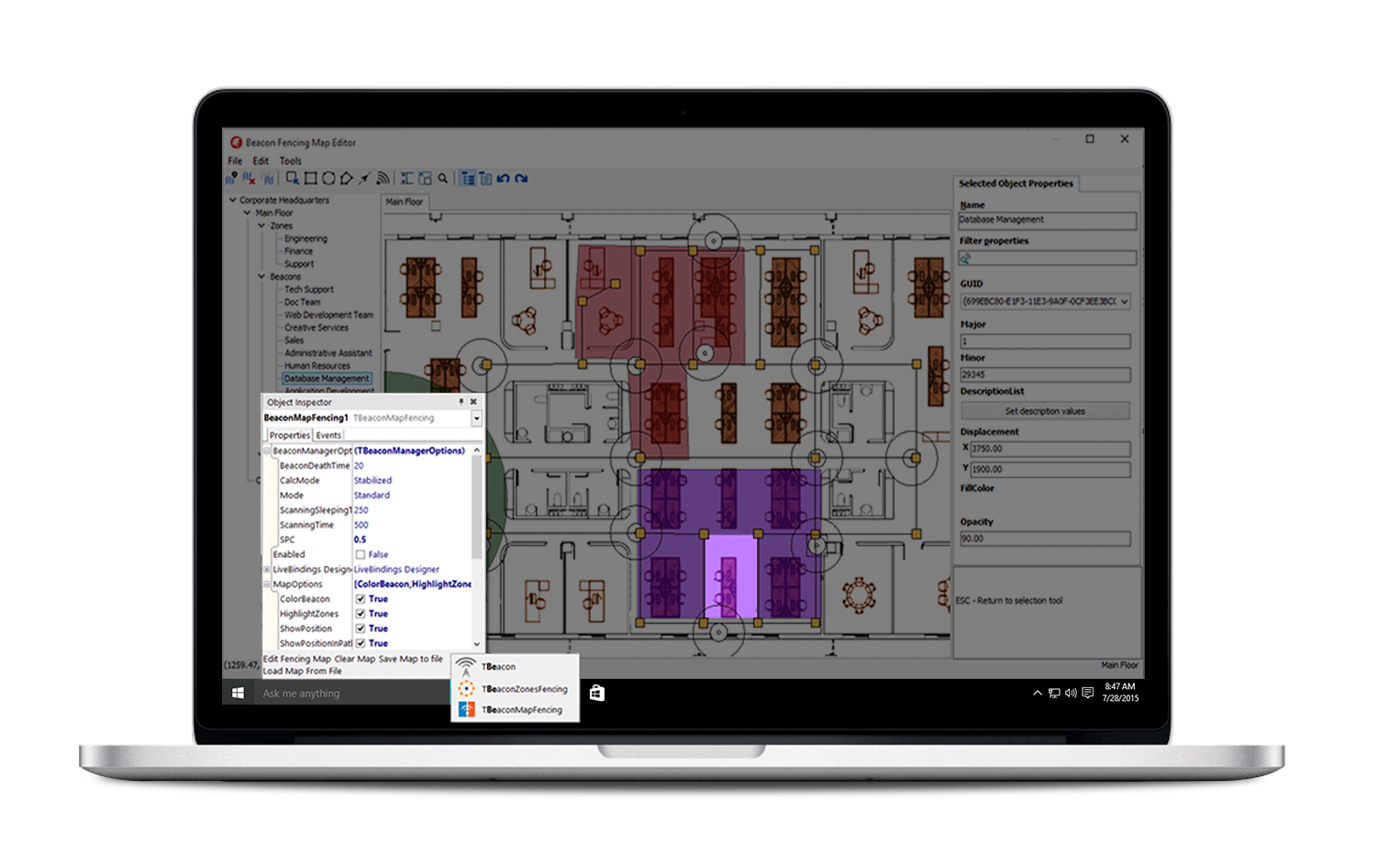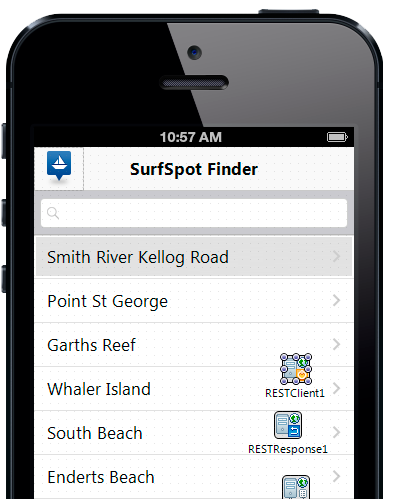 Develop RESTful networks of devices
Develop a ThingPoint™and connect it your RAD Server instance to expose local devices through a centralized RESTful API.
Use Bluetooth, sockets, AppTethering, or any other method to connect to local devices or applications and expose them a ThingPoint to create a single central API for accessing all devices. Connecting to a changing network of devices has never been easier. Based on REST and JSON, ThingPoints can be used through RAD Server with any modern development language.
IoT components
Fast Internet of Things development is powered by over fifty IoT components in the GetIt package manager. Install the components directly from inside the IDE and access the included sample applications to get started. The IoT components cover devices from healthcare to fitness and home automation. Included are both BluetoothLE (BLE) and Z-Wave device components.