Develop iOS applications with RAD Studio
Ensure your apps are ready for the Apple marketplace. Now you can create Universal apps for 32-bit and 64-bit iOS devices including iPhone, iPod Touch and iPad with RAD Studio. Develop your mobile apps visually and deliver high performance, natively compiled apps for the best user experience.
---
With RAD Studio 10 we are building cross-platform, single-code base apps and every app, exe, apk, uses the same data module. So every project uses the same data-acces and general structure!

Embarcadero should be so proud…

Steve Beydekerken

Lead Developer - B-Logicx Home Automation
---
New iOS Features and Support Added to RAD Studio 10 Seattle
iOS Control Enhancements. New platform presentation for iOS ScrollBox and enhancements to the ListView control.
iOS 64-Bit Debugging. Build and debug iOS 64-bit and Universal apps on device.
iOS Certificate and Provisioning Management. Manage your available certificates from within the IDE which simplifies provisioning and device deployment, and other iOS improvements.
Enhanced in 10 Seattle! Edit and Calendar ability to dynamically render a platform native UI control on iOS
Enhanced in 10 Seattle! ListView platform controls for iOS
New in 10 Seattle! ScrollBox platform controls for iOS
Enhanced in 10 Seattle! Notification Center Component for using notifications in your iOS applications, including notification sound.
Enhanced in 10 Seattle! Deploy apps to the iOS Device (Debug/Ad Hoc/ App Store), now with several iOS device provisioning improvements to simplify the deployment process – including Auto Bundle identifier
New in 10 Seattle! Remote iOS 64-bit device debugging
New in 10 Seattle! DUnitX unit testing support for mobile platforms (iOS and Android)
---
FireMonkey Platform Native Rendering Architecture
FireMonkey's underlying visual control architecture has been significantly overhauled to enable multiple presentation implementations per control called "ControlTypes" - in particular, native OS control presentations can be utilized. The new underlying architecture is MVC based and is backward compatible enabling developers to choose at design time between Styled and Platform control types on a per control* basis (*for controls that include both control types). This allows you to select whether a control will be implemented at runtime by FireMonkey's GPU driven rendering or implemented by the underlying operating system.
Universal iOS 32-bit and 64-bit apps, six key performance critical controls now have iOS native platform control types built–in, including TEdit, TListView, TMemo, TSwitch, TCalendar and TMultiView. In the future we plan to add platform control types for other operating systems and components.
Because controls with a Platform .controltype use the same underlying implementation as native SDKs like Cocoa, your FireMonkey apps will have the smooth native scrolling and performance that end-users expect yet use the same component properties, methods and events and are still cross-platform between OSes. This enables you to maintain complete cross platform fidelity across Windows, Mac, iOS, and Android and deliver the best user experience possible.
---
New code samples! See more than 20 iOS and Android code snippets and demo videos for Delphi and RAD Studio.
---
It has never been easier and faster to develop and test Apps for iOS. I tried it many times on Objective-C on Mac but this is not really a logical language – at least for me.

Michel Vogt

Developer - Corvaglia Mould AG
---
Develop apps for iPhone and iPad
Create mobile apps using the programming skills, knowledge and code that you already have. Your RAD Studio iOS apps will have fast native CPU performance and better security than web-based or scripting language based apps. Full visual designer for iOS user interfaces with multiple device types, resolutions, and orientations.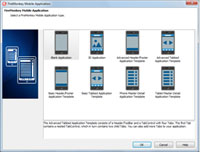 ---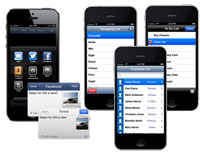 Native and Custom Styling Options
With RAD Studio, you get a full range of native styled user interface controls, including buttons, listboxes and combo boxes, to incorporate into your apps. The iOS apps you create include native platform controls like the date picker and custom picker, different keyboard types, services like notifications, and support for share sheet actions. Use pixel perfect native styles, custom styles or create your own to give your apps a unique look.
---
Rapid Visual Development
RAD Studio delivers an enhanced and optimized developer workflow for mobile development that automates deployment and debugging on device. Rapidly prototype your apps with layouts for each device type and quickly go from prototype to production. Integrate feedback quickly by deploying your prototype directly onto your target device using actual framework objects and code.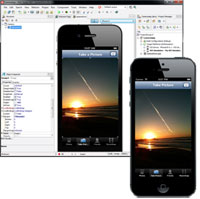 ---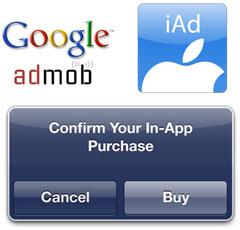 Monetize your mobile apps
Mobile apps are a revenue generating opportunity for application developers. Now you can monetize your mobile apps by integrating in app purchases and advertising. Sell content, functionality, services and subscriptions with support for iOS App Store in-app purchase and Google Play In-app Billing. Serve ads from the top ad networks (Google AdMob and Apple iAd). It's easy to add this functionality to your apps via the included TBannerAd and TInAppPurchase components.
---
Connect with BaaS providers
Integrate cloud based services from Back-end as a Service (BaaS) providers, Kinvey and Parse, with components for popular BaaS services like notifications, user management, and storage. You get easy access to these common services in the cloud without having to build them yourself or maintain them. Add user authentication to your apps. Use push notifications to engage your users. Access data and object storage in the cloud.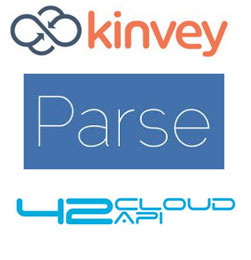 ---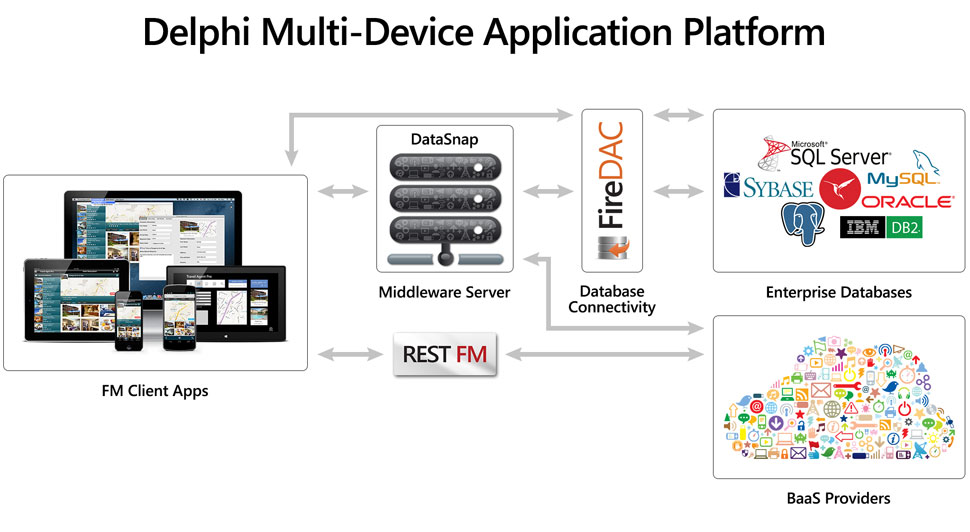 Enterprise Mobility Services
Enterprise Mobility Services (EMS) provides a turnkey Middleware server that enables you to build, deploy, manage, and report on custom server based C++ APIs, Enterprise Data Access, User Authentication, and Storage with Analytics. Easily connect your users and Apps to managed APIs, databases and services on-premises or via the cloud.
---
IBLite and SQLite iOS database support
RAD Studio includes iOS local database support for SQLite and embedded InterBase (ToGo and IBLite) via dbExpress, FireDAC and IBX. You also get a free development and free unlimited deployment license for IBLite – a new freely deployable version of the popular embedded InterBase ToGo database.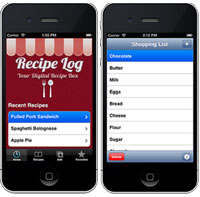 ---
RAD Studio Features for iOS App Development
FireUI Multi-Device Designer, MultiView Component, and Behavior Services
Bluetooth support
Enterprise Mobility Services
In-app advertising and in-app purchase support
Component based connectivity with BaaS providers Parse and Kinvey for authentication, storage and push notifications
App tethering to create mobile companion apps for desktop apps
Delphi ARM optimized compilers for device
C++Builder ARM optimized compiler for device
Phone and tablet development for iPhone, iPod Touch and iPad
Pixel-perfect native UI controls
FireMonkey framework for iOS
On-device data access for InterBase and SQLite
DataSnap client
Device service and sensor support (gyro, GPS, camera and accelerometer)
Mobile form designer
---
Why Choose RAD Studio for Your Mobile App Development Needs?
Deliver high performance apps that easily connect with enterprise data, cloud services, devices, sensors, and gadgets
Build user interfaces for multiple device form factors and OSs with native fidelity, capabilities and uniqueness with the revolutionary FireUI Designer
Fast native performance - RAD Studio compiled apps are faster than web based or hybrid mobile apps
Build secure applications – compiled code that doesn't require a runtime is more secure and InterBase ToGo offers on-device database encryption
Leverage your Delphi and C++ language skills, knowledge and source code
Develop for Android, iOS, Windows and OS X using a single IDE and a single framework
Create true native compiled iOS and Android apps from a single codebase
Use HTML5 Builder in RAD Studio to create web based mobile apps today for iOS, Android, Blackberry and Windows Phone