グローバルイベントの一覧です。日本のイベントページはこちら
Missed an event? No problem. Look for its replay in Webinar Replays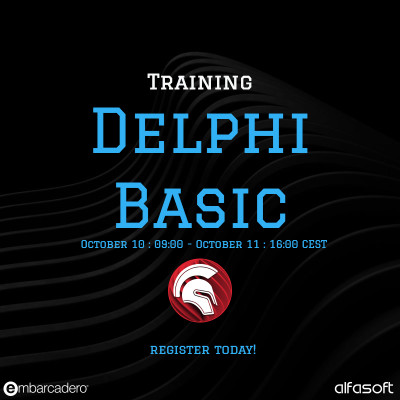 Delphi Basic - October 2023
Presenter(s): Jens Fudge
This two-day Delphi training course will introduce you to the current version of the Object Pascal programming language and the Integrated Development Environment (IDE).
10月 10
会場: Alfasoft AB Kyrkogatan 24, Göteborg
Starts: 2:00 am CDT
Ends: 9:00 am CDT
参加登録はこちら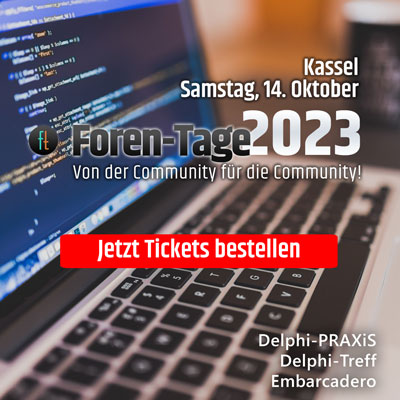 Foren-Tage 2023 in Kassel
Presenter(s): Delphi-Praxis, Delphi-Treff, Embarcadero
Back to the Roots: The Foren Tage 2023 return to Kassel
After a long break, the Foren-Tage will take place again on Saturday, October 14, 2023 and the night before on Friday, October 13, 2023. The community returns to the start and meets again in Kassel, in the middle of Germany and where it all began. The new organization team has found very nice locations, both for the main event on Saturday and for the popular community evening.
This time there will be one presentation track and in parallel you can use the time to renew or make new contacts.
10月 13
会場: Hallenbad Ost, Kassel
Starts: 11:00 am CDT
Ends: 10:30 am CDT
参加登録はこちら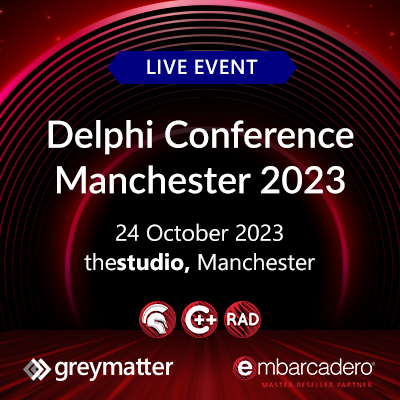 Delphi Conference Manchester 2023
Presenter(s): Embarcadero Team and GreyMatter Team
Discover the latest updates from Embarcadero and Grey Matter at the upcoming FREE UK Delphi Conference - your prime opportunity to connect with fellow Delphi community members, experts, and event sponsors. Join us for a dynamic second full-day event of the year, where you'll gain insights, network, and stay at the forefront of Delphi innovations. Secure your spot now to stay informed and engaged!
10月 24
会場: thestudio Manchester, The Hive
Starts: 3:00 am CDT
Ends: 11:00 am CDT
参加登録はこちら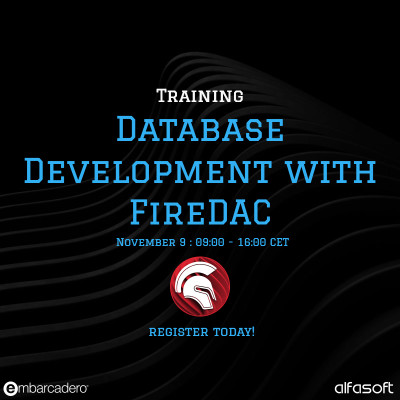 Development with FireDAC
Presenter(s): Jens Fudge
This one-day training course will introduce you to the FireDAC framework for connecting to and working with various databases with Delphi. The FireDAC framework is available in VCL applications as well as Firemonkey applications.
11月 9
会場: Online
Starts: 2:00 am CST
Ends: 9:00 am CST
参加登録はこちら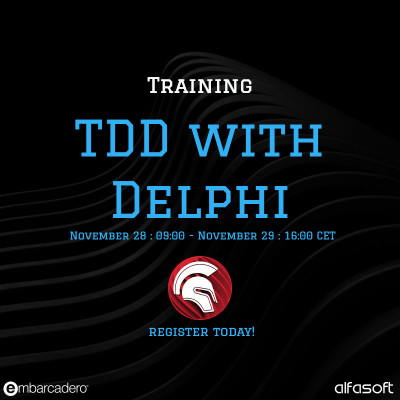 TDD with Delphi - 2 Days Training - November 2023
Presenter(s): Jens Fudge
This 2-day training offers a comprehensive, hands-on introduction to evolutionary design, clean code and unit testing. TDD for Delphi explores the foundations of TDD, unit testing, automated refactoring and improving the design of legacy code with the help of various patterns, strategies, tools and techniques using Delphi.
11月 28 - 29
会場: Online
Starts: 2:00 am CST
Ends: 9:00 am CST
参加登録はこちら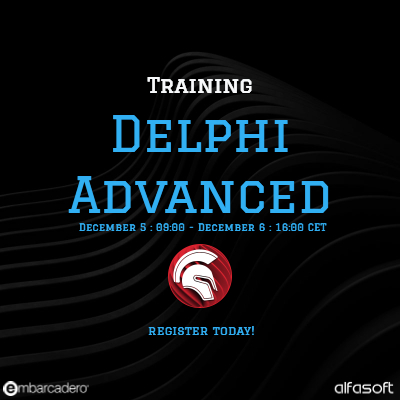 Delphi Advanced - December 2023
Presenter(s): Jens Fudge
This two-day course will take you in depths of the Delphi/Pascal programming language using both the traditional VCL framework and the added framework Firemonkey. By utilizing Firemonkey you will learn how to program and build an application that will compile for Windows, Mac, Android and iOS. As well as get a deeper knowledge of the Pascal language and its capabilities.
12月 5 - 6
会場: Online
Starts: 2:00 am CST
Ends: 9:00 am CST
参加登録はこちら