Featured Webinar
Step Up to the Multi-Device Application Platform
Presented by David Intersimone

Get valuable tips and strategies for architecting and developing your applications to run on Windows, Mac and mobile!
Developing applications across multiple device types and platforms is fundamentally different than focusing on just one.  Developers have to think differently when approaching modern projects that can include desktops, tablets and smartphones.
Watch the replay of this informative technical webinar and discover how you can use the elements of the RAD Multi-Device Application Platform to architect your applications to run on Windows, mobile, devices and more!
In this session, you will learn how to:
Create client applications with the VCL and the FM Application Platform
Build server and cloud app services with DataSnap
Access local and enterprise data with FireDAC
Connect with cloud and REST services using REST FM
Resources

Presentation Slides
Download a PDF of the slides used during the webinar presentation.

Companion Source Code
Download the "Step Up to the Multi-Device App Platform" webinar demo projects. See and work with the source code for the projects that were demonstrated in the webinar. Demo projects include: VCL Sensors, Google Glass, DataSnap multi-device, REST Client Components and Delphi Android Text to Speech demo.

Learn More about the RAD Multi-Device Application Platform
With RAD Studio XE5's Multi-Device Application Platform, you can deliver truly connected applications that support real time communication and access to enterprise data and cloud services. All these technologies are included in RAD Studio XE5 Enterprise edition and higher and some are included in the Professional edition. Learn more >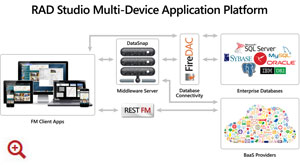 Free RAD Studio License
Get a RAD Studio download and free 30-day license to try it for yourself

---