EMB_TEXT_GLOBAL__SCALABLE_APPLICATIONS
EMB_TEXT_WORLD_CLASS_UI_DESIGN_TOOLS_WH
With C++Builder's UI tools, you can prototype and implement your app's visual design making use of native widgets and platform-extending features, giving your customers an immersive, intuitive and familiar user experience.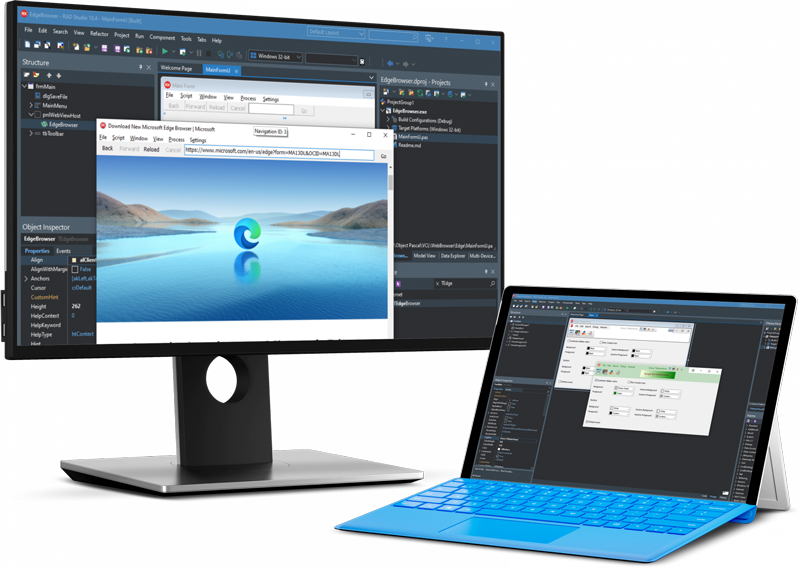 ---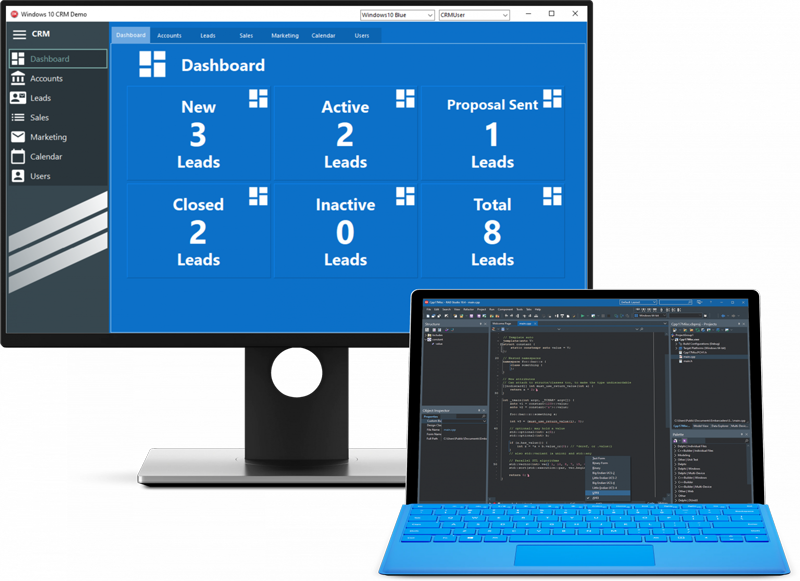 EMB_TEXT_PRODUCTIVITY_IS_THE_NEW_CURREN
A productive developer is a happy developer. A productive team makes happy management. C++Builder developers report they can deliver applications from concept to deployment 5x faster than with other tools - and getting to market that much faster that means direct value to your company.
---
EMB_TEXT_IF_YOU_CAN_IMAGINE_IT__C_BUILD
One part of the vast set of useful libraries we provide is FireDAC: an elegant, highly performant database layer. It provides data connectivity to 17 key databases, and over a hundred other data sources from Twitter to SAP through add-ons.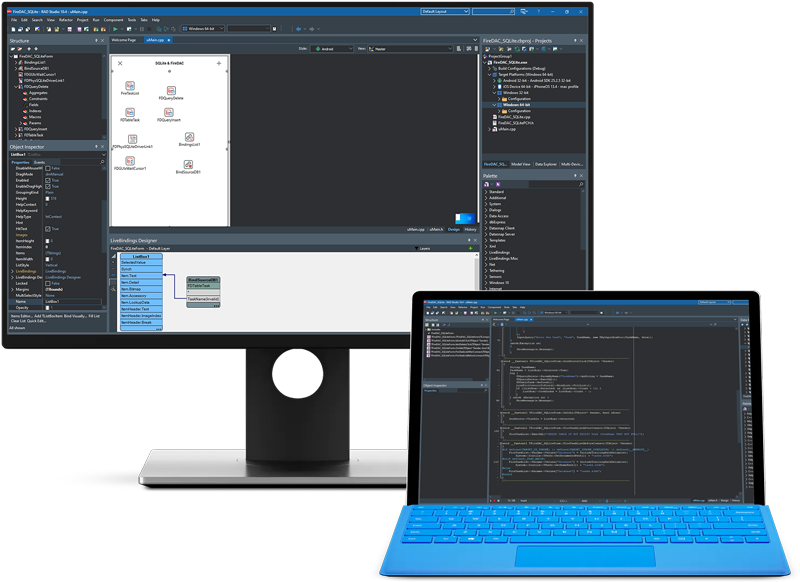 ---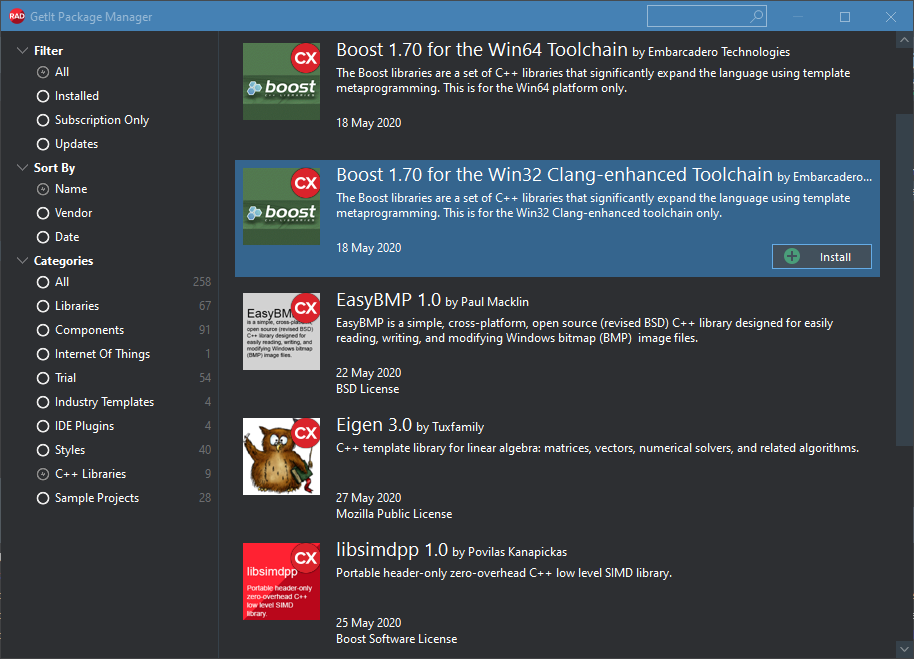 EMB_TEXT_ROBUST_CLASSES_LIBRARIES_BUILT
Our framework includes libraries built to make you more productive. For example, no C++ developer enjoys string manipulation using the STL's std::string methods, or loading data in UTF-8 and converting to wide strings for Windows before modifying a string with the WinAPI. Let's not even talk std::locale. We provide powerful, useful classes for strings, conversions, file IO, streaming, JSON, REST, and anything else you need.
EMB_TEXT_THERES_MORE
EMB_TEXT_READ_THE_SOURCE__LUKE
When you buy C++Builder, you get the full source code for all our libraries, whether UI, database, networking, or any other area - even our RTL, if you want to dig deep into exception handling or memory allocation.
EMB_TEXT_COMPATIBILITY
Developers have used C++Builder for over 20 years, and find it easy to move their apps forward to modern versions. There aren't many frameworks you can say that about - and even fewer that are actively developed and added to every release. With C++Builder, you can trust you can use your app in 2030 just as much as in 2020.
EMB_TEXT_MODERN_TOOLING
C++ has no package manager - but we do. C++ has no UI bindings - but we do. Based on Clang, with key tools and extensions, we fill the gaps in the world's most powerful language.
EMB_TEXT_TOP_REASONS_TO_UPGRADE
Congratulations! You've made a smart choice in choosing to develop applications using C++Builder Community Edition. By now, you've used the code editor, powerful debugging tools, visual UI designer and hundreds of prebuilt components to learn or C++Builder and create applications for Windows, macOS, iOS, and Android. It's a full-featured IDE, so why upgrade now?
EMB_TEXT_PERPETUAL_LICENSE
Purchase a paid edition (Professional, Enterprise, or Architect) and relax knowing you have a perpetual license. Rest assured that your developer tools remain licensed and available to continue supporting any applications you've created and need to support. In contrast, C++Builder Community Edition has a one year license term with periodic dialogs to remind you of the expiration date.
EMB_TEXT_NO_ANNUAL_REVENUE_RESTRICTION
C++Builder Community Edition developers and organizations that earn $5000 USD or more in annual revenues are required to purchase a paid edition. Once you have a paid edition, there are no annual revenue restrictions, so you're able to sell more copies of your software.
EMB_TEXT_UPDATE_SUBSCRIPTION
Purchase a paid edition and receive the first year of Update Subscription, which gives you the latest releases, patches, latest platform support and updates. It's the easy, affordable way to always have access to the latest version. Developers with a current Update Subscription also get access to betas.
EMB_TEXT_TECHNICAL_SUPPORT
C++Builder Community Edition does not include technical support. C++Builder Community Edition developers are welcome to seek peer support on https://community.embarcadero.com, but Embarcadero technical support is restricted to paid editions. Professional, Enterprise, and Architect editions on current Update Subscription receive three (3) support incidents annually.
EMB_TEXT_CREATE_WEB_SERVICE_ARCHITECTUR
Enterprise and Architect Editions include a RAD Server single site deployment license, which allows you to create powerful web service architecture. This is not available in Community or Professional Editions.
EMB_TEXT_REMOTE_DATABASE_CONNECTIVITY
Enterprise and Architect Editions include remote database connectivity. Only local and embedded database support is included in Community and Professional Editions.
EMB_TEXT_WHEN_AM_I_REQUIRED_TO_PURCHASE
C++Builder Community Edition is provided for freelance developers, startups, students and non-profits with revenues less than USD $5000. Once your revenues reach USD $5000 or local equivalent, or you have five or more developers, your license terms require that you purchase Professional, Enterprise or Architect. Please refer to the EMB_TEXT_EULA for full terms.
EMB_TEXT_COMPARE_EDITIONS
EMB_TEXT_COMPARE_C_BUILDER_PRODUCT_EDIT
Want to program in both Delphi and C++Builder? EMB_TEXT_COMPARE_RAD_STUDIO_EDITIONS. (Community Edition is not available for RAD Studio, and you cannot install Delphi and C++Builder Community Editions side by side).
EMB_TEXT_BUY_NOW_2594